152-Year-Old Dividend Stock Keeps Crushing the Market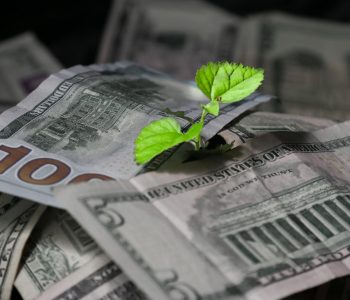 Dividend Stock Holding Up Amid Bear Market Sell-Off
I spend my fair share of time on lawn maintenance: mowing the grass, edging the sides, watering dry patches, and pulling out weeds. So I'm the first to appreciate a company that's dedicated to making yard work a bit easier.
While the company can't guarantee that your lawn will wow your neighbors, Scotts Miracle-Gro Co (NYSE:SMG)—the country's leading manufacturer of household lawn, garden, and pest control products—is committed to helping customers grow great things.
Much like the other companies I have highlighted in Income Investors, this dividend stock has rewarded shareholders for generations. The long-term excitement about this business is tempered by short-term concerns about the coronavirus pandemic. I'd let the market worry about the next quarter or two, but investors might want to consider taking advantage of a discounted stock price to build a position in this lucrative, growing income stream.
A Dividend Stock to Own Forever?
Scotts Miracle-Gro can trace its history back to 1868, when Orlando McLean Scott opened a hardware store in Marysville, Ohio. The Civil War veteran found a profitable niche selling weed-free seed to local farmers. When he started selling seed to homeowners after the turn of the century, sales took off. (Source: "Who We Are – Our history," Scotts Miracle-Gro Co, last accessed March 19, 2020.)
Today, Scotts stands as the largest player in the U.S. gardening industry. The company's portfolio includes several flagship brands, including "Miracle-Gro," "Ortho," "Tomcat," and "Roundup." In June 2018, management completed the acquisition of Sunlight Supply, the largest hydroponics distributor in the country. Following the deal, Scotts now ranks as the largest equipment dealer to cannabis growers across the country.
This collection of businesses gushes cash flow. In 2019, Scotts Miracle-Gro's gross profit margins topped 32%. Operating margins consistently come in around the high teens. (Source: "The Scotts Miracle-Gro Company 2019 Annual Report," Scotts Miracle-Gro Co, last accessed March 19, 2020.)
And over the past five years, the business has generated an average annual profit of $0.37 on every dollar invested by shareholders into the business. Those statistics put Scotts in the same league of elite dividend stocks like Johnson & Johnson (NYSE:JNJ) and Coca-Cola Co (NYSE:KO).
The secret to the company's success? Established brands.
Lawns and gardens are a status symbol to many people. Households, furthermore, won't trust the health of their plants to any knockoff product. This relationship with customers has allowed Scotts Miracle-Gro Co to raise its prices by two to three percent each year over the past decade. And today, the company charges as much as 50% more per pound of fertilizer than its rivals.
Additionally, Scotts Miracle-Gro has spent decades building relationships with top retailers. This gives the company access to the best shelf space in the home and garden sections of stores like Walmart Inc (NYSE:WMT), Lowe's Companies, Inc. (NYSE:LOW), Costco Wholesale Corporation (NASDAQ:COST), and Home Depot Inc (NYSE:HD). And because retailers don't like to switch to unproven suppliers, it's difficult for competitors to swipe market share.
You can see the results of this entrenched market position in the company's investment returns. Since the start of 2009, Scotts has posted a total gain, including distributions, of 700%. By comparison, the broader S&P 500 delivered a return of only 105% over the same period.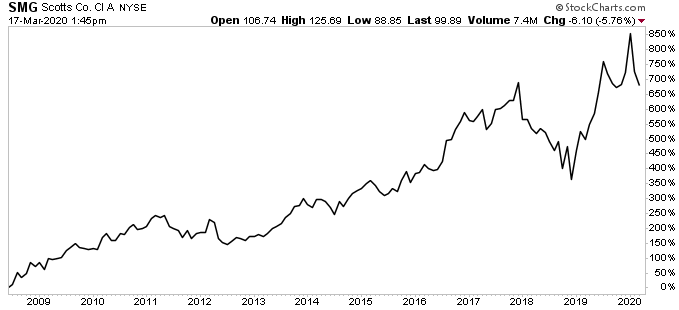 Chart courtesy of StockCharts.com
Thick profit margins also allow management to pay out boatloads of cash to shareholders. In 2005, Scotts mailed its first dividend to shareholders. Since then, executives have boosted the distribution at an 11% compounded annual clip. Today, the company's quarterly dividend is $0.58 per share, which comes out to an annual yield of about two percent. (Source: "Dividend History," Scotts Miracle-Gro Co, last accessed March 19, 2020.)
This income stream should translate into respectable returns going forward. Over the next five years, management expects to grow earnings per share by 10% per year on the back of cost cuts, price hikes, and hydroponics sales. Given the company's modest payout ratio of only 28%, executives should have no problem raising the dividend in line with—or even faster than—profit growth.
So, if we combine a two percent upfront dividend yield with a growth rate in the low double-digits, we get a total return projection between 12% and 14% annually. That more than meets my hurdle rate for putting fresh capital to work.
Of course, you can't call any stock a slam dunk. That holds even for wonderful businesses with the best pedigree. Going forward, I see three big risks for Scotts: supplier concentration, the coronavirus, and changing regulations.
Scotts faces significant customer risk. Lowe's and Walmart alone account for almost a third of the company's sales. Home Depot constitutes 30% of the company's revenues. Such concentration could allow customers to demand better prices, biting into Scotts Miracle-Gro's margins. And if any one of these retailers discontinued Scotts's products, shareholders would see a sharp drop in their dividend income. (Source: "The Scotts Miracle-Gro Company 2019 Annual Report," Scotts Miracle-Gro Co, op. cit.)
The other risks, however, look more mundane. Short-term, a coronavirus-induced recession could bite into sales. That explains why SMG shares have taken such a sharp, unexpected dip in recent weeks. But for investors with a time frame beyond the next few quarters, such a drop presents an opportunity.
Longer-term, the pace of regulatory changes will have the biggest impact on the company's stock price. If efforts to legalize cannabis stall, it will slow the growth rate for the company's indoor gardening equipment business, which commands most of the supplier market. That said, this segment accounts for only a fraction (about 21%) of total sales. So even a more measured expansion of this division shouldn't have a material impact on the overall business.
The Bottom Line on This Top Dividend Stock
If you look at our investment scorecard, you'll see a long list of top American brands: Walt Disney Co (NYSE:DIS), Dunkin' Brands Group Inc (NASDAQ:DNKN), and McCormick & Company, Inc. (NYSE:MKC).
Scotts Miracle-Gro Co is another important piece in our growing keiretsu. The company's entrenched market position has resulted in market-busting returns for decades. And thanks to the recent coronavirus-induced panic, investors have an opportunity to scoop up this dividend stock at a reasonable price.