Presidio Property Trust Inc: 10.3% Yielder Has Raised Payout for 5 Straight Quarters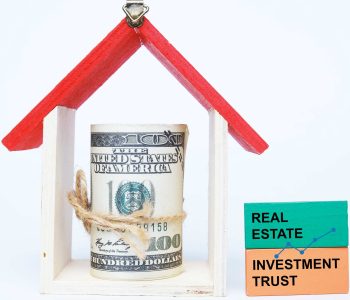 Overlooked Presidio Property Stock a Top REIT Play
Presidio Property Trust Inc (NASDAQ:SQFT) bills itself as a real estate investment trust (REIT) that finds "opportunities in overlooked markets."
It's a REIT I've been bullish on for a while now, even though the company only went public in October 2020. I first wrote about Presidio Property Trust Inc in May 2021, when SQFT stock was trading at $3.26 per share and it had a quarterly dividend of $0.101 per share, for a yield of 12.4%.
I took another look at Presidio Property stock in July 2021. By that point, SQFT stock had advanced 50% to $4.91 and provided a frothy dividend of $0.102 per share, for a yield of 10.4%.
Perhaps not surprisingly, Presidio Property stock has continued to do well. While SQFT stock is down from where it was when I last wrote about it in July 2021, its trend line remains bullish. Presidio Property Trust Inc's management is clearly optimistic about the company's outlook, raising its dividend every quarter since November 2020.
The company was able to reward investors during the worst economic crisis in 100 years because its leasing activity was robust in 2020, with the company collecting 98% of its billed rent. That momentum carried on in 2021, with the REIT collecting 96% of its billings during the third quarter.
We're not out of the coronavirus woods yet, but thanks to Presidio Property Trust Inc's diverse real estate portfolio, it has fared far better than most REITs. During a time when many REITs saw their share prices tank and their dividends suspended (or only maintained), Presidio Property stock's price has been on an uptrend, and its dividend has increased every quarter since SQFT stock went public.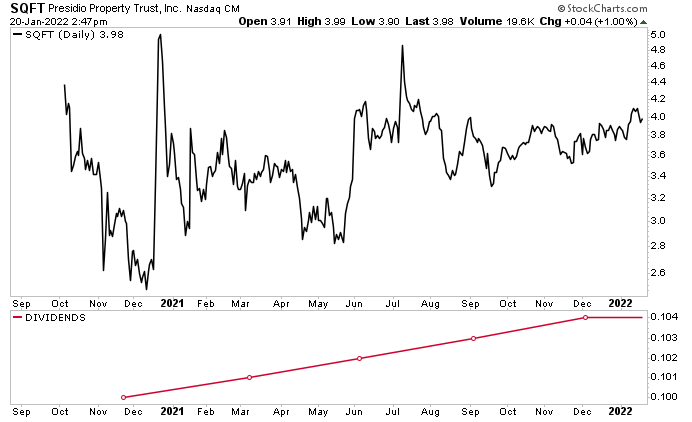 Chart courtesy of StockCharts.com
About SQFT Stock
So, what does Presidio Property have that many other REITs don't?
When it comes to real estate, it's always about location, location, location. Presidio Property is an internally managed REIT focused on commercial real estate opportunities in often‐overlooked, regionally dominant markets. The company typically hunts for properties in the $10.0–$30.0 million range that aren't generally on the radar of larger REITs. (Source: "Investor Presentation," Presidio Property Trust Inc, November 12, 2021.)
The company acquires and manages office, industrial, and other commercial real estate assets in markets with strong demographic and economic drivers, as well as attractive going‐in cap rates.
In addition to its commercial real estate holdings, Presidio Property Trust Inc generates fees and rental income from affiliated entities that manage and/or own a portfolio of model homes.
While Presidio Property might not own real estate in New York City or San Francisco, it does own prime commercial real estate in North Dakota and Colorado. It owns residential properties in Florida, Illinois, Texas, and Wisconsin. It also owns properties in California.
As of this writing, Presidio Property Trust Inc's portfolio has a book value of approximately $124.4 million. The REIT owns:
85 model homes leased back on a triple net basis to homebuilders, covering 255,433 square feet
Seven office buildings and one industrial property, which total approximately 724,290 rentable square feet
Four retail shopping centers, totaling approximately 121,050 rentable square feet
Target markets where the company doesn't yet own property include Salt Lake City, UT; Minneapolis, MN; Columbus, OH; and Kansas City, MO. Presidio Property Trust Inc has approximately 25 properties under review, valued between $5.0 and $25.0 million each. The composition of the properties under review is:
40% triple net leased
20% medical office
15% model home
15% necessity-based retail
10% industrial
Presidio Property Stock's Dividend Increases for 5th Consecutive Quarter
Presidio Property's diverse portfolio helps it report consistently solid financial results and increase its dividend.
In the third quarter ended September 30, 2021, the company reported a company-wide rent collection rate of 96%. Its core funds from operations (FFO) for the first nine months of 2021 increased by eight percent year-over-year to $167.0 million, or $0.17 per share. (Source: "Presidio Property Trust, Inc. Announces Earnings for the Third Quarter Ended September 30, 2021," Presidio Property Trust Inc, November 11, 2021.)
During the third quarter, Presidio Property declared a dividend of $0.103 per share. In the fourth quarter, it declared a dividend of $0.104 per share, for a yield of $10.3%. This represents the company's fifth consecutive quarterly dividend increase since its initial public offering (IPO) in October 2020. (Source: "Presidio Property Trust Declares Fourth-Quarter 2021 Dividend," Presidio Property Trust Inc, November 23, 2021.)
The Lowdown on Presidio Property Trust Inc
Presidio Property Trust Inc is a great, overlooked REIT with a diverse portfolio in small, regionally dominant markets. This helped the company report high rent collection rates in 2020 and 2021.
Presidio Property has been growing its footprint, and it has a strong pipeline of potential acquisitions. The company isn't perfect; every REIT has the odd property that doesn't do well. But thanks to high demand where its properties are located, Presidio Property has reported wonderful financial results and has increased its ultra-high-yield dividend every quarter since SQFT stock went public. That should be seen as a vote of confidence for income hogs.