Presidio Property Trust Inc: Check Out This 10.4%-Yielding Contrarian REIT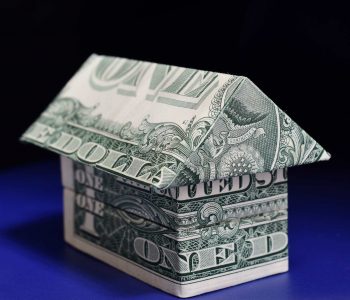 SQFT Stock a Top-Yielding REIT With Great Potential
Presidio Property Trust Inc (NASDAQ:SQFT) probably isn't a name you're all that familiar with (unless you're a regularly reader of Income Investors). Presidio Property stock only went public in October 2020.
I last profiled the real estate investment trust (REIT) back in May, when I suggested that income hogs put it on their radar. At the time, SQFT stock's dividend yield was 12.4%. Since then, Presidio Property stock has jumped by 50%, which means its yield has trended a little lower, but it's still at an impressive 10.4%.
Despite going public during one of the worst economic periods in the last 100 years, Presidio Property Trust Inc has performed well. The company's leasing activity remained robust throughout 2020, with the company collecting 98% of its billed rent.
The company's portfolio consists of office, industrial, and retail properties with a book value of approximately $145.3 million. (Source: "Investor Presentation June 1, 2021," Presidio Property Trust Inc, June 1, 2021.)
As of this writing, Presidio Property owns:
106 model homes leased out on a triple net basis to home builders
Nine office buildings and one industrial property, which total approximately 867,744 rentable square feet
Three retail shopping centers, which total approximately 110,552 rentable square feet
What sets Presidio Property Trust Inc apart from other REITs?
It looks for growth opportunities in overlooked markets. Instead of buying real estate in cities like Beverly Hills, Chicago, New York, or Miami, it owns commercial and residential properties in places like Bismarck and Fargo, ND and Colorado Springs, CO. Not all of its properties are in overlooked markets, though: it also owns properties in San Diego and San Bernardino, CA.
Like any REIT, Presidio Property Trust Inc is always adding to its property portfolio. During the first quarter of 2021, it executed a total of 15 new and renewal office leases, for monthly rental revenue of approximately $1.4 million.
The company currently has about 25 additional properties under review, between $5.0 and $25.0 million per property, with the following overall composition:
40% triple net lease
20% medical office
15% model home
15% necessity-based retail
10% industrial
Buying properties in overlooked markets doesn't work for everyone, but it has proven to be lucrative for Presidio Property.
In the first quarter, the company continued the healthy rent collection rate it saw in 2020. Thanks to the diversification of its property portfolio, Presidio reported a company-wide rent collection rate of 96% of its first-quarter budget. (Source: "Presidio Property Trust, Inc. Announces Earnings for the First Quarter Ended March 31, 2021," Presidio Property Trust Inc, May 11, 2021.)
This resulted in the company reporting first-quarter funds from operations (FFO) of $935,725, a roughly 20% increase over the first-quarter 2020 FFO of $779,689.
"Fifteen office leases were inked in the first quarter of 2021, with 5 new tenants and 10 existing tenant renewals," noted Gary Katz, senior vice president of asset management. "As many local COVID-related restrictions have been relaxed, we believe that the optimism of an economic recovery will translate into more tenant renewals, and prospective tenants signing new leases." (Source: Ibid.)
Presidio Property Stock's Dividend Rises Again
Because of its diverse portfolio and excellent rent collection figures, Presidio Property was able to increase its dividend for a second consecutive quarter. On May 25, the board of directors declared a second-quarter cash dividend of $0.102 per share, up from $0.101 in the first quarter of 2021 and $0.10 in the fourth quarter of 2020. (Source: "Presidio Property Trust Declares Second-Quarter 2021 Dividend," Presidio Property Trust Inc, May 25, 2021.)
Again, SQFT stock only went public last October, so it doesn't have a long history of providing dividends. But the fact that the company has raised its dividend every single quarter suggests it's off to a great start.
Presidio Property stock's share price, however, hasn't been as reliable as its dividend. But periods of volatility for a newly listed REIT with a relatively small market cap of $47.2 million isn't unexpected. Despite the volatility, this dividend stock has tremendous long-term growth potential.
As of this writing, SQFT stock is up by:
Five percent over the last month
42% over the last three months
46% over the last six months
28% year-to-date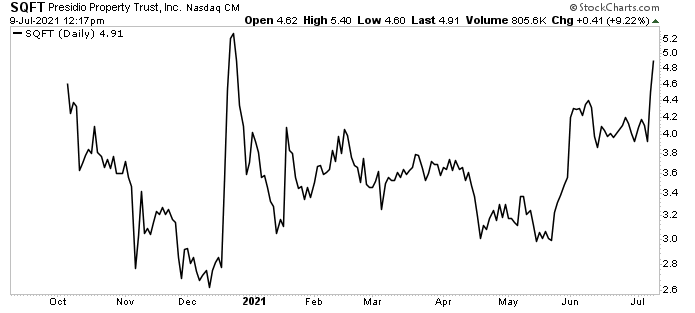 Chart courtesy of StockCharts.com
The Lowdown on Presidio Property Trust Inc
Presidio Property Trust Inc is one of the newer and smaller REITs in the stock market right now. But because of its diverse property portfolio and geographic profile, it was able to report great rent-collection rates in 2020 and the first quarter of 2021. The company also has a strong pipeline of potential property acquisitions.
That should help boost the company's bottom line, the price of Presidio Property stock, and its juicy, high-yield dividend.