Omega Healthcare Investors Inc: This High-Dividend Stock Yields 7%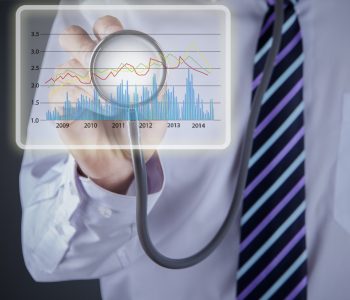 iStock.com/CreativaImages
Miss This High-Dividend Stock and You'll Kick Yourself Later
The media has started to catch on to the "high-dividend stocks you've never heard of."
Last year, I urged readers to check out a little-followed stock market niche. Investors by and large ignore this corner of the financial world, but it's a great place to shop for high-dividend yields.
These elite businesses enjoy entrenched market positions and generate steady cash flow, as well as above-average earnings growth. And most importantly, they deliver some of the biggest yields around. Some of these high-dividend stocks pay distributions as large as nine percent.
The opportunity: small-cap dividend stocks. I sometimes describe this financial nook as the "minor leagues" of the income investing world: a collection of top prospects that could be the next generation of corporate all-stars. In other words, the stocks that, 20 years from now, you'll wish you had bought.
One of my favorite names here, Omega Healthcare Investors Inc (NYSE:OHI), was just profiled on Yahoo! Finance.
Omega ranks as one of the country's largest owners of skilled nursing and assisted living facilities in the country. Over the past three decades, management has built a sprawling real estate empire totaling some 900 properties. And thanks to America's aging population, these buildings have become veritable cash cows.
That has created a lucrative income stream. Since 1992, investors have seen their distributions roll in like clockwork every single year. Today, Omega pays a quarterly dividend of $0.66 per unit, which comes out to an annual yield of seven percent. (Source: "Dividends," Omega Healthcare Investors Inc, last accessed July 5, 2019.)
Investors have earned impressive capital gains, too. Over the past two decades, units have increased almost 75-fold in value. In combination with such consistent dividend payments, that has resulted in a total return of 4,700%, crushing the broader S&P 500 over the same period.
Such returns shouldn't come as that big of a shock to dividend investors; "compounding" is the most powerful force to harness if you want to make outsized investment returns. That's why I have long recommended top income stocks like The Coca-Cola Co (NYSE:KO) and Procter & Gamble Co (NYSE:PG), which can generate staggering profits over time.
The trouble with large-cap dividend stocks is that most people already know about them. And since everyone is familiar with these businesses, everyone wants to own them. That means you often have to wait years to pick these stocks up at a reasonable price, or else suffer mediocre returns.
But I'd wager that not one person in 1,000 has heard of Omega Healthcare Investors Inc. For that reason, its units trade at a fraction of the valuation of more well-known dividend stocks. And low valuations, compounded over decades, add up to massive returns.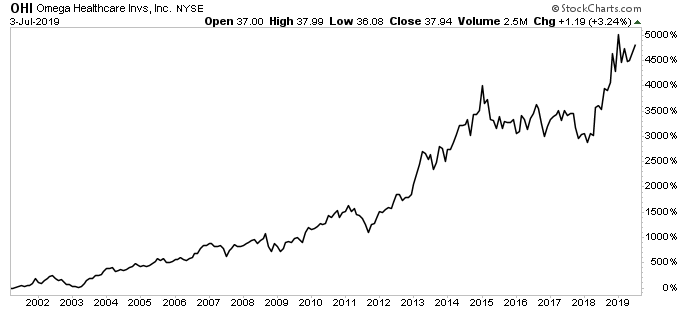 Chart courtesy of StockCharts.com
The Bottom Line on OHI Stock
And this is likely just the beginning. Today, Omega Healthcare Investors Inc has a tiny market value of just $7.8 billion. That should allow management to grow the business at a far faster clip than most large-cap dividend stocks.
I've been urged by readers of my Automated Income newsletter to discuss small-cap dividend stocks such as OHI stock for a while. Out of fairness to my paid subscribers, I can't reveal all of these companies here, though many still trade for great prices and pay outstanding yields.
The thing is, I'm seeing these high-dividend stocks getting more press coverage. As investors look for new income opportunities, they will likely start bidding up the price of shares.