The Best Dividend Stocks You've Never Heard Of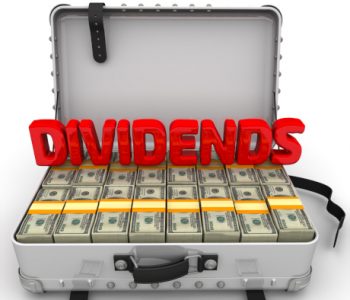 iStock.com/Waldemarus
Earn Higher Yields Here
Investors have started to catch on to my colleague Jing Pan's "Sponsored Retirement Plan" idea.
And for a good reason. Buying the best dividend stocks at a fair price—and then compounding your gains by reinvesting the dividends—constitutes the most reliable way to build wealth in the stock market.
Over the past few years, the top dividend stocks have surged in price. For instance, both Boeing Co (NYSE:BA) and Altria Group Inc (NYSE:MO) have delivered triple-digit returns.
The problem? Many income investors don't look beyond the standing list of great dividend payers. As a result, they miss out on some of the best investment opportunities out there.
I love wonderful, large-cap stocks—like The Coca-Cola Co. (NYSE:KO), Johnson & Johnson (NYSE:JNJ), and Procter & Gamble Co (NYSE:PG). When I chat with other dividend aficionados, these companies always get mentioned. Everyone loves these businesses.
And that's the problem. When everyone likes a particular stock, sellers can command top dollar. You can end up waiting around for years to be able to scoop up shares at a decent price.
For this reason, I have started to encourage my readers to think smaller. Over the past few months, I have moved outside the traditional dividend payers and into the world of lesser-known, small-cap dividend stocks. These companies often boast the same entrenched market position, wide competitive moats, and long dividend track records. They just happen to be much smaller than the goliath names like Coca-Cola or Johnson & Johnson.
Why does this matter? Because of the smaller size of these companies, institutional investors sometimes overlook them. For investors who don't mind owning lesser-known stocks, it means they can often pick up shares at reasonable prices.
Take National Health Investors Inc (NYSE:NHI), for instance. The company ranks as one of the best dividend stocks over the past two decades. Yet, if you took a poll of most income investors, I doubt most of them have heard of it.
Over the past few decades, NHI has quietly built a sprawling real estate empire. The company owns 225 properties across the country, specializing primarily in skilled senior housing, specialty hospitals, and medical office buildings. Thanks to the country's aging population and booming healthcare spending, National Health has managed to pass on big rent hikes year after year.
Turning to the financials, NHI trades at 16-times forward earnings—a big discount to most dividend-paying stocks. Furthermore, management has boosted the distribution for 17 consecutive years. Shares now pay a 5.6% dividend yield, which is more than double the payout of the average S&P 500 company.
As you can see in the chart below, that has translated into jaw-dropping returns for shareholders.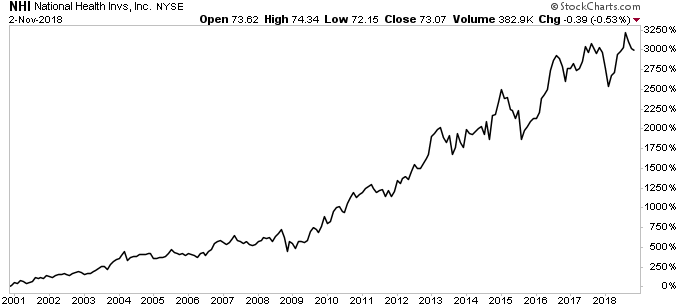 Chart courtesy of StockCharts.com
I just picked NHI out of a hat. It's only one example of the many top small-cap dividend-payers out there.
For more ideas, try skimming through the holdings of the ProShares Russell 2000 Dividend Growers ETF (BATS:SMDV). This fund consists of small-cap dividend stocks that have raised their payouts for at least 10 consecutive years. This simple criterion highlights a number of the stock market's hidden gems and screens out most low-quality names.
Of course, these stocks will never surge 100% overnight. But because of their small sizes, we have less in the way of competition from other investors. That means we can often buy shares at bargain prices, earning better returns over time.
If investors don't own some of these top dividend stocks today, I suspect they'll be kicking themselves in 20 years.