Nike Inc: Up Double Digits in One Month with More Upside Ahead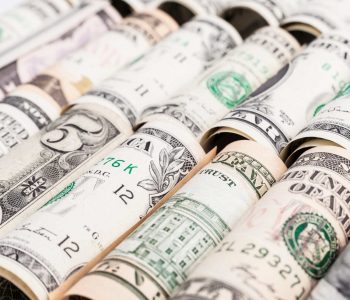 Nike Inc Posts Blowout Results as Economy Reopens
If only all of my stock picks paid off like Nike Inc (NYSE:NKE).
Earlier this year, investors dumped Nike shares after the COVID-19 shutdown hammered the company's first-quarter earnings.
But last month, I pounded the table on the sports apparel maker, practically begging my paid subscribers to give this dividend stock a second look. With the economy poised to reopen, I predicted a quick rebound in profitability. And investors willing to look beyond the next quarter or two would likely be rewarded.
"People will once again start buying Nike shoes, equipment, and apparel." I wrote to subscribers of my paid advisory Automated Income. "The company's digital transformation and push into emerging markets should also provide plenty of money to pay shareholder dividends. That means this dividend stock could emerge as a big winner as the economy reopens." (Source: Baillieul, R., Automated Income, September 2020.)
And for the most part, that's exactly how things played out.
Last month, Nike Inc posted jaw-dropping financial results.
The company reported a quarterly profit of $0.95 a share, more than doubling the consensus estimate of $0.47.
Revenues also beat Wall Street forecasts, driven by a combination of store reopenings, surging online sales, and new product launches. (Source: "NIKE, INC. REPORTS FISCAL 2021 FIRST QUARTER RESULTS," Nike Inc, September 22, 2020.)
This release triggered a bidding war on Wall Street.
Following Nike's earnings report, shares spiked 13% in pre-market trading. And in the weeks following my original feature in Automated Income, the stock has popped 17%.
I have a couple of insights into Nike's quarterly results for my readers.
Firstly, the company will likely continue posting robust numbers as the economy reopens.
Sure, the cancellation of school sport programs have taken a bite out of sales. But recent shutdowns have created pent-up demand for sports apparel. And America's new remote workforce wants more casual clothing. That makes Nike Inc one of the few retail winners in the COVID-19 economy.
Secondly, Nike's investments in e-commerce have started to pay dividends.
Last quarter, online sales popped 83% versus the same period in 2019. Altogether, digital revenues now account for almost a third of Nike's total quarterly sales. That's a threshold management didn't think they would reach until 2023.
Finally, the company's international business continues to fire on all cylinders.
Chinese sales increased eight percent year-over-year on a currency-neutral basis—very impressive given the current state of the global economy. Management has also reported strong numbers out of Europe, Africa, Asia, Latin America, and the Middle East. (Source: Ibid., Nike Inc.)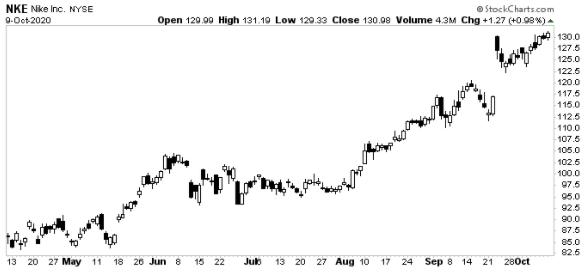 Chart courtesy of StockCharts.com
All of this should eventually translate into growing payouts for NKE shareholders.
Over the past few years, Nike's executive team has gotten into the habit of boosting the company's distribution each fall.
Given the most recent string of impressive financial results, shareholders have little reason not to expect another bump in November or December this year. And I wouldn't be surprised to see executives supplement that dividend further by resuming the share repurchase program, too.
More on NKE Stock: Nike Inc: Dividend Stock Could Soar as Economy Reopens