MV Oil Trust Stock: Bullish 12.95%-Yielder Has 230% Upside Potential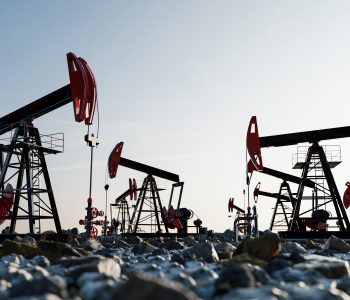 MV Oil Trust Units Bullish on High Oil Prices
Many oil and natural gas stocks, including MV Oil Trust (NYSE:MVO), have staged a comeback from a weak start to 2023.
Crude oil entered the year trading around $80.0 per barrel, then hit a low of $6.57 in May. It's been trending higher since then on the heels of record-high demand, production cuts from the Organization of the Petroleum Exporting Countries Plus (OPEC+), and the concerns fading about the possibility of a deep recession.
Oil is currently trading around $95.00 per barrel, with analysts predicting it will hit $100.00 per barrel in the fourth quarter.
These tailwinds have been great for MV Oil Trust, an oil and gas exploration and production company. The trust holds interests in the oil and gas properties of MV Partners LLC in Kansas and Colorado. (Source: "Form 10-K: MV Oil Trust," United States Securities and Exchange Commission, August 10, 2023.)
Whereas most oil and gas exploration and production companies spend millions of dollars drilling new sites, MV Oil focuses on getting as much as it can out of its existing operations. Then it gives the vast majority of its profits to MVO unitholders.
That comes with three caveats.
First, because MV Oil Trust pays out all of its cash flow to investors, its dividend yield can be exceptionally high.
Second, the company's oil and gas wells will eventually run dry. When I wrote about the trust in February 2022, it had approximately 900 oil and gas wells. Today, it has interests in about 860 wells. The projected reserve life of the company's underlying properties is more than 44 years, though.
Third, the trust's earnings and dividends fluctuate based on oil and gas production levels and prices, both of which are unpredictable.
MVO Stock Paid Q2 Distribution of $0.325/Unit
Because the price of oil fluctuates, MV Oil Trust stock's distribution also fluctuates. In the first quarter of 2023, the trust generated 147,971 BOE at an average price of $72.67 per BOE. This resulted in a quarterly distribution of $3.96 million, or $0.345 per unit. (Source: "MV Oil Trust Announces Trust First Quarter Distribution," MV Oil Trust, April 5, 2023.)
In the second quarter, MV Oil generated 154,899 barrels of oil equivalent (BOE), with an average price of $69.94 per BOE. This resulted in gross proceeds of $10.83 million and net profits of $4.92 million. (Source: "MV Oil Trust Announces Trust Second Quarter Distribution," MV Oil Trust, July 5, 2023.)
It also resulted in a quarterly distribution from MVO units of $3.73 million, or $0.325 per unit. That works out to a massive 12.95% yield from MVO stock. For context, the U.S. inflation rate is currently 3.67%.
This illustrates why it's important for investors to pay close attention to what's going on in the energy sector. For example, since the second quarter, when it averaged $70.00 per barrel, the price of crude oil has shot considerably higher. This bodes well for MV Oil's third-quarter profits and distribution.
High oil prices have also been helping juice the price of MV Oil Trust stock, which is currently up by about 6.0% over the last six months and 15.5% year-over-year.
The high demand for oil has analysts predicting that crude oil prices will continue to increase through 2024.
This bullish forecast for oil has resulted in strong guidance for MVO stock, with Wall Street analysts providing a 12-month median estimate of $43.00 per unit. This points to potential gains of a whopping 230%.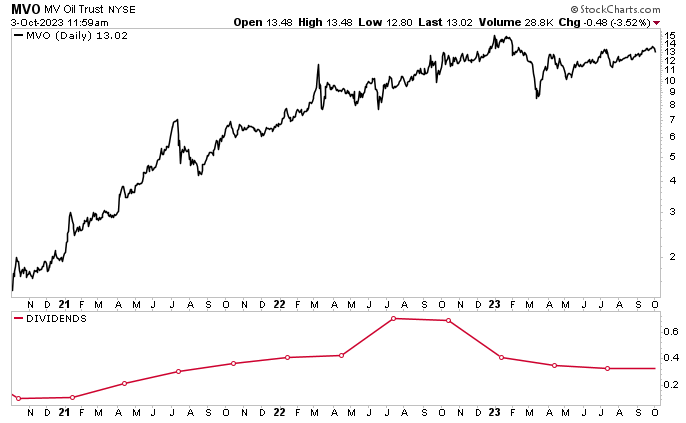 Chart courtesy of StockCharts.com
The Lowdown on MV Oil Trust Stock
As a royalty trust, MV Oil Trust pays out virtually all of its cash flow to investors. That's wonderful news when the economy is running on all cylinders, but it can be a tough pill to swallow when we're in a recession.
Again, investors need to understand how fickle some energy stock prices and distribution levels can be. Right now, the demand for oil is high, and its price is rising. As long as MV Oil keeps pulling oil and gas from the ground, MV Oil Trust units' high-yield dividends will be safe.