MV Oil Trust Stock Up 161% YOY & Still Provides Ultra-High 13.6% Dividend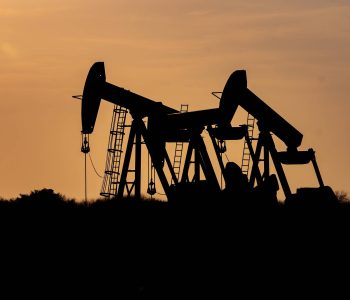 Why Investors Should Consider MVO Stock
MV Oil Trust's (NYSE:MVO) web site is short on news and even on information about the company's operations. You need to go to its Securities and Exchange Commission filings to unearth those details. But MV Oil Trust stock makes up for it with strong growth and income.
The company holds an interest in the oil and natural gas properties of MV Partners LLC. Through the partnership, MV Oil owns about 900 oil and gas wells in the states of Kansas and Colorado. (Source: "Form 10-Q," U.S. Securities and Exchange Commission, November 12, 2021.)
Whereas most oil and gas exploration and production companies spend millions of dollars drilling new wells, MV Oil Trust keeps its hands in its pockets. The partnership gets as much as it can out of its existing operations—and it gives the vast majority of its profits to its unitholders.
Since the company pays out almost all of its cash flow to investors, MVO stock's yields can be exceptionally high. On the other hand, oil and natural gas wells eventually run dry and energy prices fluctuate. Both factors have a material impact on MV Oil's earnings and payouts.
Right now, everything is great, which is reflected in MV Oil Trust stock's price. As of this writing, MVO stock is up by:
10%% over the last three months
56% over the last six months
161% year-over-year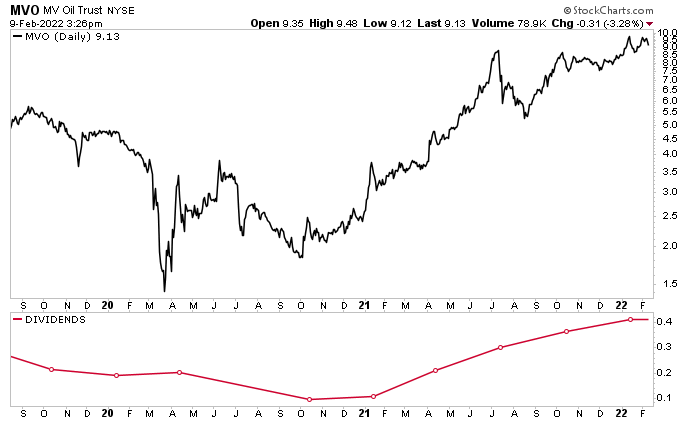 Chart courtesy of StockCharts.com
MV Oil Trust Raises Payout for 5 Straight Quarters
In addition to providing significant capital appreciation, MV Oil Trust stock provides ultra-high-yield dividends that keep investors lining up. Again, the company operates in the energy sector, so its share price and dividends fluctuate.
As you can see in the above chart, the company's quarterly payout (the red line) goes up and down on a regular basis. From July 2018 to October 2020, the company's dividend went down every single quarter, from $0.42 to $0.095.
This decline shouldn't be a big surprise to anyone who follows the energy sector. Moreover, dividends in every sector are tied to earnings. With the energy industry, dividends are also tied to where we are in the economic cycle. Energy stocks can also be more sensitive than other types of stocks to black swan events.
With the economy heating up and the demand for oil surging, the fortunes for this high-yield dividend stock have turned around. Since October 2020, MV Oil Trust has raised its quarterly distribution for five consecutive quarters.
On January 4, 2022, the partnership announced a distribution of $0.41 per share of MVO stock. This represents a 12% increase from the previous quarter ($0.365), a 272% increase from the same prior-year period ($0.11), and a 331% increase from January 2020 ($0.095). (Source: "MV Oil Trust Announces Trust Fourth Quarter Distribution," MV Oil Trust, January 4, 2022.)
Will MV Oil raise its payout again in the second quarter?
With the price of oil at its highest since 2014, one would hope, but nothing's guaranteed with energy stocks. Case in point, MV Oil Trust didn't provide a distribution during the third quarter of 2020. That's because the amount of revenue collected by MV Partners LLC from April 1, 2020 to June 30, 2020 wasn't enough to cover the costs during that period. Instead, MV Partners put the $440,532 collected into a reserve.
Is MV Oil Trust Stock's Dividend Safe Now?
Times are good now, so everything should be fine, right?
In November 2021, MV Oil announced that its trustee said it intends to build a reserve for the payment of future known, anticipated, and contingent expenses—starting with the distribution payable in the first quarter of 2022. This should prevent what happened in the third quarter of 2020. MV Oil normally announces its first-quarter dividend in April, so investors will have to wait and see.
The trustee isn't skimming off the top to strengthen its reserve; any cash left over after topping up its reserve will be distributed to unitholders (with interest earned on the funds). By all accounts, MVO stock's dividend is safe and could even continue to grow.
As shown in the chart above, MV Oil Trust stock has been on a tear. If investors weren't confident in the company's outlook and the safety of its dividend, that would be reflected in MVO stock's price. Investors certainly don't mind punishing a stock for a glum outlook.
The Lowdown on MV Oil Trust
As a royalty trust, MV Oil Trust pays out virtually all of its cash as quarterly distributions. That's a tough pill to swallow when we're in a recession, but when times are good (like they are now), an oil and gas exploration and production stock like MV Oil Trust stock is great. Its share price has been on fire and its ultra-high dividend yield has been exploding.
Investors just need to understand how fickle some energy stock prices and distributions can be. For those who are risk-tolerant or don't mind paying close attention to their investments, MVO stock could be a lucrative option.