Market-Crushing, 8.8%-Yielding Spok Stock Up 85% in 2023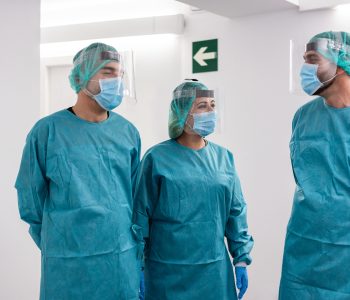 Why Investors Should Consider Spok Holdings Inc
Spok Holdings Inc (NASDAQ:SPOK) is one of those rare tech companies that has reported record results (including a strong cash position and no debt), increased its full-year guidance, and stated that it has a goal of returning capital to its shareholders.
The company has been, in the words of its management, "firing on all cylinders."
So, what does this overlooked health-care company do? In a word, pagers. Through its subsidiary, Spok Inc., the company provides health-care communications services to hospitals in the U.S., Canada, Europe, Australia, and the Middle East. (Source: "Investor Presentation: July 2023," Spok Holdings Inc, last accessed October 3, 2023.)
The company's products and services enable faster collaboration between health-care team members.
Spok is the largest paging carrier in the U.S., with more than 815,000 pagers that are used in more than 2,200 hospitals to send more than 100 million messages each month.
Why are pagers such important tools for hospitals? They may seem antiquated, but they're the safest, most reliable way for doctors and other hospital staff to communicate.
Pagers only send numeric messages or basic text messages, so it's unlikely that confidential information will get into the wrong hands—something that's common with cell phones. Moreover, unlike cell phones, pagers only need to be charged once every week or two.
Spok Holdings Inc has longstanding customer relationships with the best hospitals in the U.S., including seven of U.S. News & World Report's "Top 10 Children's Hospitals" and 20 of the publication's "Top 22 Adult Hospitals."
The average length of Spok's customer relationships is 24 years. The company's long-term contracts with top customers provide it with a reliable revenue stream. Of its $134.5 million in revenues in 2022, $112.6 million (more than 80%) was reoccurring.
Q2 Net Income More Than Doubled
For the second quarter, Spok announced that its net income more than doubled year-over-year from $1.9 million, or $0.10 per share, to $4.7 million, or $0.23 per share. (Source: "Spok Reports Second Quarter 2023 Results," Spok Holdings Inc, July 26, 2023.)
During the quarter, the company generated adjusted earnings before interest, taxes, depreciation, and amortization (EBITDA) of $8.5 million, compared to $4.7 million in the same quarter of 2022.
Spok ended the second quarter of 2023 with cash and cash equivalents of $30.9 million (and no debt).
During the quarter, the company's software operations segment had 23 six-figure and three seven-figure contracts.
Commenting on the results, Vincent D. Kelly, Spok Holdings Inc's CEO, said, "I am very proud of the record performance that our team was able to deliver in the second quarter and believe that these results position us well for the second half of the year, as we continue to execute our plan focused on growing revenue, generating cash flow and returning capital to stockholders." (Source: Ibid.)
Management Increased 2023 Guidance
With Spok Holdings Inc firing on all cylinders, its management team was able to increase its full-year guidance.
For 2023, the company expects to report total revenues in the range of $134.5 to $137.5 million, up from its previous guidance in the range of $131.0 to $137.5 million.
Management projects full-year adjusted EBITDA in the range of $25.0 to $28.0 million, up from previous guidance in the range of $24.5 to $26.5 million.
Spok Stock Returned $6.2 Million to Shareholders in Q2
In its most recent investor presentation, Spok Holdings Inc noted that its strategic goal is to "run the business profitably and generate cash." (Source: "Investor Presentation: July 2023," Spok Holdings Inc, op. cit.)
Another goal of the company is to return capital to its shareholders—and it's true to its word. Spok stock has returned more than $660.0 million to investors since 2004. This includes $25.0 million in 2022. The company expects to return the same amount in full-year 2023.
In the second quarter of 2023, Spok returned $6.2 million to shareholders via dividends. This resulted in a second-quarter dividend of $0.1325 per share, for a yield of 8.76%.
Spok Holdings funds more than 85% of its dividends from its free cash flow, leaving it with a relatively low payout ratio of 71.4%. This gives the company more than enough financial wiggle room to increase Spok stock's quarterly dividends if it wants.
Share Price Up 102% Year-Over-Year
I've been keeping a close eye on Spok stock for a while. When I profiled Spok Holdings Inc in April 2022, its shares were trading at $7.97.
They've made some big gains since then. On September 20, the stock hit a new record high of $15.97, a 101% increase over my April 2022 profile price.
Spok stock continues to thump the broader market. As of this writing, it's up by:
28% over the last six months
86% year-to-date
102% year-over-year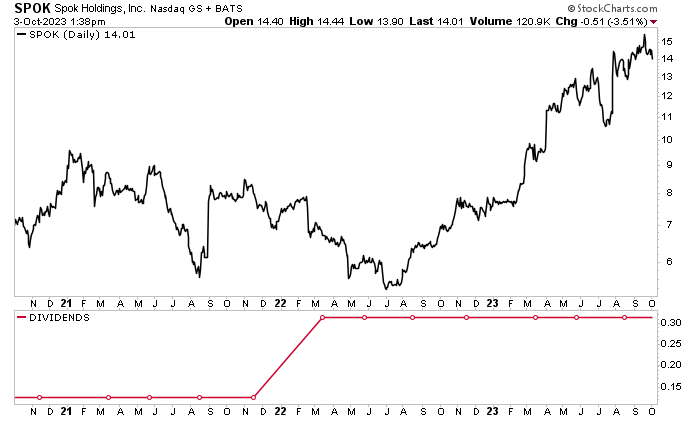 Chart courtesy of StockCharts.com
Thanks to strong guidance and a rock-solid balance sheet, Spok's share-price outlook is robust.
The Lowdown on Spok Holdings Inc
Spok stock is an excellent high-yield dividend stock that has been providing shareholders with high capital gains.
In 2022, Spok Holdings Inc announced a strategic business plan that prioritizes the maximization of free cash flow and the return of capital to shareholders in the form of dividends and share buybacks. Since then, the company has realized significant business improvements in virtually every area of its operations, including sales and product development.