Main Street Capital: 1 Monthly Dividend Stock Yielding 7%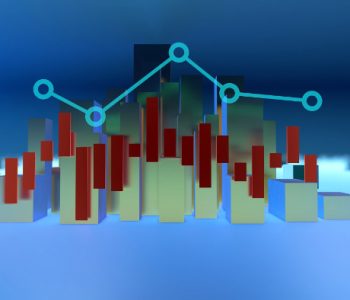 iStock.com/guirong hao
This Monthly Dividend Stock Yields 7%
How much have you put aside for retirement?
Thing is, it never quite feels like enough, does it? It's hard to say with 100% certainty if your money will last.
Low interest rates have made it even tougher. Nowadays, even a seven-figure portfolio throws off hardly any money. It has forced savers to reconsider their options and look to new sources of investment income.
One solution? Business development companies (BDCs). BDCs represent publicly traded companies that invest in or lend to privately held businesses. And thanks to a number of tax loopholes, many of these firms pay out yields of five, seven, and even nine percent.
Main Street Capital Corporation (NYSE:MAIN) tops my list. The firm has a 10-year track record of paying monthly dividends to investors, in addition to lucrative special distributions on occasion. This name also pays out a safe seven-percent yield, which puts it in a pretty elite group of dividend stocks.
Also Read:
The 7 Top Monthly Dividend Stocks for Income Investors
Main Street has a long history of making smart loans, for starters. Management only lends money to established, mid-sized companies. In other words, profitable businesses that can repay their loans on time.
If anything goes wrong, Main Street usually stands first in line to get their money back. In other cases, borrowers have pledged property, plants, or other assets as collateral. As a result, the company has few nonperforming loans on the books.
Moreover, Main Street collects lucrative interest income from this business. Most private firms don't qualify for bank loans. To fund new projects, they have to pay higher interest rates to the BDCs willing to fund them.
Main Street targets gross yields between eight percent and 12%. This profitable business has allowed management to grow its distributable net investment income per share, the main performance metric for BDC's, by 228% since 2007.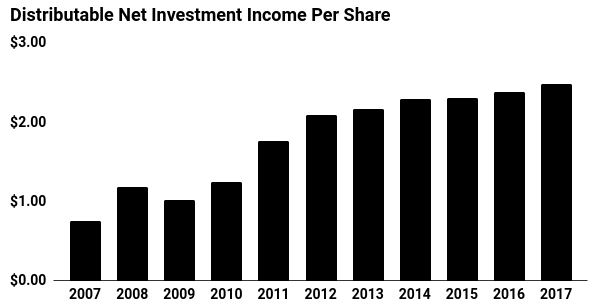 Source: "Investor Presentation Third Quarter–2017,"
This has created a cash cow for shareholders. Since Main Street went public in 2007 at $15.00 per share, the company has paid out $21.96 per share in dividends. Over that period, executives have never cut the regular distribution.
Today, management pays out a monthly dividend of $0.19 per share. In addition, executives also supplement this payout with two special distributions each year. Based on the market price at the time of this writing, this brings the total yield up to 7.1%.
Of course, I wouldn't call the Main Street story flawless. A business downturn would result in more loan defaults. Most of the company's deals get done on a floating rate basis, so lower interest rates would clip profits.
That said, management has carved out a tidy niche here. I expect some swings in the distribution from year to year. But with a relatively safe yield topping seven percent, Main Street represents an interesting idea for income hunters.