Kimberly-Clark Corporation: This "Boring" Business Could Deliver Exciting Returns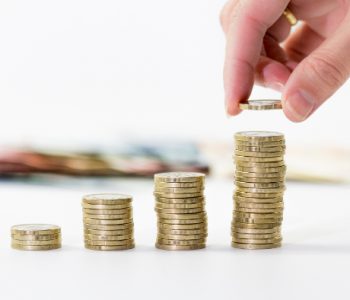 iStockphoto/aigkv
Today's feature proves to keep things simple works once again.
Many of my best investment ideas adhere to the "grandparent test." In the same way, you shouldn't eat something your grandmother wouldn't recognize as food, you shouldn't invest in something your grandmother wouldn't understand.
I don't mean to say you can't find opportunities in hot new tech. But if we can use history as any guide, selling the basics represents a powerful wealth building strategy. And as I've written many times before, investing in businesses that past the "grandparent test" (like chocolate, toothpaste, and railroads) tend to do pretty well over the long haul.
Kimberly-Clark Corporation (NYSE:KMB) presents a textbook example. The $39.0-billion consumer product giant sells some of the world's most recognizable brands, including "Kleenex" tissues, "Huggies" diapers, and "Cottonelle" toilet paper. You probably have some of these products in your household right now.
Also Read:
Here is Why Dividend Growth Investors Should Consider KMB Stock
But while this boring business won't knock your socks off, it has resulted in tidy profits for owners.
Since 1985, Kimberly-Clark shares have delivered a 9,100% total return, becoming quite the income stream. And following a recent selloff, this stock represents a good place to put fresh money to work today.
Kimberly-Clark pays out one of the safest dividends around, owing to the company's brand strength. Over decades, it has built a relationship with retailers and customers across multiple categories, such as diapers, feminine care, napkins, toilet paper, and paper towels. This would be difficult to replicate, even with deep pockets and a lot of time.
For shareholders, this has resulted in steady income. The company has paid out dividends for decades, increasing its distribution every year since 1972. The last time Kimberly-Clark failed to raise its payout, President Nixon ran the White House, Neil Young's "Heart of Gold" topped the charts, and a typical house would set you back $25,000.
That payout should continue to grow.
Unit sales will increase slowly but relentlessly over time, thanks to a growing population. Kimberly-Clark's brand strength should allow it to raise prices at or above the rate of inflation.
Short-term, management can juice returns through squeezing more efficiencies out of existing operations. In January, Kimberly-Clark announced plans to slash $2.0 billion in annual operating expenses by 2021. This includes cutting 5,000 jobs, shutting 10 of 91 global facilities, and selling off some low-margin businesses.
Over the past five years, Kimberly-Clark has grown earnings per share at only a two-percent annual clip. Analysts, through, a project that pace to accelerate into the mid-single digits going forward, thanks to cost cuts, lower corporate taxes, and the millennial generation starting to have kids. Given the company's long-term track record, we can expect dividend hikes to come in roughly in line with profits.
For owners, this combination should translate into respectable returns.
At today's prices, Kimberly-Clark stock pays a total shareholder yield (dividends plus buybacks) of six percent. If we assume a dividend growth rate in the low- to mid-teens, our total return comes in at around 10% per year.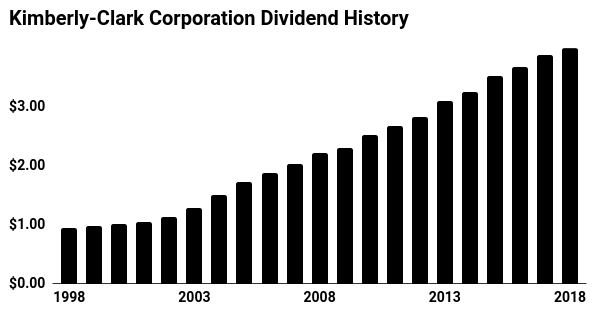 Source: "Dividend/Split/History," Kimberly-Clark Corporation, last accessed February 13, 2018.

Of course, that projection is no sure thing.
Competition for household staples remains intense, and after years of disinflation, higher commodity costs could clip margins.
That said, management continues to widen the moat around its business. In total, executives spend more than five percent of sales, or $1.0 billion annually, on marketing and product innovation. In my view, this spending will help the business withstand competition and adapt to changing consumer tastes.
The Bottom Line on KMB Stock
Some of my best investment ideas come from the "grandparent test." While these businesses usually don't make a lot of headlines, they tend to crank out respectable returns for owners. In the case of Kimberly-Clark, this simple business will likely deliver growing dividends for decades to come. And following the recent selloff, shares look like a good place to put money to work right now.