Income Investors: The Top Dividend Stocks for 2020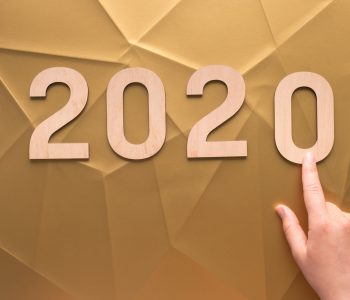 These Top Dividend Stocks Yield Up to 7%
If you want to identify the top dividend stocks for 2020, then you need to keep this phrase in mind: big, secular trends.
Listen, the latest round of economic data would make anyone nervous. Consumer confidence? Down. Corporate profits? Falling. Auto sales? Stuck in neutral.
Worse, Beltway politics won't do anything to encourage investors. Right-wingers want to escalate America's trade war against China. Left-wingers want to invent new ways to separate you from your money.
Seriously, watching what most people call a political debate makes my head hurt. It feels like someone sawed open my skull, filled it with razors, and gave it a good shake.
So, what should income investors do?
Whenever things get rocky, I fall back on powerful, long-term trends. These translate to large, growing investment opportunities with the potential to deliver outsized returns, not just for months or quarters, but for years.
Firms betting on these trends enjoy long growth runways. That often results in soaring stock prices and growing dividends. For investors, these names represent the top dividend stocks for 2020 and beyond.
Take pipelines, for instance. New technologies have unlocked vast quantities of oil and gas across the country. We don't, however, have enough tanks, plants, and pipelines to actually store and ship all of these barrels.
This has given the owners of these types of energy infrastructure a veritable license to print money.
Magellan Midstream Partners, L.P. (NYSE:MMP), for example, pays an upfront yield of seven percent. We have also seen big, robust dividend hikes from pipeline names like TC Energy Corporation (NYSE:TRP), Kinder Morgan Inc (NYSE:KMI), and Enterprise Products Partners L.P. (NYSE:EPD).
Water is another big trend. Over the next two decades, U.S. cities will have to spend over $1.0 trillion to repair and expand their water services. Few, however, want to raise taxes to pay for these investments.
One solution? Many towns and municipalities nationwide have turned to private companies. Water companies such as Aqua America Inc (NYSE:WTR), American Water Works Company Inc (NYSE:AWK), and Middlesex Water Company (NASDAQ:MSEX) have posted soaring profits by scooping up public assets on the cheap.
Another thing is that America isn't getting any younger. Each day, 10,000 baby boomers turn 65. That has created soaring demand for everything from nursing homes and retirement communities to hospitals and doctors' offices.
Healthcare landlords like Welltower Inc (NYSE:WELL) and Healthpeak Properties Inc (NYSE:PEAK) have responded by jacking up rents on their existing properties and constructing new rental properties. So it should come as no surprise to see these names on the 52-week-high list.
Surprisingly, though, the top dividend stocks for 2020 could come from an unexpected place: technology.
I know most income hunters don't look beyond the traditional list of utilities and consumer staples. But for those willing to venture outside their comfort zones, tech has emerged as a veritable cash cow for investors.
I have pounded the table on investing in 5G. This technology, which is the next generation of mobile networks, promises to boost browsing speeds 100-fold. But in order to transmit this much data, carriers have started investing billions to upgrade their networks.
That has resulted in soaring rental income (and dividends) for cell phone tower owners like American Tower Corp (NYSE:AMT) and Crown Castle International Corp. (NYSE:CCI).
And companies need to stash all of this data somewhere. To store the growing number of bits and bytes generated by our devices, firms have turned to data centers: gray, nondescript buildings that house rows of storage terminals.
Companies such as Digital Realty Trust, Inc. (NYSE:DLR) and CoreSite Realty Corp (NYSE:COR) provide physical space in exchange for fixed, monthly fees. That has resulted in a growing income stream for unitholders.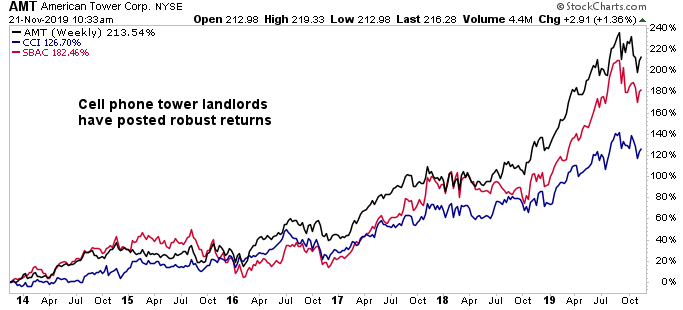 Chart courtesy of StockCharts.com
Of course, secular trends aren't sure things.
If President Donald Trump decides to invade Canada via a tweet, top dividend stocks will get knocked down with the rest of the market. Trade wars, tax hikes, and recession-fears could trigger a sell-off in the short run, too.
But all of these companies mentioned above represent plays of big, growing markets. These markets, it's worth emphasizing, will continue to expand regardless of what headlines come out of D.C.
That makes these names attractive places to park cash in 2020.