How to Get Your Share of This $1-Trillion Opportunity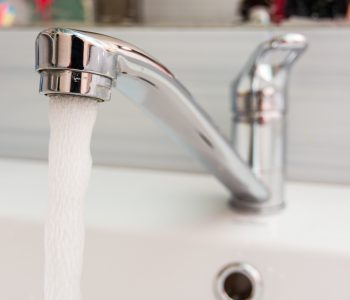 iStock.com/Madhourse
Best Dividend Stocks of the Next Decade
One overlooked industry that I have tracked—and have been bullish on—for years now is water utilities. This quiet group of dividend stocks has quietly crushed the broader stock market, yet they've received relatively little interest from the press.
Wrap your head around this. Over the past decade, the country's three largest water utilities—Aqua America Inc (NYSE:WTR), American Water Works Company Inc (NYSE:AWK), and Middlesex Water Company (NASDAQ:MSEX)—delivered an average total return of 510%.
Yet despite those jaw-dropping returns, these water utilities could still have more room to run. The industry stands on the verge of one of the biggest investment opportunities of the next decade. And it could create fortunes for income investors getting in now.
Let me explain.
Each morning, millions of people nationwide wake up and consume unsafe tap water. Cities like Flint, Michigan drew outrage after testing revealed unsafe levels of lead contamination in drinking supplies. But according to a 2018 University of California study, up to 21 million Americans get water from systems that fail to meet health standards. (Source: "National Trends In Drinking Water Quality Violations," PNAS, February 12, 2018.)
Poor infrastructure has compounded those problems further. Water utilities laid most of their pipe in the early to mid-20th century. With lines approaching the end of their useful life, consumers face a higher risk of contamination.
Unfortunately, cities have few resources to address this problem. Municipalities across the United States face declining tax bases, higher operating costs, and growing pension payouts. Even wealthy cities balk at fronting the hundreds of millions of dollars in investment dollars needed to upgrade their water infrastructure.
One solution? Privatization. And while controversial, selling off public water supplies provides a potential win-win solution.
On one hand, municipalities pawn their infrastructure problem off to someone else. Private investors, not taxpayers, have to front the cash needed to repair pipelines, mend leaks, and improve sanitation.
On the other side, private companies expand their rate base and pad their bottom lines. Water utilities have always represented lucrative investments, given it's one of the last bills that people skip in an economic downturn. And with cities desperate to raise cash, firms can purchase these assets at attractive prices.
We've already seen a spike in the number of transactions. Last year, water utilities signed 33 deals in 2018, up from 14 in 2017. Analysts expect that this number will be even higher when the final figures are released for this year. (Source: "Aqua America CEO Sees Surge in Water-Related Deals," Barron's, February 27, 2019.)
Moreover, government partners have become more accommodating to private operators in recent years. Several states, including Illinois and Ohio, have passed "fair value" laws, allowing operators to raise prices beyond just recouping the cumulative value of the utility's assets. This provides companies with more funds to make the needed investments in their infrastructure.
For investors, this has resulted in impressive results.
Over the past decade, water utilities as a group have increased their earnings per share at a low-teen annual clip. That's blistering growth for the utility sector. Management has passed on much of these profits to shareholders in the form of dividend hikes and stock buybacks.
I covered this in August after Aqua America boosted its quarterly dividend by seven percent to $0.23 per share. That raised the forward yield on shares to 2.3%.
Middlesex just followed up with a similar maneuver. The company  recently declared a cash dividend of almost $0.26 per share on its common stock, a 6.7% increase from the $0.24 declared in July. (Source: "Middlesex Water Company Increases Quarterly Dividend," Middlesex Water Company, October 23, 2019.)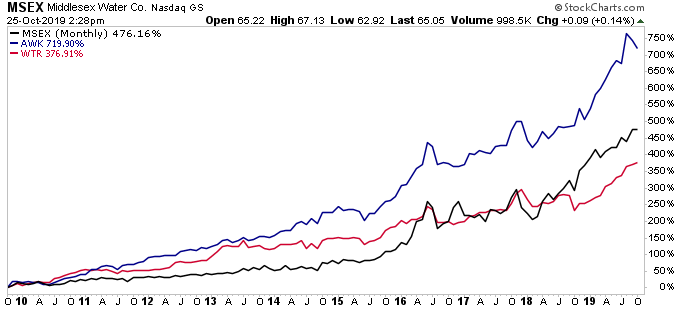 Chart Courtesy of StockCharts.com
But for these water-utility dividend stocks, this could be just the beginning.
Today, municipalities that are scattered across the country control around 85% of the nation's drinking water. According to estimates by American Water Works, cities will have to spend over $1.0 trillion to repair and expand their services over the next two decades. (Source: "2017 Infrastructure Report Card – Drinking Water Report," American Society of Civil Engineers, last accessed October 25, 2019.)
Few municipalities, however, have the financial resources to make the needed investments. This provides private-sector water utilities with a long growth runway to purchase new assets and pad their bottom lines.
I'll drink to that.