Aqua America Inc: This Stock Could Quench Investors' Thirst for Income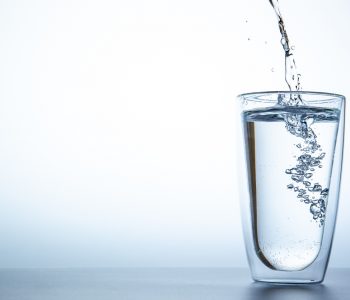 iStock.com/golfcphoto
Aqua America Inc Gives Investors a Big Pay Raise
Low interest rates courtesy of the Federal Reserve have created an income desert for investors. But Aqua America Inc (NYSE:WTR), it appears, has emerged as something of an oasis.
Amid trade tensions, an interest rate cut, and a possible war with Iran, the water utility delivered one of the few pieces of good news in July. Management boosted the company's quarterly dividend by seven percent to $0.23 per share. That move raised Aqua America's forward yield to 2.3%. (Source: "Aqua America, Inc. Declares 7 Percent Dividend Increase," Aqua America Inc, July 25, 2019.)
Traders cheered the announcement, sending Aqua America stock to a fresh all-time high. The recent performance won't surprise market watchers, as income investors have bid up the price for all utility stocks in their search for yield. But Aqua America has posted blowout financial results, too. And despite this stock's recent rally, we have good reason to remain optimistic.
It is true, of course, that you can't call WTR stock "cheap." At 27-times forward earnings, Aqua America shares trade more akin to a tech stock than a utility. Most investors refuse to pay such a rich multiple for what has traditionally been a slow-growing business. (Source: "Investors Are Too Thirsty for Utility Stocks," The Wall Street Journal, June 28, 2019.)
But the water utility industry could be on the verge of its biggest growth spurt in decades. The American Water Works Association estimates that the country will need to spend $1.0 trillion over the next 25 years to replace corroded pipes and poor sanitation facilities. Cities, however, find themselves in a financial bind, squeezed between falling tax revenues and growing pension payouts. (Source: "Buried No Longer: Confronting America's Water Infrastructure Challenge," American Water Works Association, last accessed August 30, 2019.)
Privatization provides one solution, bringing in outside investors to pay for these repairs. Aqua America has spent $230.0 million buying up municipal assets over the past two years, providing a big boost to revenues. And given the size of this opportunity nationwide, management will likely accelerate the pace of these purchases in the years ahead. (Source: "Aqua America CEO Sees Surge in Water-Related Deals," Barrons, February 27, 2019.)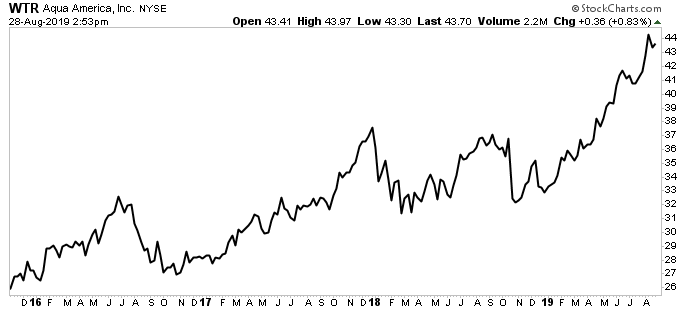 Chart courtesy of StockCharts.com
Price hikes have also raised profits. In six of the eight states where Aqua operates, officials have passed "fair value" laws. These provisions now allow operators to raise customer rates beyond just recouping the cumulative value of the utility's assets. Given that most of the company's expenses are fixed, any price hikes flow straight to the bottom line.
But what has investors most excited is the company's recent expansion into natural gas. Late last year, management acquired Pittsburgh-based Peoples in a $4.3-billion all-cash deal. Aside from padding profits further, the deal also diversifies Aqua's income streams. Management lowers their exposure to political risks in the water industry, which can crop up from time to time. That further reinforces the company's reputation among investors for dependability. (Source: "Aqua America Announces Agreement to Acquire Peoples," Aqua America Inc, October 23, 2018.)
Bottom Line on Aqua America Stock
The end result of Aqua America Inc's recent moves is a dividend stock that offers a rare combination of both safety and growth. Cash flows from Aqua's utility operations resemble bond coupons, given that water represents an essential service.
At the same time, analysts project that the company's earnings per share, and by rough extension its dividend, will grow at a high single-digit annual clip over the next five years.
Considering all that, Income investors might find WTR stock refreshing.