Hospitality Properties Trust: This 9% Yield's About to Get an Upgrade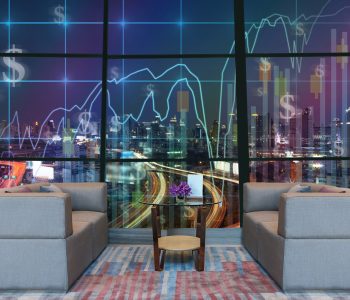 iStock.com/Tzido
Hospitality Properties Trust's Yield About to Get Safer
Prepare to pay more for your next vacation.
Thanks to a booming economy, the spread of low-cost airlines, and an emerging global middle class, tourists have packed hotels close to capacity.
That explains why the average daily rate for a room nationwide hit a record $130.00 last year.
The situation has also allowed hotels to jack up fees on everything from keys and Wi-Fi to parking and early check-ins. (Source: "Average daily rate of hotels in the United States from 2001 to 2018 (in U.S. dollars)," Statista, last accessed September 3, 2019.)
Good news for hotel landlord Hospitality Properties Trust (NASDAQ:HPT)! The strong economy means the partnership's hotel and travel center properties generate robust, growing cash flows. And with a yield topping nine percent, income investors have taken notice.
But can you trust such a high payout?
Savvy investors will want to dig into the numbers before pulling the trigger on any high-yield stock.
Let's get you started with the financials; Hospitality Properties Trust stands in fine financial health.
As of the end of the first quarter, the partnership had $4.1 billion in total debt. That comes out to $5.30 in outstanding liabilities for every dollar generated in adjusted earnings before interest, tax, depreciation, and amortization (EBITDA)—about average for a hotel real estate investment trust (REIT).
More importantly, management has evenly spaced the maturity dates of these debts across several years.
Between 2021 and 2030, the partnership will only have to roll over between $350.0 and $500.0 million annually. That means investors don't have to worry about a liquidity crisis as these debts come due. (Source: "2019 Q1 Investor Presentation," Hospitality Properties Trust, last accessed September 3, 2019.)
Management has applied this conservatism to the income statement, too. Today, Hospitality Properties Trust pays out $0.60 in distributions from every dollar generated in cash flow.
For cyclical businesses like hotels, I like to see this number below $0.70, so the partnership's payout ratio sits well within my comfort zone.
Looking forward, I expect those cash flows to surge.
Over the past few years, Hospitality Properties Trust has spent millions of dollars renovating its existing hotels. So, as those upgrades get completed, the now-available rooms should start generating income.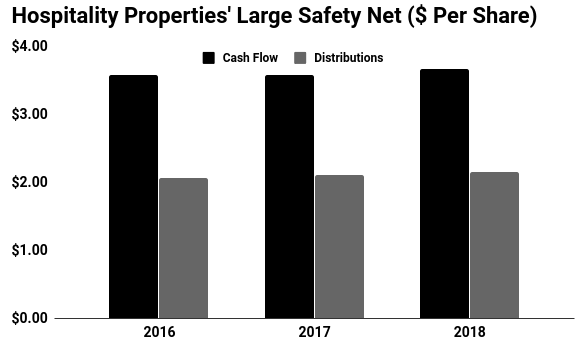 (Source: "Investor Relations," Hospitality Properties Trust, last accessed September 3, 2019.)
So, what could go wrong?
The economy.
Downturns hit the hotel business hard. With fewer travelers, properties often see sharp drops in occupancy and daily rates.
In 2008, we saw this play out at Hospitality Properties Trust. As a result of the financial crisis, management slashed the distribution to unitholders almost in half.
That said, executives have prepared the business better for a downturn this time around. Over the past few years, Hospitality Properties Trust has slashed its debt load, lowered its payout ratio, and trimmed unnecessary expenses. This provides the business with a better financial foundation with which to survive another recession.
In a nutshell, you can't call this nine-percent yield safe. Management, however, has taken the steps needed to shore up their business. And with cash flows poised to surge, the safety rating on this trust could be due for an upgrade soon.
As long as investors understand the potential downsides ahead of time, Hospitality Properties Trust could make for an attractive income stream.