Home Depot Inc.: 3 Reasons to Consider HD Stock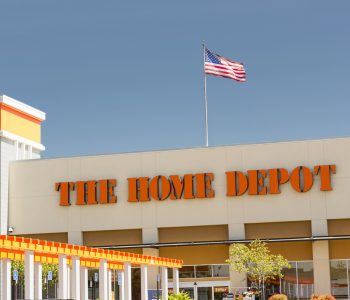 iStock.com/snyferok
HD Stock: Very Shareholder-Friendly

Home Depot Inc (NYSE:HD) is a company known to most homeowners. Being focused exclusively on home improvement-based retail makes it a very unique investment opportunity. Based on its unique business model, is HD stock worth an investment?
Home Depot has three target markets. The first is "do-it-yourselfs," those who complete their own projects and installations. Second is the "do-it-for-me" (DIFM) market, consisting of customers that purchase the goods and then hire a third party to complete the project. Last is professionals, which includes general contractors, repairpersons, and tradespeople. This makes the business even more unique, since there are not many retailers that focus solely on this part of the market.
Let me explain three reasons to consider HD stock for your investment portfolio.
Steady and Growing Income
Home Depot pays a quarterly dividend of $0.89 per share to its investors, reviewing the payout once a year. This payout has doubled since 2013.
Looking forward, the company is becoming more generous when it comes to how much investors receive. In February 2017, the target payout ratio was in the range of 50% to 55%, compared to a maximum 50% payout just a year earlier. (Source: "The Home Depot Announces Fourth Quarter and Fiscal 2016 Results," Home Depot Inc, February 21, 2017.)
Making the payout even more exciting is the earnings being expected to continue to grow, which supports an even higher dividend growth rate going forward. Below is a table with the forecasted earnings per share (EPS) for 2018 to 2021:
| | |
| --- | --- |
| Year | Estimated Annual EPS |
| 2018 | $7.32 |
| 2019 | $8.31 |
| 2020 | $9.12 |
| 2021 | $9.82 |
Serious Share Repurchasing
Since 2013, Home Depot has repurchased more than 100-million outstanding shares. The company is in the middle of a $15.0-billion share repurchase program, which should reduce the share count further while enabling stockholders to own a larger portion of the company without buying additional shares. (Source: "The Home Depot Announces Fourth Quarter and Fiscal 2016 Results," Home Depot Inc, February 21, 2017.)
Also keep in mind that a share repurchase program supports the stock price from falling since the shares are consistently being bought. It also lets the markets know that the company doesn't think its shares are getting a fair shake.
Strong Margins
Home Depot is the largest company in the home improvement retailer space, and also has the best margins in the business. Margins are very important for investors since revenue also has to factor in expenses, with whatever remains either being put towards the business itself or given to investors.
Even though Home Depot is already the margin leader, it still takes those same margins very seriously, always looking to reduce costs and improve margins further. Margins are a means of reporting a higher bottom line without the need to rely on customers to purchase more goods or services. And since Home Depot has more hitting the bottom line, there are greater possibilities for growing the business or rewarding investors even further.
Final Thoughts About HD Stock
So there you are: three reasons why HD stock should be highly considered for your investment portfolio. Home Depot is also a prime example of a very shareholder-friendly business looking out for the best interests of shareholders. I believe there is a high possibility that in a few years, HD stock could be trading higher, with a larger dividend paid per share.