High-Yield Stocks: A Shockingly Safe 9.2% Payout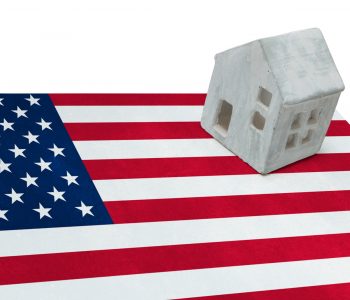 iStock.com/michaklootwijk
No Issues with This High-Yield Stock
You should avoid most high-yield stocks. In fact, I usually rate most companies with high yields somewhere between "bad" and "trash can fire."
It's not too common to find a double-digit yield with a strong dividend safety rating. Today's stock, though, could be an exception, at least as far as we concern ourselves with dividend safety.
Government Properties Income Trust (NASDAQ:GOV) organized itself as a real estate investment trust (REIT) that rents office space to federal, state, and local governments.
I'm not a big fan of "Uncle Sam." The government, though, generally pays its bills, making it one of the best tenants around.
This has created a reliable stream of income. Since going public in 2009, GOV stock has never cut its dividend. Today, management pays out a quarterly distribution of $0.43 per quarter, which comes out to an annual yield of 9.2%.
But unlike the government, GOV executives live within their means.
In the real estate business, we use funds from operations (FFO) to measure profitability. This provides a better measure of performance than normal earnings.
Also Read:
Earn Up to 7.5% From These High-Yield Stocks
Through the first nine months of the year, GOV generated $121.9 million in FFO and paid out $102.5 million in distributions. This comes out to a payout ratio of 84%.
Generally, I like to see management pay out 75% or less of their cash flow in dividends. That way I feel confident that the distributions will keep rolling in, even if the economy has a bad year or two.
GOV's 84% payout ratio sits a little outside of my comfort zone. But given the stability of this business, I'm not too worried.
Growing profits should give the partnership more wiggle room. GOV raises rents around three to four percent annually, in addition to adding properties to its portfolio each year. I don't expect much in the way of distribution hikes, but this payout looks reasonably safe.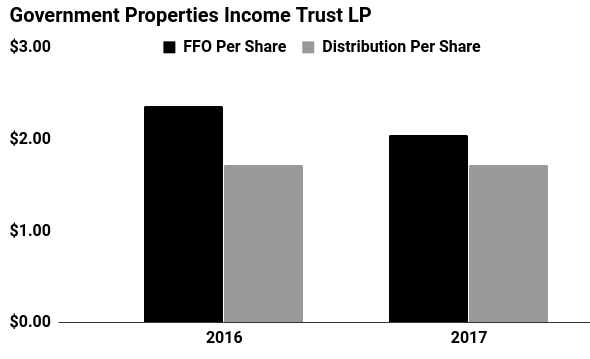 (Source: Government Properties Income Trust corporate filings, last accessed November 16, 2017.)
The biggest risk here? The folks at head office. Management has bought up a number of buildings over the past few years, maybe at a faster pace than I would like. To fund this expansion, executives have taken on quite a bit of debt. If that continues, we may have to reevaluate GOV's distribution safety.
But given the fund's payment history, solid cash flow, and low payout ratio, GOV's distribution looks safe for now.