Hi-Crush Partners LP: This "Pick-and-Shovel" Winner Yields 19.7%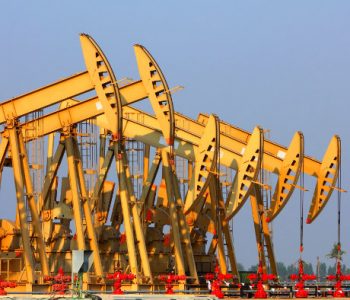 iStock.com/User2547783c_812
HCLP Boosts Its Dividend 233%
Today's chart highlights one of my favorite ways to spot top dividend stocks: "pick-and-shovel" businesses.
Rather than betting everything on a single project, these firms provide tools and services to a booming industry. In many cases, they are safer (and often more profitable) investments.
Take Hi-Crush Partners LP (NYSE:HCLP), for instance. The energy company recently tripled its distribution, raising the yield on its units to almost 20%. For investors looking to lock in a lucrative income stream, this partnership may be worth a second look.
Consider how shale drilling has unlocked vast swaths of energy across the country, creating a boom for companies supplying the oil patch.
American crude oil production recently hit a record 10.9 million barrels per day, according to the U.S. Energy Information Administration. That has resulted in shortages in everything from truckers and rig hands to drilling equipment and camp supplies. (Source: "U.S. Weekly Field Production of Crude Oil," U.S. Energy Information Administration, last accessed July 31, 2018.)
The boom has also resulted in a shortage of frac sand, which has become integral to shale drilling. Producers pump thousands of pounds of the material into their wells to create porous fractures inside the rock walls, boosting oil production. Over the next five years, frac sand demand is projected to more than double to 120 billion pounds annually. (Source: "More Well Completions Means Higher Frac Sand Demand," Black Mountain Sand, last accessed July 31, 2018.)
Hi-Crush Partners LP has positioned itself right in the middle of this bonanza.
The company's Kermit sand mine sits right in the heart of the Texas Permian Basin, called ground zero for America's shale boom. Management estimates that 80% of all drilling activity in the region occurs within a 50-mile radius of one of its distribution terminals.
That puts Hi-Crush Partners in an enviable position. Executives can supply customers right on their doorsteps and undercut rivals on price, due to lower transportation costs. This has allowed Hi-Crush to steal market share, grow sales revenue, and post higher profits.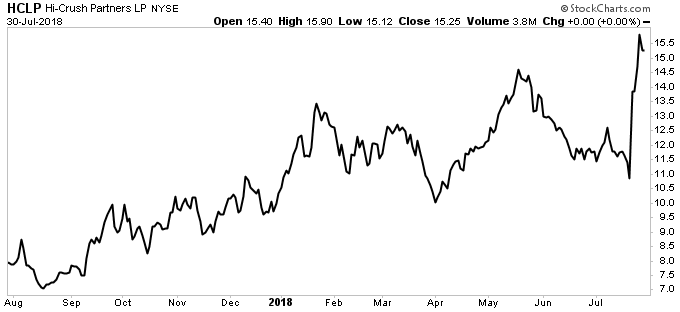 Chart courtesy of StockCharts.com
Most of these profits should get passed on to owners.
Earlier this week, management announced a big distribution increase. Thanks to soaring sand prices, executives hiked the quarterly payout from $0.22 to $0.75 per share.
On an annualized basis, this distribution comes out to a payout of $3.00 per share, or 19.7% at today's unit price. This comes after management had already raised the distribution of 10% last quarter.
Hi-Crush Partners will likely boost that distribution further. To accommodate booming demand, management wants to expand production at their existing facilities. That will likely result in growing profits and, by rough extension, growing distributions.
Sure, supplying sand might not be as exciting as searching for the next oil gusher. But it's a steady, profitable business—and far less risky. And with a yield topping almost 20%, income hunters should give Hi-Crush Partners LP a second look.