How to Spot the Best Dividend Stocks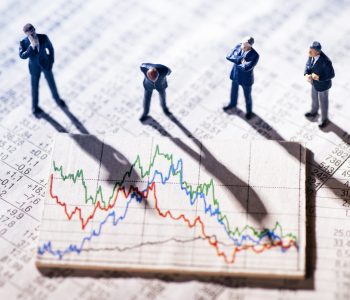 iStock.com/gopixa
Finding the Best Dividend Stocks
Have you ever struggled to identify the best dividend stocks?
If you've ever invested in the stock market, you probably should have answered "yes" to that question. We have so many income opportunities out there, it's hard to separate the studs from the duds.
To make matters worse, many find the sheer volume of information overwhelming. You have to sift through everything from sales growth and operating margins to price-to-earnings (P/E) multiples and debt ratios. How does anyone make sense of it all?
It's possible. You just need to know what you're looking for. And I learned this lesson from a grizzled energy trader in a Canadian dive bar.
Let me explain…
Years ago, I got a job as a risk analyst on an oil trading desk in Calgary. The city is like the Houston of Canada, serving as the headquarters of the country's energy industry.
Back then, even a high school dropout could pull down a six-figure salary. After crude oil prices ticked over $100.00 a barrel, the town went into full boom mode. And with business rocking and rolling, investors poured money into any company with drilling rights and a good story.
I wanted in on the action. Working in the heart of the financial industry myself, I saw a lot of these deals before they went public. Everyone wanted to get in for fear of missing out on the boom.
There was just one little problem: I had no idea what I was doing. As a relative newcomer to the Alberta oil patch, I wanted to get the lay of the land. So I took the company's top trader, John, out for drinks one night.
That evening, we chatted about the business. If you had been a fly on the wall, you would have seen him stroke his salt-and-pepper beard as I droned on across the table about some get-rich-quick idea. Finally, he interrupted me.
"Rob," he started. "A few of these wildcatters might strike it big. Most of them, though, will probably lose their shirts. You want to know where the real money is?"
John paused to chug down the rest of his beer. Then he leaned in close, like he didn't want the other patrons to hear, and started talking in a low voice.
"It's in the circus around the rest of this oil bonanza. It's in the pipeline business. It's in the equipment business. It's in the service business. Heck, it's in this bar, hawking drinks to overpaid rig hands. During a boom, you want to be the guy selling picks and shovels."
Here's the big idea: You'll find lots of businesses trying to strike it rich in almost every industry. But behind every boom, you have a handful of companies selling the vital tools, supplies, and services. And when I look back on my best investment ideas, they often turn out to be "picks and shovels" businesses.
Take long-time Income Investor favorite Cisco Systems, Inc. (NASDAQ:CSCO), for instance.
Over the past few decades, lots of companies have tried to become the Internet's "next big thing." But for every Facebook Inc (NASDAQ:FB) or Amazon.com, Inc. (NASDAQ:AMZN), you had thousands of failures.
Rather than try to pick which web site would work out, investors could have just bought Cisco shares instead. The company makes the routers and switches—what tech guys call the "plumbing"—required to create the Internet. Such shares became the ultimate pick-and-shovel play of the Internet boom.
Cisco stock has become quite the income stream, too. In addition to the double-digit compounded annual returns, the company returns billions of dollars each year to investors. Today, the total shareholder yield on shares—including both dividends and stock buybacks—comes in at over seven percent.
Or consider agriculture.
For the most part, I don't like the farming business. It's volatile, capital intensive, and not that profitable.
But one company has done quite well: Deere & Company (NYSE:DE). The company supplies tractors and equipment, which tend to come with pretty fat margins. Deere has even gotten into equipment financing in recent years, earning profits on interest income in addition to tractor sales.
That has paid off for shareholders. As you can see in the chart below, Deere shares have delivered healthy returns over time. Robust sales have also translated into growing dividends and ongoing share buybacks.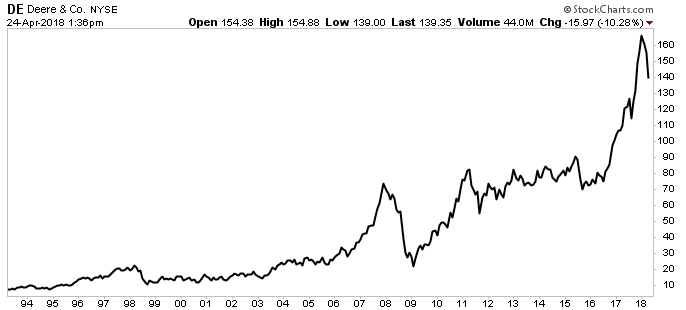 Chart courtesy of StockCharts.com
In fact, the same thing played out in the oil business.
A few months after my barroom conversation with John, the bottom fell out of oil prices. A lot of companies went under and I met dozens of investors who had lost their savings.
The companies selling tools and services, however, kept on trucking. I'm talking about the pick-and-shovel plays like TransCanada Corporation (NYSE:TRP) (pipelines), Core Laboratories N.V. (NYSE:CLB) (oil services), or Hoegh LNG Partners LP (NYSE:HMLP) (energy tanker ships). As John predicted, these firms survived the bust and did quite well for shareholders over the following years.
Most people don't even think about this stuff. Most people just want a good story. Most people don't do their homework and figure out which industry players make the real money.
The thing is, you can't point to anything special about me and John. But you can say something special about the advice he gave me. If you're looking for the best dividend stocks, I recommend starting your research with pick-and-shovel businesses. Most of the time, they represent the safer (and more profitable) investment.