Hershey Stock Could Produce Sweet Returns for Investors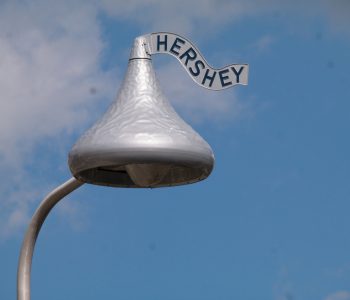 iStock.com/gsheldon
Hershey Stock Up 54% in 11 Months, More Upside Ahead
The official slogan of Wall Street could be "Out with the old, in with the new." Investors always look forward, seeking out firms with innovative, game-changing products or exposure to emerging industries.
You see this theme pop up in the list of top dividend stocks: Walmart Inc (NYSE:WMT) (a new leader in e-commerce), Starbucks Corporation (NASDAQ:SBUX) (moving into snacks and cold drinks), and cell phone tower landlord Crown Castle International Corp (NYSE: CCI) (cashing in on the 5G gold rush). All of these names pay out fat, growing distributions because they cater to booming markets.
One name you wouldn't expect to see on this list is Hershey Co (NYSE:HSY). Most people know the company for its classic chocolate brands like "Kisses," "Kit Kat," and "Almond Joy"—not exactly growth businesses. But over the past few years, the company has embarked on a transformation into a snack food colossus.
That has produced sweet returns for investors. Recent financial results have blown analysts' expectations out of the water. And since we featured Hershey stock in our paid-subscription newsletter Passive Money Income last August, it has soared 54%. Yet this could just be the beginning.
Admittedly, it's hard to get any growth investor excited about chocolate. Sales have stagnated for years. And with America's new appetite for healthy, organic food, Wall Street lost interest in HSY stock long ago.
But management has already spotted this problem. After taking the top job in late 2017, CEO Michele Buck has vowed to expand the company beyond its home turf in chocolate. Buck wants to transform Hershey into "an innovative snack food powerhouse." (Source: "Hershey Investor Update," Hershey Co, March 1, 2017.)
Acquisitions have played a big part in this transformation. The company bought barkTHINS in 2016 and Amplify Snack Brands in 2017. More recently, Hershey purchased Pirate Brands in 2018, giving the chocolate maker rights to snack brands such as "Pirate's Booty," "Smart Puffs," and "Original Tings."
These investments, it seems, have already paid off. These categories and brands continue to grow at a rapid clip as younger customers increasingly skip meals in favor of snack foods. Hershey, almost out of nowhere, now stands as the second-biggest player in the U.S. snack food market, with 7.5% of total sales, behind only PepsiCo, Inc. (NASDAQ:PEP). (Source: Ibid.)
Of course, none of this addresses Wall Street's concerns about the company's core chocolate business. This industry has struggled with rising costs, new competition, and flat sales. It will take many years for any gains in snack foods to replace this division.
But Hershey has reignited its chocolate business by pushing new concepts and innovations. In recent years, management has launched dozens of new flavors, revamped packaging for 150 items, reinvented the self-check-out queue, broken into digital commerce, and gone viral on social media. Savvy online marketing campaigns have driven a double-digit increase in consumer impressions (industry lingo for the number of people that see an ad), with only a modest increase in spending.
Good-old-fashioned price hikes have also boosted revenue. Last quarter, Hershey reported no dip in sales volume after announcing double-digit price hikes across most of its product portfolio. People, it seems, don't mind coughing up an extra nickel or two for their favorite treat. (Source: "Hershey raises prices on candy bars, Halloween candy is next," MarketWatch, July 29, 2019.)
This has translated into jaw-dropping earnings. Gross margins came in at 49.5% in the 2019 second quarter, compared to 45.3% during the same period last year. Net income topped $312.8 million, or $1.48 per diluted share, a 38% jump year-over-year. (Source: "Hershey Reports Second-quarter 2019 Financial Results; Updates 2019 Net Sales And Earnings Outlook," Hershey Co, July 25, 2019.)
"[W]e have good momentum across all of our key strategies with strong financial results in the second quarter," said Buck in the company's second-quarter earnings conference call. "We will continue to invest in our brands and our capabilities to take this business to the next level and drive sustainable top and bottom line growth." (Source: "The Hershey Company (HSY) CEO Michele Buck on Q2 2019 Results – Earnings Call Transcript," Seeking Alpha, July 25, 2019.)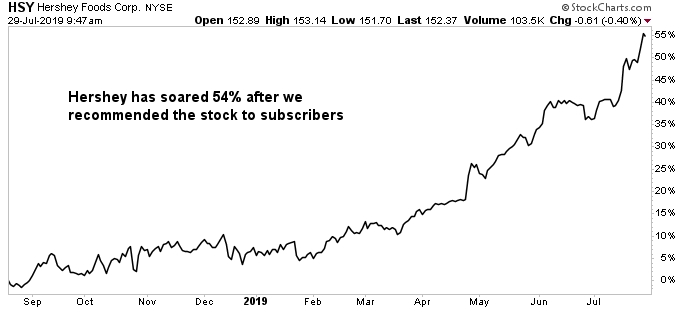 Chart courtesy of StockCharts.com
That momentum will likely continue, at least for the foreseeable future. In addition to posting blowout financial results, the company raised its earnings guidance for the rest of the year, projecting a six-to-seven-percent jump in full-year 2019.
The board also approved a seven-percent dividend hike, raising the quarterly distribution to $0.77 per share. (Source: "Hershey Declares Quarterly Dividends," Hershey Co, July 25, 2019.)
Of course, you can't call those numbers set in stone. But Hershey executives would not have raised investors' expectations unless they were sure they could deliver.