Hershey Co.: 1 Dividend Stock For The Next 100 Years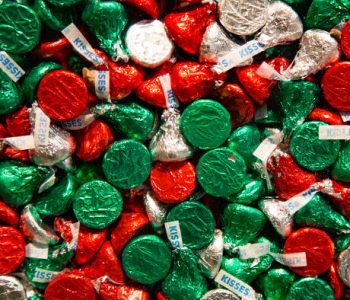 Hershey Co. is 1 Stock to Own Forever?
As I've been expecting for a while, investors are flocking toward "forever stocks."
People are starting to bail on junk bonds and energy companies—some of the more risky investments. Most forever stocks, though, are holding up just fine. While the market sank last week, stocks like Wal-Mart Stores, Inc. (NYSE:WMT), Microsoft Corporation (NASDAQ: MSFT), and PepsiCo Inc. (NYSE:PEP) held up well.
I'm not shocked. As I've been saying for a long time, these firms are different from ordinary stocks; they stand out from the rest of the pack. Forever stocks are much, much better.
If you could learn just one thing about investing, it would be how to identify the financial indicators of a legacy asset. No, they won't make you the talk of your next cocktail party. But forever stocks are the single best way—that I know of, anyway—to build wealth in the stock market.
Let's use The Hershey Co (NYSE:HSY) as an example.
Hershey is the ultimate forever stock. The company is the world's leading chocolate maker, with a presence in more than 90 countries worldwide. The firm owns nearly half the current market share in the United States, keeping private label brands to just one percent. (Source: "Market share of the leading chocolate companies in the United States in 2015," Statista, last accessed September 19, 2016.)
Sure, consumers can buy candy bars from any of the thousands of different producers worldwide; there's really nothing unique about chocolate. But Hershey is the only seller of brands like "Kisses" or "Reese's Peanut Butter Cups." And most customers, myself included, will continue to pay up for these products, regardless of the cheaper alternatives on the grocery store.
Those are the surface indicators to identifying a forever stock, but we also need to dig deeper into a company to find the financial indicators of these wonderful businesses.
Also Read:
4 Best Long-Term Dividend Stocks to Watch in 2017
Top 10 Buy-and-Hold Dividend Stocks
The Ultimate Legacy Asset
To say Hershey Co has all the financial indicators of a legacy type asset would be an understatement.
The first sign of a forever stock is consistently thick margins. This is the amount of money a company earns in profit from each dollar of sales. A wonderful business should be able to generate thick profit margins year after year so it can pay oversized dividends to shareholders.
Hershey has thicker margins than any business I know of. A chocolate bar might cost only a few cents to make. Hershey, though, can turn around and sell their product for a dollar or so.
The company's gross margins (the margin earned before deducting the basic costs of doing business) are consistently above 40%. Net margins (the profit earned after subtracting all the costs of doing business) have been in the high single digits for years. Most businesses struggle to maintain any sort of profitability, let alone put out numbers like this decade after decade.
Another hallmark of a forever stock is capital efficiency. Capital efficiency measures how much money a company needs to reinvest back into its business each year just to keep the lights on. The more efficient the business, the more money can be paid out to investors.
Hershey requires little capital to grow. Over the past decade, investment spending has barely budged. Yet during the same period, revenues have nearly doubled.
Making chocolate isn't rocket science. You don't have to reinvent your business every year or pour billions into research and development, and ongoing costs are minimal.
A third sign of a forever stock is a strong balance sheet. Shareholders of a business want to see lots of cash and a very low debt load. You don't want your investment to be wiped out with a minor recession.
The Hershey Co's balance sheet is a fortress. The company has only $30.0 billion in debt, versus a market capitalization of over $20.0 billion. Last year, the business generated over $1.2 billion in operating cash flow.
This figure is more than enough to handle the company's liabilities. Management could pay off the entire debt load in a few years if they wanted to. And because interest expenses are so low, more money is available for shareholders.
Finally, for a company to qualify as a forever stock, we need to see a long history of paying dividends. Once again, Hershey is a standout. The company has managed to pay a dividend to shareholders for 85 consecutive years, going all the way back to when Herbert Hoover was President.
More importantly, this payout has kept pace with inflation. Since 1996, the dividend has grown 632%. Even through the financial crisis of 2008, the company managed to pass on a small distribution increase.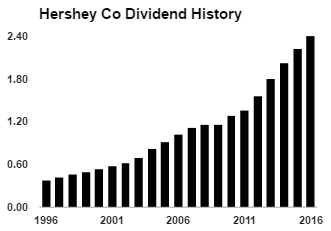 Source: Yahoo! Finance
Today, Hershey yields just 2.4%, which might not be enough you whet your appetite.  But overlooking this stock because of its low current payout would be a mistake. Assuming Hershey continues to grow its dividend at a 10% annual clip (not an unlikely possibility given the strength of the business), your yield on cost will grow to 16% in 20 years.
This yield picture also doesn't provide a full picture as to how much exactly Hershey Co. pays out to shareholders. In addition to dividends, the company also has a big buyback program. If you were to include these stock repurchases as part of a total shareholder yield, Hershey's payout jumps to 6.4%.
The Final Word on Hershey Co.
These financial indicators have allowed Hershey to crush the market year after year. No, owing a forever stock like this won't impress your friends at the next cocktail party. But if you like good old-fashioned dividends and reliable profits, then this name is just fine.
The bottom line, Hershey Co is one income stock for the next 100 years.