Hasbro, Inc.: Overlooked 4.4% Yielder Has 50%+ Upside Potential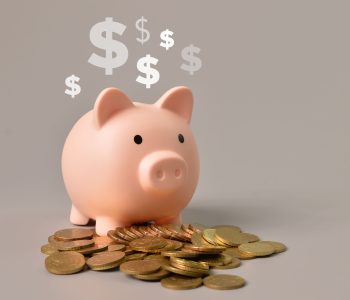 HAS Stock Still a Great Contrarian Play
The energy and artificial intelligence (AI) sectors have been hogging the spotlight this year, but there's something to be said for popular toy and entertainment brands like "Peppa Pig," "Nerf," and "Play-Doh."
On that note, one company that often gets overlooked during times of economic uncertainty is Hasbro, Inc. (NASDAQ:HAS), a consumer cyclical stock that has been quietly thumping the broader market over the past six months.
I wrote about Hasbro stock in April, when it was trading at $51.64 per share. HAS stock has rallied significantly since then, hitting a new 52-week high of $73.57 on September 6, for a short-term gain of 42.5%.
Hasbro, together with its subsidiaries, operates as a global toy and game company. Most people are familiar with Hasbro's most popular brands, such as "Dungeons & Dragons," "Magic: The Gathering," "Transformers," and the just-mentioned Peppa Pig, Nerf, and Play-Doh.
The company operates through four business segments: Consumer Products; Wizards of the Coast and Digital Gaming; Entertainment; and Corporate and Other. (Source: "Hasbro Reports Second Quarter 2023 Financial Results," Hasbro, Inc., August 3, 2023.)
The Consumer Products segment sells toys and games around the world, including for third parties such as Lucasfilm Ltd. (whose brands include "Star Wars," "Indiana Jones," and "Marvel").
The Wizards of the Coast and Digital Gaming segment sells trading cards, role-playing games, and digital games.
The Entertainment segment develops, acquires, produces, distributes, and sells entertainment content, including films, TV shows, digital content, and live events.
In October 2022, Hasbro, Inc. announced an initiative that's designed to ensure its near-term and long-term financial growth, which has made it a compelling stock.
Hasbro Inc Selling its Film & TV Business
In an effort to focus its attention on its brands like Peppa Pig, Transformers, and Dungeons & Dragons—and to assert itself as a digital game giant—in August, Hasbro announced plans to sell its Entertainment One (aka eOne) film and TV business for $500.0 million to Lionsgate Entertainment Inc. The deal is expected to close by the end of 2023. (Source: "Hasbro to Sell eOne Film & TV Business to Lionsgate," Hasbro, Inc., August 3, 2023.)
The sale will give Lionsgate access to eOne's library of almost 6,500 titles, including Grey's Anatomy, Naked and Afraid, The Rookie, The Woman King, and Yellowjackets. Lionsgate will also receive film development rights for Hasbro's "Monopoly," the popular board game.
Hasbro, Inc. purchased eOne in 2019 in an all-cash deal valued at about $4.0 billion. At the time, Hasbro was interested in eOne's preschool brands, which included Peppa Pig and "PJ Masks." Hasbro will keep its ownership of eOne's family brands division, so it will still have access to Peppa Pig and PJ Masks.
Hasbro said it will use some of the proceeds from the deal to retire a minimum of $400.0 million of its floating-rate debt by year's end.
Hasbro Plans to Grow Profits 50% Over Next 3 Years
The sale of eOne comes on the heels of Hasbro's "Blueprint 2.0" initiative, which it announced last October. The plan includes focusing on a few big brands and advancing direct-to-consumer capabilities and licensing. (Source: "Hasbro Announces Plan to Grow Profit 50% Over Next Three Years," Hasbro, Inc., October 4, 2022.)
Blueprint 2.0 is expected to deliver the following:
$150.0 million in annualized run-rate cost savings by the end of 2023
$250.0 to $300.0 million in annualized run-rate cost savings by the end of 2025
50% profit growth over three years
A 20% adjusted operating profit margin by 2027
More than $1.0 billion of annual operating cash flow, which is to increase over the period of the plan
The return of excess cash to shareholders through industry-leading dividends and a future share-repurchase program
In addition to Hasbro, Inc.'s current animation projects—Peppa Pig, Transformers: EarthSpark, and My Little Pony: Tell Your Tale—the company has more than 30 projects in development. They include its ongoing development of the "G.I. Joe," Transformers, Play-Doh, Dungeons & Dragons, and Magic: The Gathering brands, as well as its board game portfolio. (Source: "Hasbro to Sell eOne Film & TV Business to Lionsgate," Hasbro, Inc., August 3, 2023, op. cit.)
Q2 Revenues Topped Expectations
For the second quarter ended June 30, Hasbro announced that its revenues slipped by 10% year-over-year to $1.2 billion. The company reported a second-quarter net loss of $235.0 million, or $1.69 per share. Its adjusted earnings came in at $0.49 per share. (Source: "Hasbro Reports Second Quarter 2023 Financial Results," Hasbro, Inc., August 3, 2023. op. cit.)
During the quarter, Hasbro:
Announced the sale of eOne, allowing it to focus on its core toy and game brands.
Reduced its owned inventory level by 16% year-over-year
Reduced its global retail inventory by 16% year-over-year
Reaffirmed its outlook for its Consumer Products segment
Increased its revenue growth outlook for its Wizards of the Coast and Digital Gaming segment
Moreover, in the first half of this year, the company achieved $84.0 million worth of cost savings under its Operational Excellence Program.
Commenting on the results, Chris Cocks, Hasbro, Inc.'s CEO, said, "The Hasbro team delivered a solid second quarter, with revenue ahead of our expectations, significant reduction of inventory, and meaningful progress toward our transformation and cost savings programs." (Source: Ibid.)
Gina Goetter, the company's CFO, added, "Through the first six months, our results have been at or above our plan. Positive proof points are emerging across a variety of our transformation initiatives as we lower costs, improve productivity, and reset Hasbro for profitable growth. Selling our eOne Film and TV business will give us greater focus and financial flexibility…"
Hasbro Stock's High-Yield Quarterly Dividend at $0.70/Share
Before the COVID-19 pandemic, Hasbro, Inc. had a pretty solid history of increasing its dividends on a regular basis. This trend hit a brick wall during the pandemic.
Management held HAS stock's quarterly payout at $0.68 for all of 2020 and 2021 and then raised it to $0.70 per share in the second quarter of 2022. (Source: "Dividend & Stock Split History," Hasbro, Inc., last accessed October 4, 2023.)
Hasbro has held its dividend at that level since then. This works out to a yield of 4.44% (as of this writing).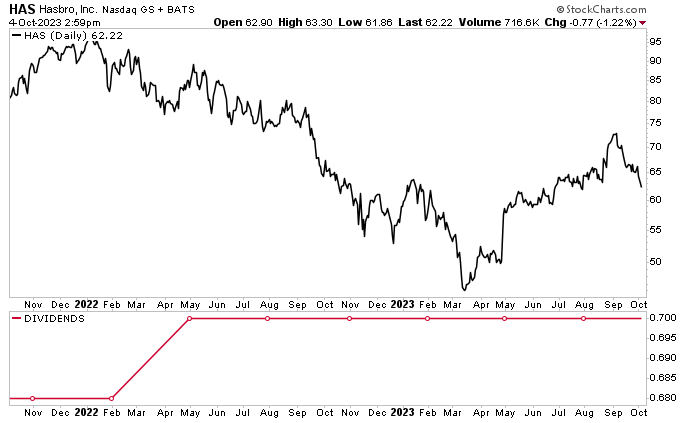 Chart courtesy of StockCharts.com
The Lowdown on Hasbro, Inc.
Hasbro is one of the best-known toy companies in the world. Unfortunately, even the biggest names can face industry headwinds. Fortunately, this company has taken steps to ensure that it grows financially.
In addition to its strong growth catalysts, including film launches and new licenses, Hasbro, Inc. has an initiative in place that it says will result in cost savings of up to $300.0 million by the end of 2025. Furthermore, the company recently sold off its eOne movie and TV business, so now it can focus on its most popular brands and work on new projects.
All this should help Hasbro continue its industry-leading high-yield dividends and share buybacks. It should also help juice Hasbro stock's price over the coming years.