Undervalued, 5.4%-Yielding Hasbro Stock Has 75% Upside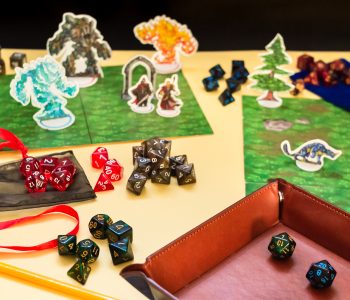 HAS Stock Is a Great Contrarian Play for Patient Investors
There are opportunities on Wall Street that stock investors take advantage of because the underlying companies are doing exceptionally well. As the old adage goes, don't fight the trend.
But in some cases, it can make sense to take a contrarian approach to investing. Instead of chasing someone else's stock market gains, investors can take a close look at stocks that have been beaten down but have compelling growth stories. That's what you get with Hasbro, Inc. (NASDAQ:HAS).
Hasbro, with its subsidiaries, operates as a global game, toy, and entertainment company. It operates through three business segments: Consumer Products, Wizards of the Coast and Digital Gaming, and Entertainment. (Source: "Hasbro Reports Fourth Quarter and Full-Year 2022 Financial Results," Hasbro, Inc., February 16, 2023.)
The Consumer Products segment sells toys and games around the world, including toys for third parties such as Lucasfilm (whose brands include "Star Wars," "Indian Jones," and "Marvel").
The Wizards of the Coast and Digital Gaming segment promotes Hasbro's brands through trading cards, role-playing, and digital game experiences.
The Entertainment segment develops, acquires, produces, distributes, and sells entertainment content including films, TV shows, digital content, and live events.
Most people are familiar with Hasbro's most popular brands, such as "Dungeons & Dragons," "Magic: The Gathering," "Nerf," "Play-Doh," "Peppa Pig," and "Transformers."
With a market cap of $7.3 billion, Hasbro, Inc. is an industry juggernaut. However, it's a consumer cyclical company that has seen its share price take a big hit lately. As of this writing, Hasbro stock is down by:
22.8% over the last six months
17.6% year-to-date
42.2% year-over-year
That's not a total surprise for those who've been following Hasbro, Inc. The company's management team said it expected 2022 to be a tough year.
Nevertheless, thanks to a new initiative (which you can read about below), HAS stock's outlook is robust. Even conservative Wall Street analysts think so. They've provided a 12-month share-price target in the range of $69.90 to $90.00, which points to potential gains in the range of approximately 35% to 75%.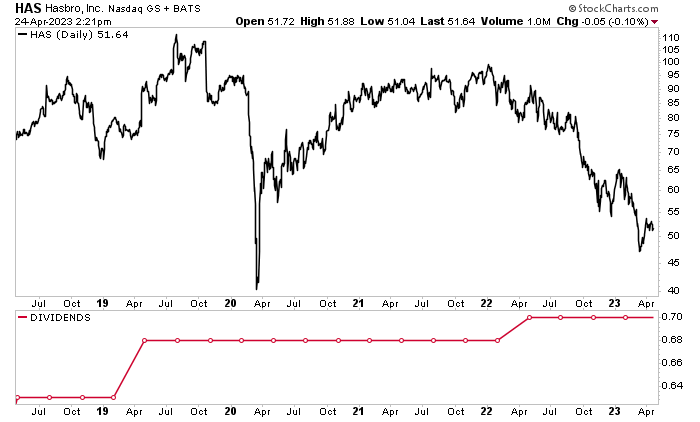 Chart courtesy of StockCharts.com
2022 Was a Tough Year for Hasbro, Inc.
Hasbro stock comes by its recent share-price losses honestly. In addition to falling victim to cutbacks in discretionary spending and an increase in fear of an upcoming recession, the company has been missing its financial targets. Its fourth-quarter and full-year 2022 results came in below expectations. (Source: Ibid.)
Hasbro, Inc.'s fourth-quarter revenues fell by 17% year-over-year to $1.7 billion. Its full-year revenues went down by nine percent to $5.9 billion. The company also swung to a fourth-quarter net loss of $128.9 million, while its full-year net income went down by 53% to $203.5 million.
Although its financial results were disappointing, the company still managed to deliver its first billion-dollar brand in Magic: The Gathering. Moreover, it reported another record year for its Wizards of the Coast and Digital Gaming segment, grew its key investment areas (including licensing and direct-to-consumer), and improved its adjusted operating profit margin.
Hasbro, Inc. also reduced its owned and retail inventory levels from its third-quarter peak.
As mentioned earlier, the company expected 2022 to be challenging, but it took that opportunity to invest in its business growth. That included acquiring "D&D Beyond" for $146.0 million in May of that year, in a deal that became earnings-accretive in the fourth quarter.
In 2022, Hasbro, Inc. returned $510.0 million to its shareholders through dividends and share repurchases. The company's balance sheet is solid, though, with enough cash to adequately support its short-term business needs.
Despite a weak near-term shipment outlook, Hasbro, Inc. has maintained a long-term forecast of mid-single-digit sales growth through 2027. The company expects its operating cash flow to nearly double in 2023. Furthermore, it's working to reduce its owned and retail inventory levels further this year.
Plans to Grow Profits 50% Over Next 3 Years
To combat the toy, game, and entertainment industry's headwinds, Hasbro introduced its "Blueprint 2.0" initiative last October. (Source: "Hasbro Announces Plan to Grow Profit 50% Over Next Three Years," Hasbro, Inc., October 4, 2022.)
The new plan features near-term changes that should deliver positive financial impacts as early as the fourth quarter of this year. Those changes include focusing on a few big brands and advancing direct-to-consumer capabilities and licensing.
Hasbro, Inc.'s plan is expected to deliver the following:
$250.0 to $300.0 million in annualized run-rate cost savings by the end of 2025, with $150.0 million expected in savings by the end of 2023
50% profit growth over the next three years
A 20% adjusted operating profit margin by 2027
Annual operating cash flow in excess of $1.0 billion, accelerating over the period of the plan
The return of excess cash to shareholders through industry-leading dividends and a future share-repurchase program
Hasbro Stock's Quarterly Dividend Maintained at $0.70/Share
HAS stock currently pays a quarterly dividend of $0.70 per share, for a yield of 5.4%.
Hasbro, Inc. has a solid history of raising its dividends annually. Over the last 15 years, it has raised its dividend 11 times. Whereas many companies cut or suspended their dividends during the COVID-19 pandemic, Hasbro maintained its payout at $0.68 per share. In early 2022, the company increased its dividend by three percent.
In 2021, the company delivered wonderful financial results, including 17% revenue growth, higher operating profit margins, and $818.0 million in operating cash flow. This allowed Hasbro to continue investing in growth initiatives, pay off $1.1 billion in long-term debt, and continue supporting its dividends.
The Lowdown on Hasbro, Inc.
With more than 1,500 popular brands, Hasbro is one of the most well-known toy, game, and entertainment companies in the world.
Unfortunately, even the biggest names can take a hit when facing industry headwinds. Fortunately, Hasbro, Inc. has taken steps to ensure its near and long-term financial growth.
In addition to strong growth catalysts, including film launches and new licenses, the company's recent Blueprint 2.0 plan includes $250.0 to $300.0 million in cost-saving initiatives by the end of 2025. This should help Hasbro stock continue to provide investors with industry-leading high-yield dividends and share buybacks. The plan should also help juice HAS stock's share price over the coming years.