GMLP Stock: The Safest 10.1% Yield Available Today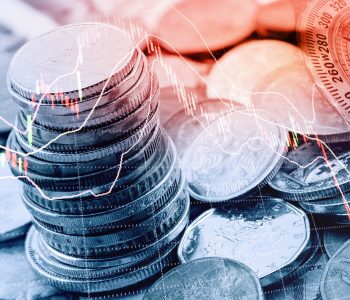 iStock.com/William_Potter
Who Else Wants a Safe 10.1% Yield?
Generally, big yields come with big risk.
Some stocks grab your attention with their double-digit payouts. But the second you dig into their financials, you see why the smart money unloaded their shares.
Oversized yields often come with declining sales, big debt loads, and deteriorating cash flow. New investors often ignore these warning signs—until, of course, their income stream dries up.
Not so with Golar LNG Partners (NASDAQ:GMLP). Units sport a 10.1% payout, which should tell you this comes with some risk. But, for such a high-yield name, the dividend looks incredibly solid. Here's the scoop.
Golar owns ships that carry and store liquefied natural gas (LNG). Like a toll booth on the Interstate, the partnership collects a fee on each cubic foot of LNG that flows through its network.
And business, it seems, is booming. As we've covered previously on Income Investors, U.S. natural gas output has surged over the past few years. With emerging economies around the world searching for new sources of fuel, most of this homemade energy will find willing buyers overseas.
For Golar, a "Made in America" export boom means more toll income. Since 2011, management has nearly doubled the quarterly distribution. Those dividend hikes stopped in 2015, but only to free up money to fund acquisitions.
Those checks will likely keep rolling in. Last year, the partnership generated $261.2 million in free cash flow and paid out $154.7 million in distributions. On a percentage basis, this comes out to a payout ratio of 59%.
Generally, I want to see a payout ratio below 75%. So, in the case of Golar, we have a big margin of safety if profits dip. Even if net income plunged by more than a third, the business could still cover the distribution.
Looking forward, analysts expect Golar to generate $316.0 million next year. If the partnership hits this number, the payout ratio will drop below 50%. That will give management ample funds to pay down debt, make more acquisitions, or even raise the dividend.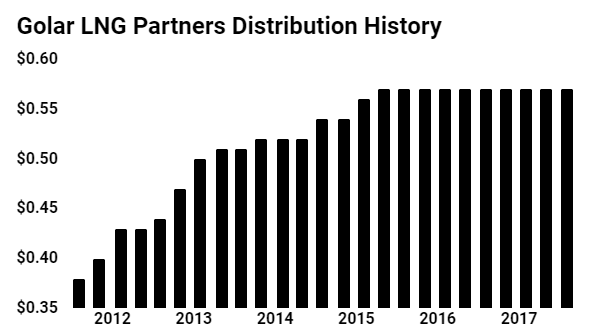 (Source: "Golar LNG Partners LP (GMLP)," Yahoo! Finance, last accessed October 2, 2017.)

The only ding on Golar's report card? Debt.
Golar executives often fund new acquisitions through debt issues. With liabilities topping $1.6 billion, the balance sheet looks a little stretched. If management keeps borrowing at this rate, we could see the distribution come under pressure.
But, for now, Golar's steady cash flows, oversized profits, and solid dividend track record makes it one of the safest double-digit yields around.