GME Stock: This High-Dividend-Paying Stock is Yielding 5.9%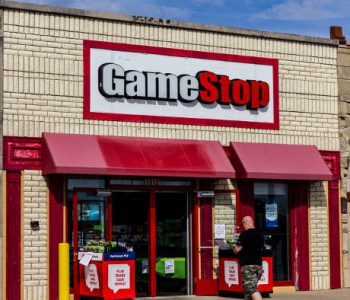 High Dividend Paying Stock From a Unique Retailer
There are not many companies known as a high-dividend-paying stock that rewards shareholders. For a company to maintain a high dividend, there must be sustainable cash flow to do so.
At times, it is difficult picking the right product to invest in because it could easily be hit or miss. The great thing about owning stock in a company like GameStop Corp. (NYSE:GME), a video game retailer, is that it takes away that risk for you since it has a broad range of products. Management has recognized the cyclical cycles of the gaming business and made adjustments to the business model to continue to reward shareholders by way the of the dividend.
Get Paid to Wait for Upside
This high-dividend-paying stock is paying $0.37 on a quarterly basis, which would amount to $1.48 on an annual one. Based on the current price of GME stock of $25.05, the yield would be 5.92%.
It can be difficult to find a high-dividend-paying stock that increases its payout over time. GME stock would fit this criteria; over the past four years, the dividend has rewarded shareholders with an increase. The shares over the past four years represent a flat return, but thanks to the dividend, the overall return would have been positive. Retailing is a tough business and the company is diversifying their products and services..
Transforming the Business
The success and sales numbers of video game sales vary from title to title—not every game can be a hit, and most aren't—and delays of highly anticipated games are common. As such, GameStop wanted to ensure cash flow would be more predictable and continue to be classified as a high-dividend-paying stock. As part of this initiative, the company acquired 507 wireless stores from AT&T Inc. (NYSE:T) to diversify their offerings. The move will add about $85.0 million to $100.0 million in profit to the bottom line. This is a great move by management based on their retail experience and potentially allows GameStop to market a gaming and a wireless business separately, cross-selling both sides of its business. (Source: "GameStop Acquires 507 AT&T Stores in Diversification Plan," Bloomberg, August 2, 2016.)
Positioned Right
With the holiday season coming up, the hot product is virtual reality (VR) headsets. VR products will be offered by all the big players, including Microsoft Corporation (NASDAQ:MSFT), Sony Corp (NYSE:SNE), and even social media company Facebook Inc (NASDAQ:FB). Facebook Chief Executive Officer Mark Zuckerberg is targeting between 50 million and 100 million in unit sales. (Source"Facebook: Oculus Rift will need to sell 50-100 Million Units to be 'Meaningful,'" PC Gamer, October 29, 2014.)
GameStop stand to be a huge beneficiary of numbers like this. There is a lot competition coming in this space, which means that physical retail space is going to become more valuable. VR is one product that is difficult to purchase online, since itneeds to be felt and experienced as well.
Analysts have taken notice as well, seeing 36% upside and an average price target of $34.82. If analyst are correct in seeing the shares trading above $34.00, the return would be greater than 40% when the dividend return is factored in. (Source: "GameStop Corp. Cl A," MarketWatch, October 24, 2016.)