GME Stock: 3 Reasons to Be Bullish on This 7.2% Dividend Yield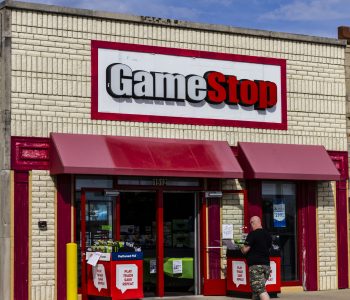 iStock.com/jetcityimage
Earn a High Dividend Yield of 7.2% from GameStop
GameStop Corp. (NYSE:GME) is down 30% over the past year. Is now the time to consider shares in the video game retailer, or is it best to stay away?
To answer this question, three areas of the company are going to be looked at: its current valuation, it business model, and current shareholder rewards. By the end, you will hopefully be on the path to making an educated decision regarding dividend investing in GME stock.
Valuation Outlook
We have all gone shopping looking for the lowest prices with the best overall value. The same practices can be applied to stock prices by using the price-to-earnings (P/E) ratio to determine how much of each $1.00 of earnings investors receive. Just like shopping, the lower the P/E, the more value there is when deploying investment capital.
GME stock currently has a P/E ratio of 6.5 times, compared to 17.5 times for the industry average, which GME stock will hopefully trade at or close to. That said, I believe that investors are ignoring a great investment opportunity because the gross, operating, and profit margins are all higher than the industry average.
Business Overview
A cheap valuation is great, but the business needs to be sustainable and growing.
GameStop has more than 7,600 retail stores around the world. Products sold are divided into four segments: Video Games, Digital and Mobile Gaming, Technology Brands, and Collectibles. The Video Games division accounts for the largest percentage towards total earnings, with GameStop holding the top market share for video games in 13 different countries.
Video games are a very steady business because approximately 60% of total sales are accounted for from legacy brands that also exist outside of games, such as Star Wars, Batman, and Star Trek. Earnings could increase due to the increasing popularity of competitive gaming ("eSports"), which is growing in the high double digits. Companies such as Walt Disney Co (NYSE:DIS) and Amazon.com, Inc. (NASDAQ:AMZN) are pouring billions of dollars into this new market to be part of the growth. (Source: "Competitive video gaming will be a $1.5 billion industry by 2020, researchers say," Business Insider, March 27, 2017.)
The Technology segment entails both ownership and partnership. GameStop has been acquiring wireless stores located across the U.S. to serve as a more steady stream of income, as these services are considered an essential part of everyone's life. This creates a sort of "stickiness" aspect regarding the revenue and services which is great for the business. The company also has a partnership with Apple Inc. (NASDAQ:APPL) that allows GameStop to serve as an authorized dealer of Apple products.
With such a diversified business, there is a lot more opportunities to cross-sell items to customers and drive up revenue per square foot. Another benefit is that if there happens to be a weak revenue stream from one country or business division, another could generate enough gains to offset the negative impact.
Receive a Piece of the Profits
At this current moment, a dividend yield of 7.2% is available, based on the trading price of $21.20. Even though GME stock's dividend yield is 3.71 times the average yield of the S&P 500 Index, the dividend policy is reviewed annually to determine if growth is affordable. The five-year dividend growth streak amounts to a total increase of 52%.
Looking into the future, the solid and diversified business means there is a likelihood that the dividend continues to grow. Also consider the very conservative financial nature of the company; remember, less than half of every dollar disturbed via the dividend payment. An increase in the dividend would not harm GameStop's financial stability. There is also a large cash balance sitting in GameStop's bank accounts, which is equivalent to about 30% of the market cap size. (Source: "GameStop Corp. Cl A," MarketWatch, last accessed August 17, 2017.)
Final Thoughts About GME Stock
And there you have it: three reasons why GME stock should be considered for an investment. Even though the price of the stock is down over the past year, it doesn't always mean there is an issue with GameStop stock. In this case, the market is simply unaware of the great business and cheap valuation. If you choose to get in now, you would get paid until the market clues in.
Also Read:
5 Cheap High Dividend Stocks for 2017
10 High-Yield Small-Cap Dividend Stocks for 2017