Falcon Minerals Stock: Oil & Gas Stock Up 52% YTD; Dividend Up 80%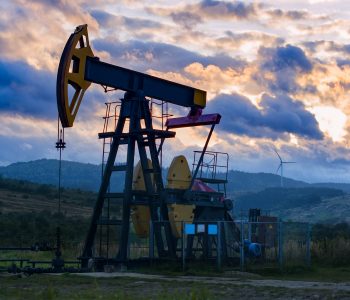 FLMN Stock Is Bullish on Record Oil Prices
As the old investing adage goes, don't fight the trend. If the market wants to go higher, don't bet that it will fall (and vice versa). It's not foolproof—some contrarian investors have made out like bandits—but it's worth noting.
Right now, crude oil prices are above $100.00 per barrel on fears that global supplies will tighten if the EU bans Russian oil following Moscow's sanctioning of European units of Russian state majority-owned Gazprom. (Source: "Russia Puts Sanctions on Gazprom Units in Europe and U.S., Part Owner of Pipeline," Reuters, May 11, 2022.)
West Texas Intermediate (WTI) crude oil is on track for its highest close since March 25. Its price has been steadily climbing for the last few weeks.
All this illustrates why energy sector stocks continue to trounce the broader market—and why it's important to keep an eye on ultra-high-yielding oil and natural gas stocks. One such dividend stock I wrote about not too long ago is Falcon Minerals Corp (NASDAQ:FLMN). In February, Falcon Minerals Corp stock was trading at $5.52 per share and had a frothy dividend yield of 11.2%.
Over the last three months, FLMN stock has advanced 30% in price. Moreover, its quarterly dividend has risen by 80% year-over-year and 24% quarter-over-quarter to $0.18 per share, for a yield of 7.9%. The company's average payout ratio is around 95%. (Source: "Falcon Minerals Corporation Reports First Quarter 2022 Production and Declares Quarterly Dividend Increase of 24%," Falcon Minerals Corp, May 4, 2022.)
No dividend hog likes to see a stock's yield decrease (except when the increase in share price far outpaces the dividend growth).
As of this writing, Falcon Minerals Corp stock is up by:
26% over the last three months
38% over the last six months
51% year-to-date
68% year-over-year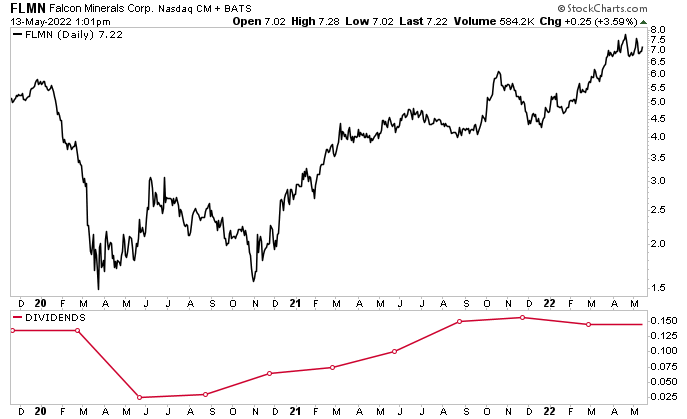 Chart courtesy of StockCharts.com
About Falcon Minerals Corp
Falcon Minerals owns mineral, royalty, and overriding royalty interests covering more than 256,000 gross unit acres in the core of the Eagle Ford Shale in south Texas, as well as mineral interests in the Marcellus Shale in Pennsylvania. (Source: "Investor Presentation: November 2021," Falcon Minerals Corp, last accessed May 17, 2022.)
As a mineral rights company, Falcon Minerals doesn't drill for oil or natural gas. Instead, it owns oil-rich properties and gets major operators to pay for the privilege of working on them.
The company's primary asset position is in the oil-rich Eagle Ford Shale, which it acquired in June 2018 from Blackstone Mineral Partners. Falcon Minerals Corp's assets include:
256,000 gross unit acres in the core of the Eagle Ford shale in DeWitt, Gonzales, and Karnes Counties
2,328 gross producing Eagle Ford wells
Over 3,000 potential drilling locations at high rates of return
Several of the top U.S. producers
Robust infrastructure to deliver products to market
Falcon Minerals Corp's royalty assets in the Marcellus Shale, which is located in the Appalachian Basin, include 95,000 gross unit acres in Pennsylvania, West Virginia, and Ohio—with more than 300 producing wells.
The company has long-term contracts with a number of the biggest operators in the oil and gas industry. For instance, it has a 10-year commitment from ConocoPhillips (NYSE:COP) in Eagle Ford. Over the next 10 years, ConocoPhillips plans to drill about 1,600 new wells. For BP plc (NYSE:BP) and Devon Energy Corp (NYSE:DVN), the Eagle Ford holds more than 10 years' worth of inventory. EOG Resources Inc (NYSE:EOG) also has more than 10 years of inventory remaining in Eagle Ford.
Falcon Minerals Corp's major operators and acquisitions are what fuel its cash flow generation, which it hands over to investors in the form of ultra-high-yield dividends.
In the fourth quarter of 2021, the company reported net production of 4,067 barrels of oil equivalent per day (Boe/d). Of that, it realized $76.51 per barrel for crude oil, $4.68 per thousand cubic feet (MCF) for natural gas, and $38.54 per barrel for natural gas liquids (NGL).
The company reported net income of $9.3 million, or $0.11 per share, and generated royalty revenue of $18.6 million (approximately 64% oil) and lease bonus revenue of $800,000 in the fourth quarter of 2021.
Also in the fourth quarter, pro-forma free cash flow per share of $0.15 came in above the company's guidance range of $0.13 to $0.14 per share.
$1.9-Billion Merger With Desert Peak Minerals
Falcon Minerals, which clearly understands the benefits of acquiring oil-rich properties, is about to close on its acquisition of Desert Peak Minerals, the largest independent Permian Basin pure-play mineral and royalty company. (Source: "Combination of Desert Peak Minerals With Falcon Minerals," Falcon Minerals Corp, January 12, 2022.)
With the merger, Falcon Minerals will own more than 139,000 net royalty acres. On a combined basis, the company's production rate is expected to climb from 13,500 Boe/d to 14,500 Boe/d in the first half of 2022.
Everything is relative, so it's important to put that number in perspective. In 2020, Falcon Minerals had net production of 4,566 Boe/d and $38.8 million in total revenue. (Source: "Falcon Minerals Corporation Reports Fourth Quarter and Full Year 2020 Financial Results," Falcon Minerals Corp, March 3, 2021.)
In 2021, it had net production of 4,438 Boe/d and $68.0 million in total revenue. (Source: "Falcon Minerals Corporation Reports Fourth Quarter and Full Year 2021 Financial Results," Falcon Minerals Corp, March 10, 2022.)
With combined production expected to more than triple and WTI crude oil at $106.00 per barrel, it's possible the merger could generate as much as 14,500 Boe/d and in excess of $561.0 million in oil and natural gas sales.
The transaction is expected to close in the second quarter of 2022. Immediately prior to the closing of the transaction, Falcon Minerals will execute a one-for-four stock split.
The Lowdown on Falcon Minerals Stock
Falcon Minerals Corp is an oil and natural gas company with a huge presence in the Eagle Ford Shale and Marcellus Shale. It reported excellent fourth-quarter and full-year 2021 results and—with its acquisition of Desert Peak Minerals—the company's outlook is even better.
Falcon Minerals entered 2022 with no oil hedges in place, and it's been benefiting from its asset quality and proximity to markets in Texas. The company's Marcellus Shale asset portfolio contributes to meaningful quarterly results regarding production and revenue. With activity in the Marcellus Shale continuing "at a robust pace," Falcon Minerals Corp's management expects that trend to continue.
This bodes exceptionally well for investors looking for a dividend stock that provides strong, reliable, yield and income growth. Therefore, FLMN stock is worth watching.