Energy Transfer LP: Market-Thumping 6.3%-Yielder Hikes Dividend 30%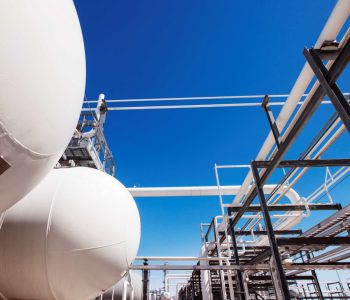 ET Stock Has Been Trouncing the Market
Investors couldn't dump energy-company shares quick enough during the early days of the COVID-19 pandemic. Energy Transfer LP (NYSE:ET) is a prime example of that. Energy Transfer LP stock cratered by approximately 65% over a few weeks in February and March 2020.
But since then, ET stock has essentially erased all of its pandemic-related losses. Thanks to high oil prices, this ultra-high-dividend stock has been seriously outpacing the broader market.
Currently trading at $11.35 per unit, Energy Transfer LP stock is up by:
Eight percent over the last month
20% over the last three months
41% year-to-date
59% year-over-year
26% since I last wrote about ET stock in May 2021
Moreover, things have been going so well at the company that management recently announced it was hiking Energy Transfer LP stock's quarterly dividend by 14% sequentially and 30% year-over-year to $0.20 per share, for a yield of 6.3%. The dividend will be paid on May 19 to unitholders of record as of the close of business on May 9. (Source: "Energy Transfer Announces Increase in Quarterly Cash Distribution," Energy Transfer LP, April 26, 2022.)
This isn't a one-off event. The first-quarter dividend increase represents the second quarter in a row in which the company has raised its dividend. And the outlook for additional dividend increases looks solid.
Management said the 30% year-over-year increase is another step in Energy Transfer LP's goal of returning additional value to its unitholders while maintaining the company's target leverage ratio of 4.0x to 4.5x debt-to-earnings before interest, taxes, depreciation, and amortization (EBITDA).
The company will evaluate future dividend increases on a quarterly basis, with the ultimate goal of returning the distributions to the previous level of $0.305 per quarter.
ET stock's dividend is entirely safe, too; the payout ratio is just 32.3%.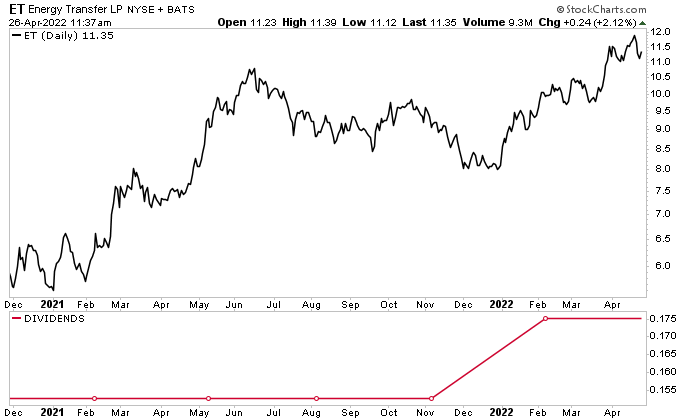 Chart courtesy of StockCharts.com
About Energy Transfer LP
Energy Transfer owns and operates one of the largest and most diverse portfolios of energy assets in North America, with a strategic footprint in all of the major U.S. oil and natural gas production basins. (Source: "Business Overviews," Energy Transfer LP, last accessed April 26, 2022.)
The company's core operations include the transportation of refined products; the storage and terminaling of natural gas, crude oil, natural gas liquids (NGL), and refined products; and the fractionation of NGL.
Through its export terminals and nearly 120,000 miles of pipelines, the company moves energy products throughout the U.S. and to more than 75 countries around the world. Energy Transfer LP is the only logistics provider with export facilities on both the U.S. Gulf Coast and East Coast. Its Nederland Terminal is the biggest single-owner, above-ground oil storage facility in the U.S.
Energy Transfer also owns Lake Charles LNG Company, LLC, the general partner interests, incentive distribution rights, and 28.5 million common units of Sunoco LP (NYSE:SUN), and the general partner interests and 46.1 million common units of USA Compression Partners LP (NYSE:USAC).
Acquisitions & Other Recent Developments
In December 2021, Energy Transfer completed its $7.0-billion all-in equity acquisition of Oklahoma City-based Enable Midstream Partners, LP. The completed transaction was immediately accretive to Energy Transfer, and it has furthered Energy Transfer's deleveraging efforts. (Source: "Energy Transfer Completes Acquisition of Enable Midstream," Energy Transfer LP, December 2, 2021.)
The acquisition of Enable Midstream also added significant fee-based cash flows from fixed-fee contracts. On top of that, the combined operations of the two companies are expected to generate annual efficiencies of more than $100.0 million.
In March 2022, Energy Transfer made a definitive agreement to sell off its 51% interest in Energy Transfer Canada for $1.3 billion to a joint venture that includes Pembina Pipeline Corp (NYSE:PBA). (Source: "Energy Transfer Executes Definitive Agreement to Sell Its Interest in Energy Transfer Canada," Energy Transfer LP, March 1, 2022.)
The sale is expected to generate cash proceeds of approximately $270.0 million. The transaction should close by the third quarter of 2022.
Calgary-based Energy Transfer Canada is one of Alberta's largest licensed natural gas processors. Its assets include six processing plants (with a combined operating capacity of 1,290 million cubic feet per day) and a network of approximately 848 miles of natural gas gathering and transportation infrastructure.
The sale allows Energy Transfer to divest its Canadian assets at an attractive valuation in order to further deleverage its balance sheet and redeploy capital within the U.S.
Other recent developments include the following:
During the fourth quarter of 2021, Phase II of the Cushing South Pipeline project was launched
Also during the fourth quarter of 2021, Energy Transfer reached its highest-ever volume of NGL transportation and fractionation
In October 2021, Energy Transfer brought online a three-million-barrel high-rate storage well at its Mont Belvieu facility, which now includes NGL storage capacity of approximately 53 million barrels
During the first quarter of 2022, construction began on the Gulf Run Pipeline project. The pipeline with 1.7 billion cubic feet per day of capacity is expected to be completed by year-end
In February 2022, Energy Transfer LP completed the final construction phase of its Mariner East project, which includes pipelines across Pennsylvania, connecting the Marcellus and Utica Basins to markets throughout the state and broader region
(Source: "Energy Transfer Reports Fourth Quarter 2021 Results," Energy Transfer LP, February 16, 2022.)
Strong Q4 Earnings
For the fourth quarter ended December 31, 2021, Energy Transfer LP announced that its net income attributable to partners increased by 80% year-over-year to $921.0 million, or $0.29 per share. The company's fourth-quarter 2021 adjusted EBITDA went up by 8.5% year-over-year from $2.6 to $2.8 billion. Energy Transfer's fourth-quarter 2021 distributable cash flow attributable to partners (as adjusted) was $1.6 billion, compared to $1.4 billion in the same period of the previous year. (Source: Ibid.)
The improved results in the quarter were primarily driven by increased NGL transportation and export volumes, higher realized commodity prices, and the Enable Midstream Partners, LP acquisition. Energy Transfer's NGL business also reported record fourth-quarter transportation and fractionation volumes.
The company's 2021 full-year net income was $5.4 billion, or $1.89 per unit. In 2020, Energy Transfer reported a net loss of $647.0 million, or $0.24 per unit. The company's growth capital expenditures in 2021 were $1.4 billion.
In light of the company's recently closed Enable Midstream Partners LP acquisition and the growing demand for midstream energy infrastructure, Energy Transfer's management team updated their 2022 growth capital expenditure outlook. Management now expects the company's 2022 growth capital expenditures to range from $1.6 to $1.9 billion, which includes the addition of several new capital projects that are expected to be completed by year-end.
The Lowdown on Energy Transfer Stock
As mentioned earlier, Energy Transfer LP is one of the biggest and most diverse midstream oil and gas companies in the U.S. It recently closed on its acquisition of Enable Midstream Partners, LP, completed its Mariner East project, and has a number of other projects in various stages of development.
And thanks to high oil prices, ET stock's price has been on a tear over the last year—and still has plenty of room to run. So too does its already-growing, ultra-high-yield dividend.