Energy Transfer LP: Undervalued O&G Midstream Stock Pays 7.1% Dividend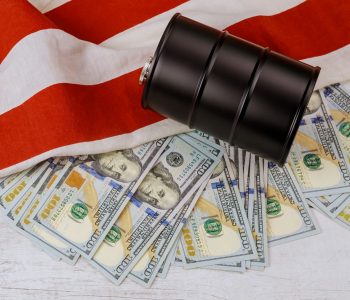 ET Stock Bullish on Improved Financials & New Developments
Many energy stocks took a beating during the coronavirus pandemic in 2020. While many of those stocks have moved considerably higher since the broader stock market bottomed in March 2020, some energy stocks are still making moves to erase those losses. One energy stock that's still trading well below its February 2020 highs is Energy Transfer LP (NYSE:ET).
While Energy Transfer LP stock has made solid gains over the last year, climbing 25% year-over-year and almost 50% year-to-date, ET stock still needs to climb an additional 30% to get to its pre-crash level.
As you'll soon see, the reasons for the company's depressed share price are more than a little exaggerated, with Energy Transfer LP stock poised to make serious gains over the coming quarters.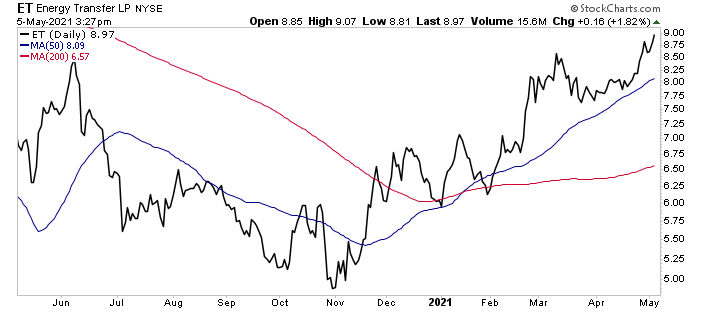 Chart courtesy of StockCharts.com
Energy Transfer LP basically does what its name suggests: it transfers energy. It's one of the largest and most diverse midstream energy companies in the U.S.
The Dallas, TX-based company owns and operates approximately 90,000 miles of pipeline that run across 38 states, linking three major oil regions: North Dakota, Appalachia, and Texas-Oklahoma-Louisiana.
Energy Transfer LP's operations include complementary natural gas midstream intrastate and interstate transportation and storage assets; crude oil, natural gas liquid (NGL), and refined product transportation and terminaling assets; NGL fractionation; and various acquisition and marketing assets.
While ET stock has made decent gains in 2021, a few recent developments have positioned it for significant gains.
Dakota Access Pipeline
The Dakota Access Pipeline (DAPL), which is owned by Energy Transfer LP, is a 1,172-mile underground oil pipeline that, once completed, will move oil from the Canadian province of Alberta across the U.S. to the Gulf Coast. (Source: "Biden Administration Punts on DAPL Shutdown, Likely Leaving Pipeline's Fate to Federal Judge," Grand Forks Herald, April 9, 2021.)
DAPL is already the biggest pipeline that transports crude oil out of North Dakota, shipping up to 570,000 barrels every day. The DAPL and the Energy Transfer Crude Oil Pipeline together form the Bakken system. State regulators and Energy Transfer LP are looking to nearly double that load over the next five years.
Shortly after taking office, President Joe Biden said he wanted to shut down the DAPL for environmental reasons. The Standing Rock Sioux Tribe and several other Native American tribes are concerned that the pipeline could contaminate their drinking water supplies.
This was, of course, bad news for Energy Transfer LP and its investors. Getting the pipeline shut down, though, may take some time—and may not happen at all.
Others say those concerns are wildly overblown. The pipeline runs deep (95 to 115 feet) under Lake Oahe and has run perfectly for five years. In fact, the DAPL operates along the same path as (but much deeper underground than) the Northern Border Pipeline, which has been operating without incident since 1982.
On April 9, attorneys from the U.S. Department of Justice and U.S. Army Corps of Engineers said it will allow DAPL to stay open while an environmental review takes place. The environmental impact statement isn't expected to be done until March 2022.
This was good news for North Dakota's oil industry in general and Energy Transfer LP in particular.
Proponents of the DAPL have said a shutdown would increase the oil industry's reliance on crowded rail lines and smaller pipelines, which would hamper the transport of crude oil from the Bakken.
North Dakota Governor Doug Burgum said, "This state-of-the-art pipeline is critical to North Dakota's energy industry and our nation's energy independence."
Acquisition of Enable Midstream
Another reason to be bullish on Energy Transfer LP stock is the company's recently announced plans to acquire Enable Midstream Partners LP (NYSE:ENBL) for $7.0 billion. The transaction, which has already been approved by the U.S. Securities and Exchange Commission (SEC), is expected to close in mid-2021. (Source: "Energy Transfer to Acquire Enable Midstream in $7 Billion All-Equity Transaction," Energy Transfer LP, February 17, 2021.)
The acquisition will increase Energy Transfer's footprint across the mid-continent and Gulf Coast regions and provide increased connectivity for the company's natural gas and NGL transportation businesses.
Enable Midstream's assets include:
14,000 miles of natural gas, crude oil, condensate, and produced water gathering pipelines
Six billion cubic feet of natural gas processing capacity
7,800 miles of interstate pipelines
2,200 miles of intrastate pipelines
Seven natural gas storage facilities with 84.5 billion cubic feet of storage capacity
The deal will be immediately accretive to free cash flow post-distributions and is expected to generate more than $100.0 million in annual cost savings.
Energy Transfer LP is well known in the oil and gas industry for its strategic acquisitions. Since 2004, it has acquired 12 other businesses, including Houston Pipeline Company in 2005, Southern Union Company in 2012, Sunoco LP (NYSE:SUN) in 2012, PennTex Midstream Partners, LP in 2016, and Sunoco Logistics in 2017.
Strong Q4 Results
In February, Energy Transfer announced that its fourth-quarter net income attributable to partners was $509.0 million, or $0.19 per unit. Its adjusted earnings before interest, taxes, depreciation, and amortization (EBITDA) were $2.6 billion. (Source: "Energy Transfer Reports Fourth Quarter 2020 Results," Energy Transfer LP, February 17, 2021.)
The net income attributable to partners was, not surprisingly, lower than what the company reported in the fourth quarter of 2019 ($0.38 per share). It was, however, a significant improvement over the third-quarter 2020 loss of $0.29 per share.
Moreover, the $0.19 per share is more than enough to support the company's quarterly cash distribution of $0.1525 per unit, or $0.61 on an annualized basis. The company's dividend yield currently stands at 7.1%.
ET stock has paid a quarterly dividend since the second quarter of 2006. And the company has a history of ensuring it provides investors with a high dividend. Its trailing annual dividend yield is 10.4% and its five-year average dividend yield is 9.9%. (Source: "Distribution History," Energy Transfer LP, last accessed May 11, 2021.)
The Lowdown on Energy Transfer LP
Energy Transfer LP owns and operates one of the largest and most diverse portfolios of energy assets in the U.S.
While Energy Transfer LP stock has been bullish since the start of 2021, it's still undervalued. A number of catalysts, though, including the strategic acquisition of Enable Midstream Partners LP and the ongoing operations at the DAPL, could help ET stock's price rise over the coming quarters. Until then, investors can take solace in the company's generous 7.1% dividend payout.