Enbridge Inc: This Top Dividend Stock Now Yields 7%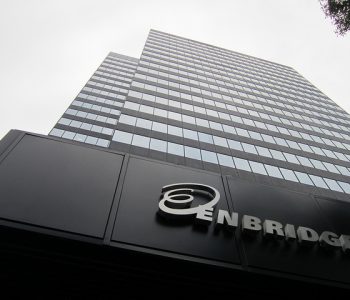 Mack Male/Flickr
Enbridge Inc Boosts Payout 10%
The stock market can be a cruel place. Thanks to fears of a slowing economy and a possible trade war, the Dow Jones Industrial Average (DJIA) has plunged by more than 2,500 points this quarter.
Yet as shares tumbled, one of my favorite dividend stocks delivered some good news: Enbridge Inc (NYSE:ENB) raised its annual dividend by 10% to $2.95 per share.
Was I surprised? Not really. The Canadian pipeline giant has boosted its payout every year since 1996, through assorted booms and busts in the oil patch. And in recent years, management has announced those increases like clockwork at their annual meeting each December. Those consistent dividend hikes constitute a big reason why I continue to love this business.
Now, I won't pretend that everything is rainbows and buttercups. Rising interest rates have triggered a sell-off across the broader industry. Recent tax law changes have also taken a sledgehammer to pipeline profits, forcing many companies to dial back growth plans. All of that has weighed on Enbridge stock, which now trades near a 52-week low.
But the company still has a lot going for it. At today's prices, Enbridge shares now represent a real bargain. The company even managed to earn a place on my list of top income ideas for 2019.
The Canadian oil sands present a big opportunity. Current production far outstrips available takeaway capacity, which has created a huge supply glut north of the border. That has created a desperate need for new pipelines pronto.
Enbridge has positioned itself right in the middle of this boom. While rival pipeline projects remain in regulatory limbo, Enbridge has quietly managed to boost transit capacity by expanding its existing routes. Overall, management expects to boost its capacity by as much as 100,000 barrels per day by the end of 2019, which should translate into robust earnings growth for shareholders.
Moreover, the company's other energy businesses should also contribute to the bottom line. In addition to oil pipelines, Enbridge owns a thriving natural gas distribution operation. Because this business represents an effective monopoly, management has the freedom to modestly boost its rates on households each year.
Natural gas pipelines and processing assets supplement the company's income, too. While it doesn't make many headlines, America's shale revolution continues to boost natural gas production nationwide. Enbridge has plowed billions of dollars into adding new pipeline capacity, which will benefit from long-term contracts tied to emerging projects.
And you can't ignore the big yield. Following Enbridge's recent dividend hike, the forward yield on shares will rise to seven percent. Management has also pledged to raise its dividend through 2020 at an annual rate of about 10%.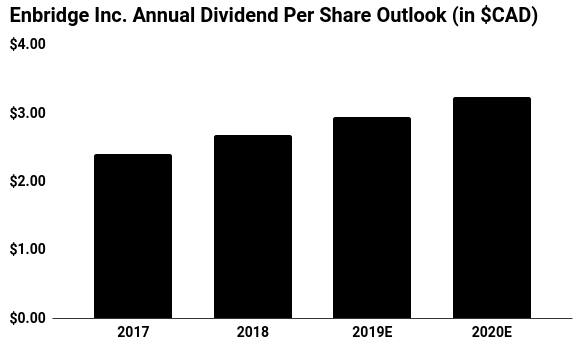 (Source: "Dividends and Securities Info," Enbridge Inc, last accessed December 12, 2018.)
That move signals a lot of confidence in the business on the part of management. Of course, future increases still have to get the green light from the board and will depend upon future profits. But the executives wouldn't have raised investors' hopes unless they were sure they could deliver.
You can't call Enbridge a slam dunk, obviously. Higher interest rates could trigger another sell-off. Lower oil prices could slow the pace of oil production, reducing the need for new pipelines. But with a payout approaching seven percent and a long growth runway ahead of it, Enbridge stock will likely reward shareholders for years to come.