Enbridge Energy Partners L.P.: Little Known "Cash Cow" Yields 9.5%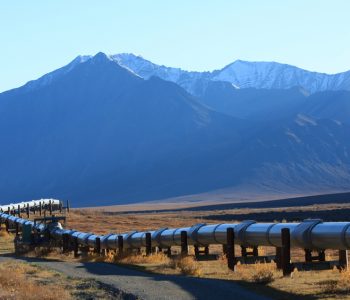 Enbridge Energy Partners L.P. Gushes Income
Today, I want to share my favorite high-yield opportunity: Enbridge Energy Partners L.P. (NYSE:EEP).
This partnership gushes income. Unitholders earn a yield of 9.5%. Most people, though, don't even know this firm exists.
But if you want to collect these oversized checks, then you have to act fast. Some of the world's smartest investors are catching on. The chance to scoop up such a big payout could be coming to an end.
Let me explain…
This "Cash Cows" Yields 9.5%
As I discussed in my last column, "cash cows" can be a great source of income.
Like the name implies, cash cows are mature businesses that can be milked for ongoing profits. Their leadership position translates into growing revenues, thick profit margins, and robust cash flows. And because there's no need to plough earnings back into the business for growth, most of the profits are dished out to investors.
For this reason, cash cows don't get much coverage in the news. Journalists know the idea will bore readers. But because they're often overlooked, these names sport some of the tallest yields around.
Enbridge Energy Partners L.P. is a classic example.
Enbridge's business is vital to our day-to-day lives. The partnership owns thousands of miles of pipelines across the country, shipping millions of barrels of oil each day. Through I doubt you've heard of them, our lives would be much different without the resources Enbridge moves through their network.
You can think of these pipelines like the toll roads of the oil patch. Drillers are always hunting for a big score, hoping to strike it rich on the next gusher. Pipelines, though, make money moving oil to customers. They are content to just earn a fee on each barrel shipped.
For this reason, pipeline profits are fairly stable. Sure, energy prices can swing from year to year. The actual volume of crude delivered, though, is remarkably consistent.
And while laying a new pipeline is an expensive project, they're not that costly to maintain. Once underground, a pipeline just sits there. Ongoing costs are only a fraction of sales. The rest of the money can be paid out to unitholders.
Best of all, pipelines can crank out big profits year after year. Other transport methods – trucks, barges, and railcars – are more expensive. The only way to compete against Enbridge would be to build another line right beside theirs.
But even if you wanted to build a second line, I doubt you could pull it off. The cost to lay another route would be billions of dollars. Landowners dread the idea of pipeline companies building on their properties.
This means Enbridge gushes cash flow. Because of the way the partnership is structured, the firm is required by law to distribute most of its profits to investors. Today, units pay $2.33 each, which comes out to a yield of 9.5%.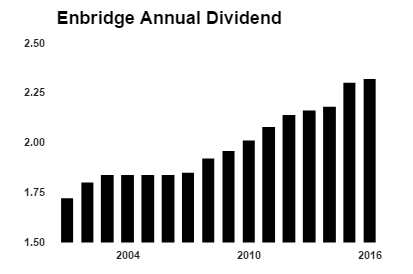 Source: Yahoo! Finance
This payout will likely keep growing. Earlier this month, EEP's parent company Enbridge Inc. bought Sparta Energy Corp. Some of those assets could be "dropped down" to EEP, industry lingo for spinning off pipelines into a tax-advantaged partnership. That could translate into bigger profits for the fund… and bigger checks for investors.
Bottomline on Enbridge Energy Partners L.P.
Enbridge Energy Partners L.P. is a great "cash cow", but this big yield likely won't last.
Investors threw the baby out with the bathwater during the recent oil patch downturn. Steady-eddy pipeline names like Enbridge got marked-down, despite being mostly immune from energy prices.
The smart money is catching on, though. Earlier this year, Warren Buffett invested millions into rival Kinder Morgan Inc. (NYSE:KMI). Hedge funds have been pouring billions into dirt-cheap midstream companies.
Why are all of these Wall Street titans eyeing pipeline stocks like Enbridge? I'd say it could mean only one thing. They're scooping up these cash cows on the cheap.