Dividend Stocks: 3 "Cash Cows" Yielding Up to 7.6%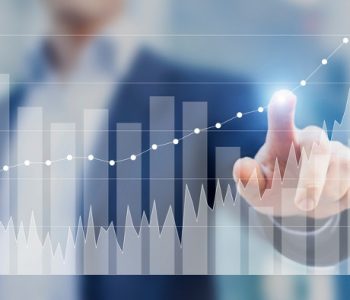 The Top Dividend Stocks?
These dividend stocks have huge yields.
Shareholders are making money hand over fist. Some of these names pay out 4.2%, 7.5%, even 9.8%.
And this could be just the beginning. That's because these "cash cow" dividend stocks could soon hike their payouts even more. Investors getting in now might be able to lock in a reliable income stream for life.
Let me explain.
Cash Cows Yielding Up to 7.6%
Regular readers know "cash cows" are a great source of income.
They're just what the name implies: firms that can be "milked" for ongoing profits with little expense. They tend to be mature, slow-growing businesses. Their dominant position translates into steady revenues, thick profit margins, and robust cash flows.
In contrast to younger firms, which tend to reinvest their profits for expansion, cash cows have less room for growth. The initial spending to get the business going has already been done. As a result, these firms just pay out most of their profits to shareholders.
You wouldn't expect it, but these businesses are surprisingly lucrative. No, they don't get much airtime on TV, but because they're often overlooked by excitement chasing investors, they tend to sport the highest yields around.
Altria Group Inc (NYSE:MO) demonstrates the analogy perfectly.
A cigarette costs pennies to make, is sold for a dollar, and is addictive. And because Americans are smoking less, there's no reason to invest in new factories. For this reason, most of the company's cash is simply returned to investors. Altria is on track to pay out $5.2 billion this year, resulting in a shareholder yield of 4.2%.
Investors love it. If you invested $1.00 in Altria back in 1972, your stake would be worth thousands of dollars today. This stock has been one of the best investments of the past 45 years.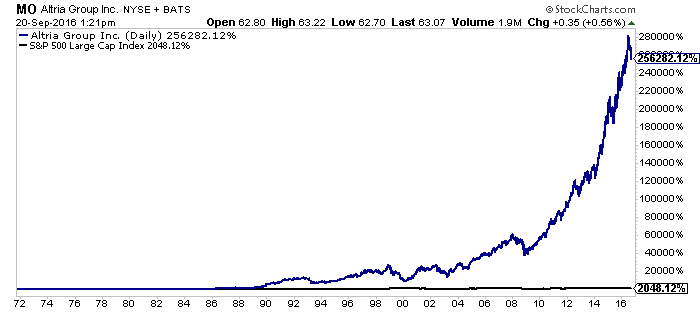 Chart Courtesy of www.StockCharts.com
Procter & Gamble Co (NYSE:PG) is another "cash cow" dividend stock.
You don't need a PhD to make detergent and razor blades, meaning P&G doesn't have to reinvent its business every year or pour billions into research and development.
Consumer staples are steady, recession-proof businesses with profits like bond coupons. This has created an income machine. Since 1890, P&G has mailed out a check to investors every year. The stock might have as much excitement as the color beige, but shareholders don't seem to mind. (Source: "P&G Declares Dividend Increase," Procter & Gamble Co, April 8, 2016.)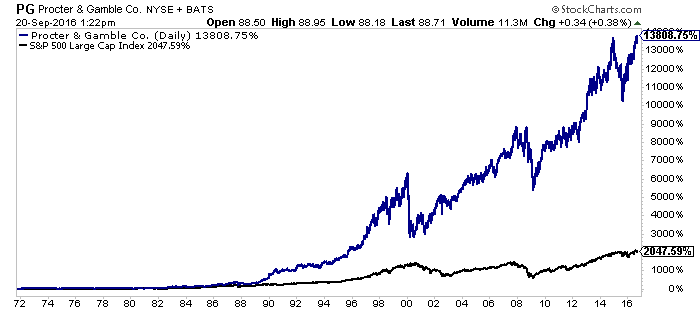 Chart Courtesy of www.StockCharts.com
Finally, Select Income REIT (NASDAQ:SIR) gushes cash flow.
As a partner with this firm, you become the part owner of a large realty empire. The trust buys properties, collects rent from tenants, and passes on the profits.
Select Income, though, doesn't own houses or apartment buildings. Instead, this firm focuses on industrial properties—an area usually off-limits to small investors. Tenants are blue-chip businesses, like Amazon.com, Inc. (NASDAQ:AMZN); Noble Energy, Inc. NYSE:NBL); and Bank of America Corp (NYSE:BAC). (Source: "Select Income REIT Investor Presentation – August 2016," Select Income REIT, last accessed September 20, 2016.)
These firms have a lot more "rent money" than people answering ads on Craigslist. For this reason, the trust is able to pay out huge distributions to shareholders. And as of the time of this writing, Select Income yields over 7.6%.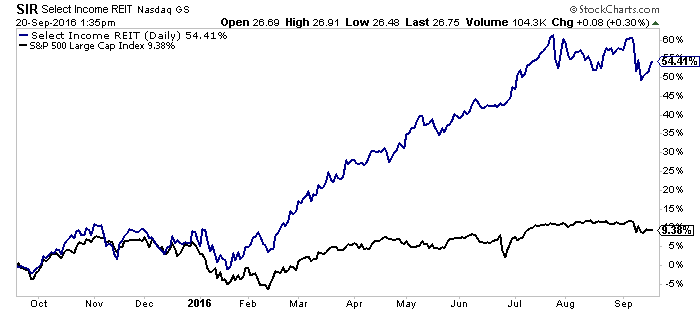 Chart Courtesy of www.StockCharts.com
"Cash Cows" Make the Best Dividend Stocks
These dividend stocks won't make for much conversation around the water cooler; they're dull and stodgy. You'll never see them featured on the cover of Forbes Magazine.
But guess what? Cash cows can be some of the most lucrative names around. If your colleagues' eyes glaze over, you could be looking at a great dividend stock.
Of course, these aren't the only cash cows. In my next column, I'll reveal my favorite dividend stock for 2017. And thanks to a recent selloff, the yield on this name is now creeping up to 10%.