Earn Yields Up to 8.5% with These 5 Top Dividend Stocks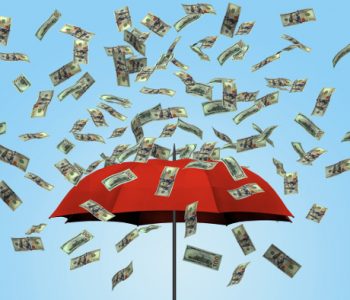 Top Dividend Stocks Gush Cash Flow
It's hard to find big yields nowadays, but these top dividend stocks pay out up to 8.5%.
This sector is hated by investors. Most analysts have given up on it.
Yet these names crank out lucrative dividends. Some pay out yields of three, five, even eight percent. And the last time shares were this cheap, investors earned triple-digit returns over the next few years.
Let me explain.
In a rising tide, even garbage floats.
Take the SPDR Bloomberg Barclays High Yield Bond ETF (NYSEMKT:JNK), for example. As the ticker implies, this is a basket of junk bonds of questionable quality. Yet in a scramble for income, investors have bid up the price beyond reason. Today, the yield-to-maturity on this fund comes in at just four percent.
Colgate-Palmolive Company (NYSE:CL) tops my list of best dividend stocks. Usually, this wonderful business pays a high-single-digit yield. But after a seven-year bull market, the payout barely tops two percent. I love Colgate, but a mature toothpaste business should offer a bigger yield.
The fact is that U.S. stocks are some of the most expensive in the world. There's value out there, but you have to do a lot more digging. For this reason, I'm looking elsewhere for income.
My favorite place right now? Emerging markets.
Emerging markets have been hammered by scandals, recessions, and impeachments–you name it. If the problem isn't one thing or another, it's probably both at the same time.
The biggest issue, though, has been the dollar. A strong greenback means profits earned in foreign countries are worth less when converted back into American currency. For this reason, diversification has become a four-letter word for U.S. investors.
The chart tells the tale. Over the past five years, the iShares MSCI Emerging Markets Index ETF (NYSEARCA:EEM) has trailed the U.S. market by 75%. Why own foreign stocks when you can make more money stateside?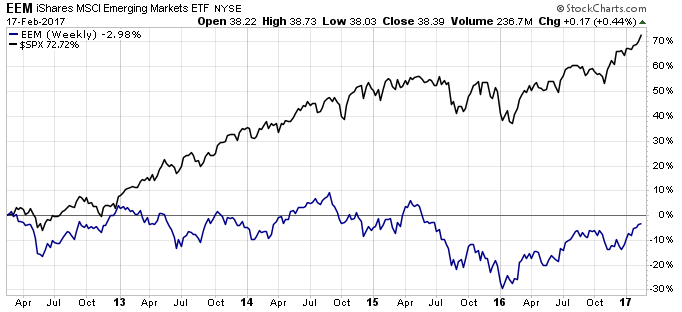 Source: StockCharts.com
The situation has created a pretty compelling value case for taking your money abroad.
Investors price this asset class as if the sun will never shine again. Right now, the group trades at 12-times forward earnings versus 18-times profits in the United States. This spread represents the biggest discount in years.
The last time emerging markets were this cheap was in late 2003. Over the next four years, the sector soared 210%. By comparison, U.S. stocks returned only 74% over the same period.
The same thing happened in 1985. That time, emerging markets tripled in less than a year.
And in many ways, the situation is better today than it was back then. In the 1980s, emerging markets were debt-riddled, socialist backwaters. Today, most of them have their acts together. They've become great places to do business with a growing middle class and reasonable stability.
Where are the best places right now?
I'm looking through the countries hammered the hardest during the recent bear market. If you're willing to shift through the market's discount bin, something you can uncover a real gem.
I'm also sticking to the "beachfront properties." Beyond broad country indices, I'm looking for wonderful businesses. Firms with entrenched market positions that throw off tons of distributions and cash flow. With all of the dour headlines, these great dividend stocks have been marked down.
| | | | | |
| --- | --- | --- | --- | --- |
| Company | Stock Price | 5-Year Change | Yield | Mrk Cap |
| iShares MSCI Malaysia Index Fund | $29.64 | -48.9% | 8.6% | $260.9M |
| iShares Emerging Markets High Yield Bond ETF | $49.93 | -0.8% | 5.6% | $158.7M |
| iShares MSCI Mexico Inv. Mt. Idx. | $45.72 | -24.3% | 2.4% | $1.79B |
| iShares MSCI Chile Inv. Mt. Idx. Fd | $40.74 | -39.8% | 1.7% | $322.6M |
| iShares MSCI Brazil Index | $39.24 | -42.9% | 1.5% | $5.16B |
Source: SIX Financial Information
Malaysia is in the midst of a four-year bear market. Stocks have been hammered by scandals, low oil prices, and the fear of higher interest rates. Today, shares trade at their cheapest valuation since 2009. Hedge funds love this country, picking through the wreckage to salvage great assets. (Source: "Investors Seen Hunting Value in 1MDB-Stricken Malaysian Stocks," Bloomberg, October 20, 2016.)
Mexico has been hit on fears of a trade war. The situation, though, has created a once-in-a-lifetime chance to scoop up some top dividend stocks. One of my favorites, Grupo Aeroportuario del Pacifico (NYSE:PAC), is up nine percent since I first recommended it last month.
I'm combing through Brazil, too. The whole country is cheap, totally hated, and starting to rally. Cash cows like Ambev SA (beer), Telefonica Brasil S.A. (telecom), and Centrais Eletricas Brasileiras (utilities) gush dividends with decent yields.
The bottom line is that everyone loves American stocks. Why invest overseas when you can make more money at home?
Our market, however, is one of the most expensive in the world. There's value out there, but you have to sift through a lot more muck to find a gem. In the meantime, renew your portfolio passport and pick up some top dividend stocks abroad on the cheap.