Earn an 8.4% Yield from Enbridge Energy Partners Stock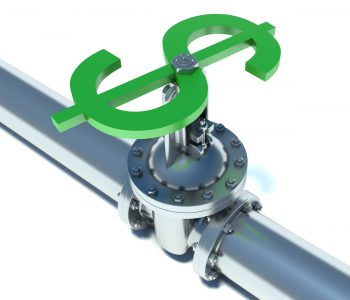 Earn an 8.4% Yield from Enbridge Stock 
Being an income investor has two purposes: earning a steady income and growing your invested capital. The income comes down to the dividend remaining the same and hopefully improving, while capital growth must come from the company's earnings increasing to support a higher stock price.
Finding one or the other is quite easy to do; the harder task is finding a company that offers both. However, I have found a company that does just that: Enbridge Energy Partners, L.P. (NYSE:EEP). This stock pays out a high dividend yield that is currently over eight percent.
Enbridge Energy Partners owns and operates crude oil and liquid petroleum transportation pipeline and storage assets. Enbridge does not drill for any oil or natural gas itself; rather, other businesses come to Enbridge to use its services. The company also gathers natural gas and it treats, processes, and markets assets in the U.S.
Here's why you may wish to consider EEP stock for your portfolio.
Steady Stream of Income
Paying a quarterly dividend for over 20 years, indicating it is a steady income source, EEP stock currently has a high dividend yield of 8.4%.
Enbridge is structured as a master limited partnership p (MLP), which is very important for investors to know, because of the benefits it brings. For one, being an MLP means Enbridge pays no corporate taxes and therefore has no tax liabilities. This also means the company is required to pay out at least 90% of its income to investors, ensuring the dividend's survival. This also means that, as the company's income grows, so too must the dividend.
Enbridge's gross income has been very steady and on an upward trend for three reasons.
One reason is that its earnings are protected from inflation, since increasing costs—such as maintenance—are passed on to clients. This also has the benefits of keeping margins consistent and strong and making it possible to pay the dividend without worry.
Second, pipelines are far more cost-efficient than other means of energy transportation (rail carts and trucks), at a fraction of the cost. This leaves energy companies more capital for drilling, which would mean needing Enbridge's services more often. (Source: "About Pipelines," Association of Oil Pipe Lines, August 22, 2014.)
Third, pipelines are also much safer that railway carts and trucks. For example, when transporting oil using a railway cart, the chance of a spill is 4.5 times higher than when using a pipeline. Oil companies will most likely factor this in when making a decision on how to transport their assets. (Source: "Safety in the Transportation of Oil and Gas: Pipelines or Rail?," Frasier Institute, August 2015.)
Could EEP Stock Provide Growth?
Any stock in a market rally could see a positive turn over the bull market. The real test of a stock, however, is when things turn sour, such as in a recession. EEP stock has a history of outperforming the market because revenue and margins are steady, as noted, and they are needed regardless of the performance of the economy. Natural gas is used to heat homes and businesses, for one, so this division of Enbridge should see little-to-no slowdown.
This shows in EEP stock's daily price movement, measured by the beta; if the market fell by one percent, then EEP stock would see an average decrease of 0.55%. This is the kind of stat that stockholders like to see; such a beta should help preserve their capital. Investors are also likely to flock to the stock since it still pays out well in a poor-performing market. The income would help offset any negative returns based on the stock price performance.
Also Read:
The Top 10 High-Dividend Stocks with Growing Payouts
The Best Pipeline Stocks for Retirement Income
Another reason for growth is the industry's non-competitive nature. There are not many companies that compete directly with Enbridge, in part due to strict regulations on pipelines. The extensive rules and guidelines in place mean you can't just start a pipeline business overnight. Enbridge is already well entrenched, which means that seeing new competition is very rare. Pipelines also require substantial upfront capital to build them, not to mention the construction and land rights costs, making for large barriers of entry.
The Bottom Line on EEP Stock 
EEP stock provides a high dividend yield, which translates into income, and could benefit your bottom line over the long term while preserving your invested capital.
Enbridge Energy Partners, L.P. is a great way to participate in the energy sector without taking the risks associated with drilling and the changing prices of the commodities.