Earn an 11.8% Yield From Top 7 LNG Dividend Stocks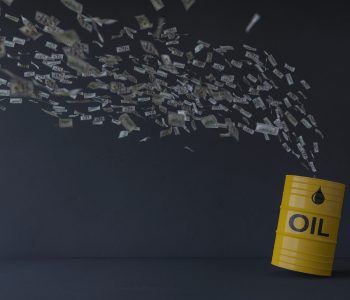 These Dividend Stocks Yield Up to 11.8%
Some of these stocks pay out yields of five percent, seven percent, and even 12%.
The companies make money hand over fist. And thanks to President Donald Trump, these dividend payments could be about to surge.
The thing is, the mainstream media doesn't talk much about it. Almost nobody in the street even knows what's going on. But a huge shift in America's heartland is taking place right now, and a smart group of investors could make a fortune.
Let me explain…
If you want to make money over the coming decade, I have two important numbers for you.
First, look at the price of natural gas in Asia, which trades for over $7.60 per million British thermal units (mBtu). Their fast-growing economies require huge amounts of energy, far outstripping their local production.
Second, look at the price of natural gas in the U.S., where drillers fetch only $3.00 per mBtu. New technologies have unlocked vast quantities of this commodity across the country. America has so much supply, storage tanks have nearly burst at the seams.
Anyone that moves natural gas from the U.S. to Asia can make a lot of money. Gas, however, is costly to ship, which is why this gap exists. As a result, producers of this clean-burning American fuel have struggled to make ends meet, despite the huge demand for their product over the horizon.
That could be about to change. President Donald Trump wants to make the U.S. the world's largest exporter of natural gas. Over the past few weeks, his administration has pushed to slash red tape, remove barriers on drilling, and construct new export facilities. (Source: "Liquefied Natural Gas Is All the Rage in the Trump Administration," Bloomberg, April 25, 2017.)
The move makes a lot of sense, as buyers would gain access to a cheap, clean-burning fuel. Trump's policies would also create a "Made in America" export boom, supporting thousands of high-paying jobs.
Furthermore, flooding the world with natural gas will enhance the security of our allies. Today, Russia supplies most of the energy Europe consumes each day, an advantage the country exploits as a political weapon. U.S. natural gas exports would represent a giant middle finger to Putin and the Middle East energy cartels.
This could be the biggest investment story of the next decade. Last year, the U.S. exported almost no liquefied natural gas (LNG), the clear, odorless liquid created when the commodity is cooled for export. By 2018, the lower 48 states could ship out six-billion cubic feet per day. For perspective, this figure represents enough gas to fuel all the houses in Texas, Florida, and California combined. (Source: "After six decades, U.S. set to turn natgas exporter amid LNG boom," Reuters, March 29, 2017.)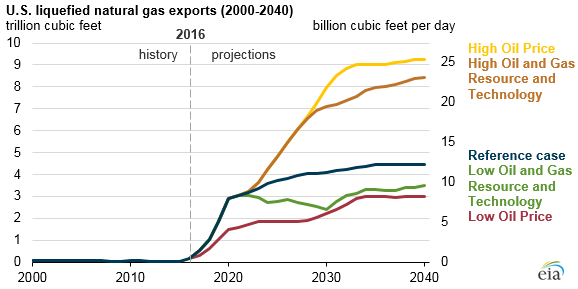 Source: "Liquefied natural gas exports expected to drive growth in U.S. natural gas trade," Energy Information Agency, February 22, 2017.

We can profit by investing in the firms supplying the "picks and shovels" to the natural gas gold rush.
Natural gas drillers could do okay. Opening up the U.S. market would put a bid underneath prices. Some firms will strike it rich hunting for the next big find.
Suppliers, in contrast, make a profit regardless of who finds the next gusher. More importantly, it's not usually the guys getting their boots dirty in the field that make the real money here. Rather, it's companies that own the strategic infrastructure, like pipelines, terminals, and processing facilities. And because earnings have less exposure to the wild swings in commodity prices, these suppliers make for the "sleep at night" investment.
Take LNG shippers, for example. These companies own the vessels that transport LNG from one place to another. With exports projected to rise over the next few years, we could run into a shortage of actual boats to move this commodity around.
You can think of these firms like the toll roads of the energy business. They own the invisible highways across the ocean, earning a small fee on each cubic foot of gas moved from port to port. As the traffic on these marine toll roads soar, shipowners can crank out large profits.
Most of this money gets passed on to shareholders. You don't need to spend a lot of cash to maintain a ship, so these businesses gush cash flow. As a result, names like Golar LNG Limited (NASDAQ:GLNG), Dynagas LNG Partners LP (NYSE:DLNG), and Teekay LNG Partners L.P. (NYSE:TGP) yield as much as 11.8%.
Second, you have Hoegh LNG Partners LP (NYSE:HMLP). This partnership owns several floating storage and regasification units, or FSRUs. In plain English, these ships convert LNG back from a liquid to a gas, where it's usable to make electricity. You'll see these ships docked in almost any country importing large quantities of natural gas.
The need for these vessels has surged over the past few years. Traditional land-based import terminals cost billions to construct and years to bring online. Because they're quicker and cheaper to build, many countries have turned to FSRUs.
This has created a tidy income stream. These ships operate on long-term contracts, resulting in a predictable stream of cash flow. Hoegh pays out most of these profits to owners, as evidenced by the partnership's 9.3% yield.
Also Read:
7 Energy Stocks That Pay Healthy Dividends
Third, check out pipelines. We have a huge mismatch between where our nation's natural gas gets produced (the Northeast and Midwest) and where most of these export terminals will get built (the Gulf Coast). Pipeline owners that close this gap will make a fortune.
Infrastructure firms have poured billions into their businesses to expand operations. By the end of the year, a number of pipeline expansions by firms like Kinder Morgan Inc (NYSE:KMI), Williams Companies Inc (NYSE:WMB), and Spectra Energy Partners, LP (NYSE:SEP) will come online. Kinder Morgan also recently bought a 49% stake in Elba Liquefactation, a Georgia-based facility which prepares raw natural gas for export abroad. (Source: "Elba Liquefaction Project & EEC Modification Project," Kinder Morgan Inc, last accessed June 15, 2017.)
You need to spend a lot of money to get a pipeline built. But once you have one up and running, they just sit there in the ground. As a result, pipeline partnerships represent a true cash cow business.
The Top 7 LNG Dividend Stocks
| | | |
| --- | --- | --- |
| Company | Market Cap | Yield |
| Dynagas LNG Partners LP (NYSE:DLNG) | $440.9M | 11.8% |
| Hoegh LNG Partners LP (NYSE:HMLP) | $605.6M | 9.3% |
| Spectra Energy Partners L.P. (NYSE:SEP) | $13.1B | 6.7% |
| Williams Partners L.P. (NYSE:WPZ) | $36.0B | 6.3% |
| Teekay LNG Partners L.P. (NYSE:TGP) | $1.1B | 3.8% |
| Kinder Morgan Inc. (NYSE:KMI) | $41.8B | 2.6% |
| Golar LNG Ltd. (NASDAQ:GLNG) | $2.0B | 0.9% |
Source: Google Finance
Bottom line: this "Made in America" commodity boom has just started. Fortunes will be created as risk-takers and investors build the infrastructure needed to bring the country's fastest-growing export to the world.
It's won't be an overnight success story. But over the next decade or so, millions of people across the globe will enjoy clean, American natural gas. Those holding the best assets will make a lot of money.