Earn a 4.2% Yield from Nextera Energy Partners (NYSE:NEP) Stock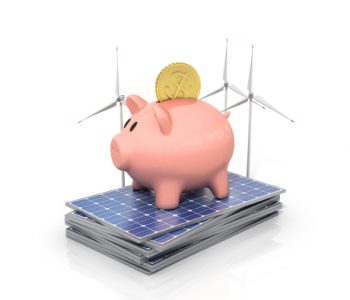 This Clean Energy Stock Gushes Income
Today's chart highlights one of my favorite places to scoop up yields of four, five, and even seven percent: clean energy stocks.
I'm not talking about sexy startups like Tesla Inc (NASDAQ:TSLA). Rather, we're diving into wind farms and solar plants. These projects crank out steady cash flows and have quietly made owners a fortune.
Take Nextera Energy Partners LP (NYSE:NEP). This partnership owns wind and solar projects across North America, as well as some natural gas pipelines in Texas. And while the name won't make you an overnight millionaire, I love this clean energy stock for a couple of reasons.
First, you have to love the bond-like income. You make money when the sun shines and you make money when the wind blows. Mother Nature doesn't care about wars, financial crises, or stock market crashes.
NextEra locks in customers through power purchase agreements. Some of these deals can last for up to 25 years, creating a visible stream of cash flow. It's the perfect match for investors seeking long-term retirement income.
Better still, it's safe. Clean energy projects resemble high-stakes gambles. The bulk of the risk comes during the development, construction, and early operation of a facility. You only need to look at high profile bankruptcies like SunEdison Inc (OTCMKTS:SUNEQ) to see how treacherous these projects can be.
But once you have one up and running, utilities crank out profits like clockwork. NextEra focuses almost entirely on the tedious job of running clean power projects. And given ongoing costs are only a fraction of sales, properties generate oversized cash flows. And most of that money gets passed on to shareholders.
Also Read:
Utility Stock List: Earn Steady, Reliable Income
As you can see in the chart below, the stock gushes income. Management has almost doubled the payout over the last few years. Today, NextEra pays a quarterly distribution of $0.38 per unit, which comes to an annual yield of 4.2%.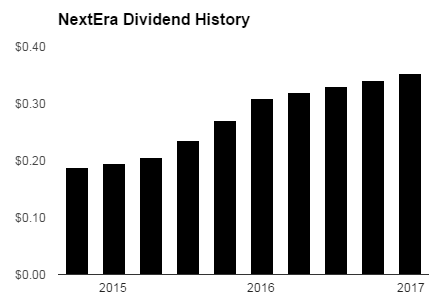 Source: Yahoo! Finance
I expect that payout to keep growing. The partnership continues to scoop up assets to pad its bottom line. This should allow executives to hike the dividend at a 12% to 15% annual clip through 2022, according to management estimates. (Source: "Earnings Conference Call: Fourth Quarter and Full Year 2016," Nextera Energy Partners LP, January 27, 2017.)
Bottom line: this name doesn't have the sex appeal of a clean energy stock like Tesla, but NextEra has made a proven commitment to shareholders. If you want reliable income, consider taking a second look at this wonderful business.