Permian Basin: Earn 21%+ Yields From This West Texas Oil Boom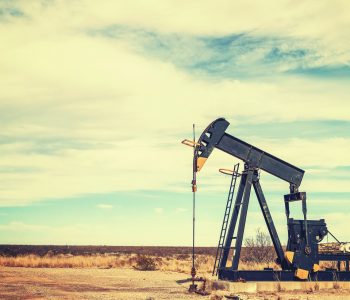 iStock.com/MBPROJEKT_Maciej_Bledowski
West Texas Oil Boom Creating Permian Basin Millionaires
New energy discoveries have kicked off a land rush in a once-quiet area of West Texas, creating a wave of new millionaires in the process.
Some of the world's smartest investors have quietly purchased vast tracts of acreage in the region. With drillers striking so many gushers, storage tanks have reached full capacity.
For investors, this Texas oil boom has created a great opportunity. Growing profits have allowed some businesses to pay yields as high as 21%. And those payouts could surge in the years ahead.
Big Gains From This Region
Last year, I told you about the Permian Basin, a vast oil field larger than the United Kingdom that sits underneath the desert of West Texas.
Energy producers have drilled in the region for almost a century. But after output peaked decades ago, most companies left the area for better opportunities elsewhere.
That is, until recently. New technologies, such as hydraulic fracturing and horizontal drilling, have allowed producers to access vast quantities of reserves once thought unreachable. Industry analysts now believe that the Permian Basin contains over 46 billion barrels of recoverable crude, making it one of the largest fields in the world. (Source: "Permian Oil Reserves May Be Twice As Big As We Thought," OilPrice.com, December 7, 2018.)
That development has set off a modern-day land rush. Over the past few years, a number of oil producers have started buying up acreage in the area like crazy.
Exxon Mobil Corporation (NYSE:XOM), for instance, calls the Permian Basin an "attractive resource." Last year, the oil giant bought up several small companies with large positions in the region. The company now plans to triple its Permian production by 2025, in addition to expanding its pipeline and refining capacity nearby. (Source: "ExxonMobil to Triple Permian Production by 2025, Expand Transportation Infrastructure," Exxon Mobil Corporation, January 30, 2018.)
Last year, Diamondback Energy Inc (NASDAQ:FANG) shocked Wall Street after buying Permian driller Energen Corporation (NYSE:EGN) for $8.4 billion. The deal surprised analysts, given the premium paid for Energen's collection of assets. But with companies running out of tier-one land to purchase, prices for existing properties have shot through the roof. (Source: "Diamondback Energy, Inc. Completes Acquisition of Energen Corporation," GlobeNewswire, November 29, 2018.)
And just last week, Chevron Corporation (NYSE:CVX) acquired rival Anadarko Petroleum Corporation (NYSE:APC) in a $50.0-billion deal. This purchase will create a 75-mile-wide corridor across some of the most attractive areas in the Permian Basin. In total, the deal boosts Chevron's regional land holdings to over 1.4 million acres. (Source: "Chevron Announces Agreement to Acquire Anadarko," Chevron Corporation, April 12, 2019.)
And these companies have good reason to be optimistic.
Last quarter, Cimarex Energy Co (NYSE:XEC) brought several Permian wells online, which produced over 2,900 barrels of oil-equivalent per day during their first month of operations. For perspective, analysts jump for joy when initial production tops 1,000 barrels a day. Permian wells are true gushers. (Source: "Cimarex Reports Fourth Quarter And Full Year 2018 Results," Cimarex Energy Co, February 20, 2019.)
Numbers like these bode well for the industry's future. Last year, output in the region surpassed four million barrels per day. Analysts think this number could double over the next four years as more wells come online. (Source: "This Texas area is expected to double oil output to 8 million barrels in just four years, boosting US exports," CNBC, March 8, 2019.)
Actual results will depend on energy prices, of course. If the oil market takes a nosedive, producers will likely cut back drilling activity. Permian wells, however, are some of the cheapest oil wells to operate in the United States. So even if crude prices drop below $30.00 per barrel, many wells will still generate attractive returns.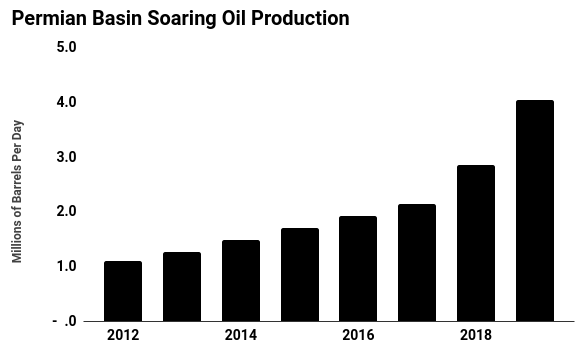 (Source: "Drilling Productivity Report," U.S. Energy Information Administration, March 18, 2019.)
So how can investors cash in?
I expect more acquisitions in the Permian to follow in the coming months, creating a wave of overnight fortunes. Potential targets include names like EOG Resources Inc (NYSE:EOG), Pioneer Natural Resources (NYSE:PXD), WPX Energy Inc (NYSE:WPX), and Parsley Energy Inc (NYSE:PE).
In my advisories to paid subscribers, I've recommended several pipeline partnerships operating in the region. Because Permian oil output has outstripped transit capacity, pipeline owners have started jacking up the tolls on existing routes. This has created a profit bonanza, resulting in double-digit payouts.
Investors should also look into companies that sell tools and services to the Texas oil boom. Hi-Crush Partners LP (NYSE:HCLP), for instance, sells much of the sand used in the drilling process. With its sales booming, that partnership can fund a 21% yield.
The Bottom Line on the Permian Basin
The smart money continues to pour billions of dollars into the Permian Basin. And despite the incredible run in recent years, it looks like we're still in the early innings of this opportunity. Investors who move now still have a chance to get in on the ground floor of this new Texas oil boom.