Dorian LPG Stock: This Energy Play Pays Reliable 29%-Yielding Dividends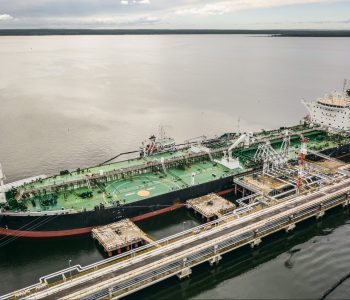 Outlook for LPG Stock Is Bullish in 2023
Suffice it to say, 2022 was a terrible year for Wall Street, with rising interest rates and decades-high inflation weighing down on stocks. The S&P 500 closed out 2022 in bear-market territory, down by 20%. The tech-heavy Nasdaq had a tougher go of it, losing a whopping 33% of its value. Even finding a stock that just traded sideways in 2022 was something to celebrate.
There was one clear winner in the stock market last year: energy stocks. The Energy Select Sector SPDR Fund (NYSEARCA:XLE) rallied by 64% in 2022. In a distant second was utilities stocks. The Utilities Select Sector SPDR ETF (NYSE:XLU) advanced 1.5%.
One energy stock I paid close attention to last year was Dorian LPG Ltd (NYSE:LPG). By mid-December, Dorian LPG stock had more than doubled since I first wrote about it in February 2022.
Dorian LPG is a leading liquefied petroleum gas shipping company that owns 20 very large gas carriers (VLGCs) and charters in two more vessels. As of November 2022, the 20 VLGCs that the company owns had an average age of 7.5 years. (Source: "Investor Presentation: November 2022," Dorian LPG Ltd, last accessed January 9, 2023.)
The company has many long-term contracts, including with some of the energy industry's biggest names, such as BP plc (NYSE:BP), Chevron Corporation (NYSE:CVX), Exxon Mobil Corp (NYSE:XOM), Phillips 66 (NYSE:PSX), and Shell PLC (NYSE:SHEL).
When it comes to fossil fuels, most people think of oil, gas, and coal, but the fact is, liquefied petroleum gas is one of the most widely used energy sources. It has more than 1,000 different applications. (Source: "About LPG," World LPG Association, last accessed January 9, 2023.)
The term "liquefied petroleum gas" describes two natural gas liquids: propane and butane (or a mix of the two). Propane has a low boiling point, which makes it great for storing outdoors and using in central heating, commercial applications, cooking, and transportation. Butane, meanwhile, is mainly shipped in cylinders for portable use, including with barbecues, mobile heaters in boats and caravans, and welding torches—and as a propellant or refrigerant.
From a fundamental perspective, the outlook for Dorian LPG Ltd is solid, with one analyst from Goldman Sachs Group Inc (NYSE:GS) saying at the end of 2022, "the setup for most commodities next year is more bullish than it has been at any point since we first highlighted the supercycle in October 2020." (Source: "Natural Gas Prices Set for a Sustained Rally in 2023," OilPrice.com, December 30, 2022.)
Dorian LPG Ltd Reports Another Strong Quarter; Declares $1 Dividend
For the second quarter of fiscal 2023 (ended September 30, 2022), Dorian LPG announced that its net pool revenues went up by 20% year-over-year to $76.0 million. (Source: "Dorian LPG Ltd. Announces Second Quarter Fiscal Year 2023 Financial Results," Dorian LPG Ltd, November 2, 2022.)
The company's second-quarter net income came in at $20.3 million, or $0.51 per diluted share, a 44% increase over the $14.1 million, or $0.35 per diluted share, recorded for the same period of fiscal 2022.
Dorian LPG Ltd's adjusted net income in the second quarter of fiscal 2023 was $17.2 million, or $0.43 per diluted share, compared to $9.9 million, or $0.25 per diluted share, in the second quarter of fiscal 2022.
The time charter equivalent (TCE) rate for the company's fleet in the second quarter of fiscal 2023 was $40,632, a 3.1% increase from $30,996 in the same period of the prior year. The company's vessel operating expenses in the second quarter of fiscal 2023 increased slightly to $9,541 per day from $9,210 in the same period of fiscal 2022.
Also in the second quarter of fiscal 2023, Dorian LPG Ltd paid an irregular cash dividend of $1.00 per share, returning more than $40.4 million of capital to LPG stockholders, for a yield of 29%.
John C. Hadjipateras, the company's chairman, president, and CEO, commented, "The second quarter's results were supported by a strong freight market and resulted in good cash generation. The most recent $1.00 dividend, declared on October 27, 2022, brings total cash returned to shareholders since our [initial public offering] to almost $500 million." (Source: Ibid.)
Dorian LPG Stock Advanced 108% in 2022
For buy-and-hold Dorian LPG Ltd investors, 2022 was an outstanding year, with LPG stock climbing by 108%.
To be fair, Dorian LPG stock notching up the same kind of gain in 2023 would be difficult. On the other hand, the energy sector is expected to be one of the biggest winners in 2023, so chances are good that LPG stock will still outpace the broader market. The big question is, by how much?
Recently, LPG stock has been crushing the market. As of this writing, shares of Dorian LPG Ltd are up by 37% over the last three months and 95% year-over-year.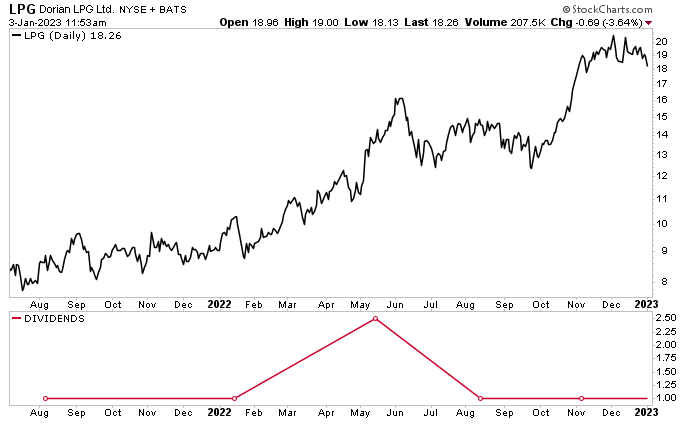 Chart courtesy of StockCharts.com
The Lowdown on Dorian LPG Ltd
Dorian LPG Ltd is an outstanding midstream energy stock with excellent long-term growth potential. The company has a large modern shipping fleet that has been taking full advantage of industry tailwinds. Dorian LPG reported solid first- and second-quarter financial results, which included strong operating cash flow, allowing the company's board to authorize another irregular dividend.
As mentioned earlier, the energy sector was the biggest winner in the stock market in 2022, and it's expected to continue to dominate the market in 2023. This bodes well for dividend hogs in general and Dorian LPG stockholders in particular.