Dorchester Minerals LP: Bullish 11.9%-Yielder Hikes Payout 123%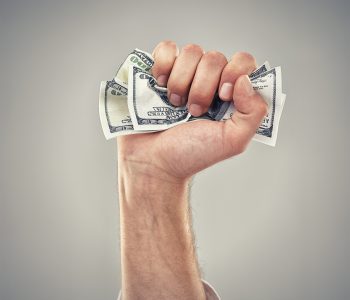 Dorchester Minerals Stock Up 60% YTD on Strong Natural Gas Prices
Dorchester Minerals LP (NASDAQ:DMLP) is an oil and gas exploration and production company that has been seeing both its share price and dividend soar on high energy prices. And this momentum is expected to continue. Winter is about to wake up natural gas prices, as the forecast for this season is "sharply colder."
Meanwhile, oil prices have been dropping as demand from China has been falling amid ongoing fears about COVID-19 and unprecedented street protests calling for Chinese President Xi Jinping to step down. The oil price drop in response to lower Chinese demand is overblown, though, with Goldman Sachs forecasting $110.00/barrel oil for next year. Oil prices, however, are also being hurt temporarily by Russia dumping barrels before the December 5 deadline for the export ban.
These are all short-term headwinds that will abate, which is good news for energy companies like Dorchester Minerals LP.
As an exploration and production partnership, the company owns royalty properties (interests) in approximately 592 counties and parishes in 28 states. This diversity gives it exposure to virtually every single domestic producing basin, which allows Dorchester to take advantage of multiple commodity price and development cycles. (Source: "Form 10-Q," Dorchester Minerals LP, November 3, 2022.)
The partnership's independent engineering consultant estimated its total proved oil and natural gas reserves to be 92.9 billion cubic feet of natural gas equivalent (bcfe). Of that total, 17% is attributable to Dorchester Minerals LP's net profit interests and 83% is attributable to its royalty properties. Approximately half of the proved reserves are oil, 41% are natural gas, and nine percent are plant products.
Thanks to a number of strategic acquisitions, those proved reserves should increase. Here's a breakdown of Dorchester Minerals LP's acquisitions:
On June 30, 2021, the company acquired overriding royalty interests in the Bakken Trend totaling approximately 6,400 net royalty acres located in Dunn, McKenzie, McLean, and Mountrail Counties, ND; the acquisition is valued at $12.2 million
In December 2021, the partnership completed its acquisition of mineral and royalty interests totaling 4,600 net royalty acres located in 27 counties across New Mexico, Oklahoma, Texas, and Wyoming for $31.3 million
On March 31, 2022, Dorchester acquired mineral and royalty interests representing approximately 3,600 net royalty acres located in 13 counties across Colorado, Louisiana, Ohio, Oklahoma, Pennsylvania, West Virginia, and Wyoming; the acquisition was valued at $14.8 million
On September 30, 2022, the company acquired mineral, royalty, and overriding royalty interests totaling approximately 2,100 net royalty acres located in 12 counties across Texas and New Mexico; the acquisition was valued at $4.0 million
Distribution Hiked for 8th Straight Quarter
Thanks to strong commodity prices, Dorchester Minerals LP has been reporting impressive quarterly financial results, which have been helping juice DMLP stock's price and send its dividend steadily higher.
For the third quarter, the partnership reported net income of $34.2 million, or $0.88 per common share. That's up 90% over the third-quarter 2021 net income of $18.0 million, or $0.49 per share. Year-to-date, the company's net income was up 120% at $102.1 million, or $2.64 per share. (Source: "Dorchester Minerals, L.P. Announces Third Quarter Results," Dorchester Minerals LP, November 3, 2022.)
For the third quarter of 2022, Dorchester announced a distribution of $1.135019 per unit, for a yield of 11.9%. This represents the eighth consecutive quarterly distribution increase, up 17% from the $0.969012 Dorchester Minerals stock paid out in the second quarter, and a 123% increase over the $0.507608 it paid out in the third quarter of 2021. (Source: "Distribution History," Dorchester Minerals LP, last accessed December 7, 2022.)
Moreover, as you can see in the chart below, DMLP stock's price has been on a tear, up:
Five percent over the last three months
58% year-to-date
Five percent year-over-year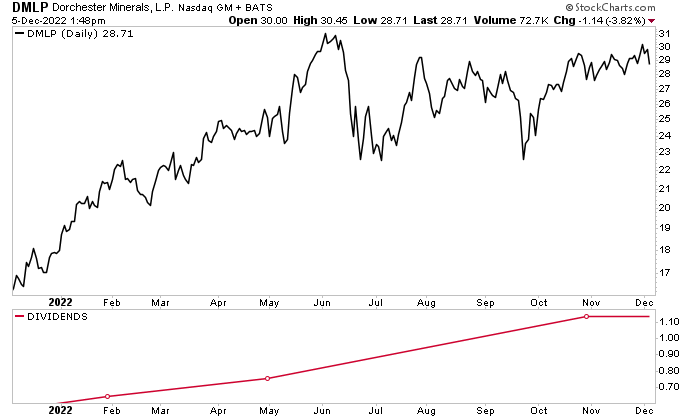 Chart courtesy of StockCharts.com
The Lowdown on Dorchester Minerals LP
Some might describe Dorchester Minerals LP as a small, quiet company, but the returns from Dorchester Minerals stock have been anything but.
With the outlook for oil and gas prices expected to be robust for the near future, dividend hogs should be able to look forward to additional stock market gains and oversized dividend hikes from DMLP stock.