Dorchester Minerals Stock Up 23% in 2022 & Pays 8.2% Dividend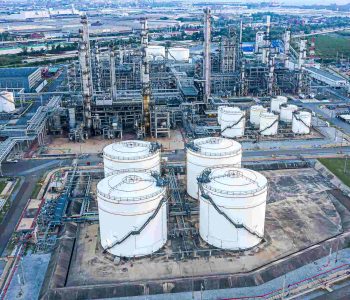 Dorchester Minerals LP Hikes Payout in 4 Straight Quarters
On March 2, Brent crude, which is the global benchmark for oil prices, passed $113.0 per barrel, its highest level since June 2014. (Source: "Oil Price Rises Again as Buyers Shun Russian Crude," BBC News, March 2, 2022.)
One energy company that has been taking full advantage of the increased demand for oil and natural gas resulting from the Russia/Ukraine war and the reopening of the global economy is Dorchester Minerals LP (NASDAQ:DMLP).
Dorchester Minerals is an oil and gas exploration and production company that's engaged in the acquisition, ownership, and administration of producing and nonproducing mineral, royalty, overriding royalty, net profit, and leasehold interests. (Source: "Annual Meeting," Dorchester Minerals LP, May 19, 2021.)
Dorchester Minerals refers to these interests as royalty properties. The company owns royalty properties in approximately 582 counties and parishes in 26 U.S. states. This diversity gives the company exposure to virtually every single domestic oil- and gas-producing basin, which allows it to take advantage of multiple commodity prices and development cycles.
Dorchester Minerals LP's independent engineering consultant estimated its total proved oil and natural gas reserves to be 92.9 billion cubic feet equivalent (bcfe). Of that total, 17% is attributable to the partnership's net profit interests, and 83% is attributable to its royalty properties. Approximately half of the proved reserves come from oil, 41% come from natural gas, and nine percent come from plant products.
Thanks to Dorchester Minerals LP's active acquisition strategy, its reserves are always growing.
On June 30, 2021, the company's acquired overriding royalty interests in the Bakken Trend totaling approximately 6,400 net royalty acres in North Dakota in exchange for 725,000 common units. On December 31, 2021, the partnership acquired about 4,600 net royalty acres of mineral and royalty interests in New Mexico, Oklahoma, Texas, and Wyoming in exchange for 1.6 million common units. (Source: "Form 10-K," Dorchester Minerals LP, February 24, 2022.)
Trading at record levels, DMLP stock is up by:
40% over the last month
23% year-to-date
51% over the last six months
80% over the last year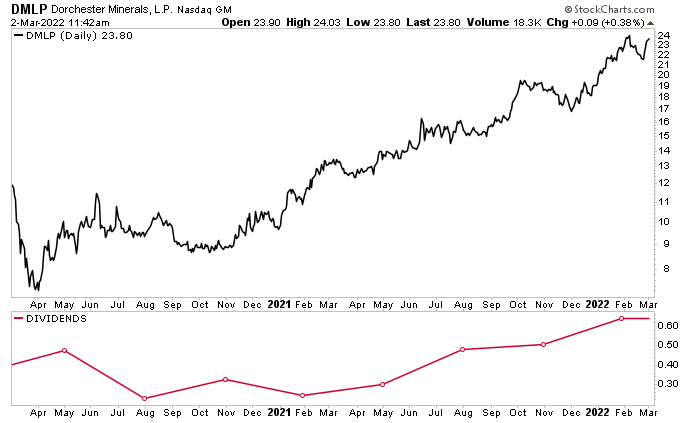 Chart courtesy of StockCharts.com
Fourth-Quarter Distribution Increases 25%
Thanks to the high demand for oil, Dorchester Minerals has been raising its distributions. In January, it announced a fourth-quarter distribution of $0.639287 per unit, for a yield of 8.2%. (Source: "Dorchester Minerals, L.P. Announces Its Fourth Quarter Distribution," Dorchester Minerals LP, January 20, 2022.)
This represents a 25% increase over the $0.507608 paid out for the third quarter of 2021 and a 164% increase over the $0.24226 paid out for the fourth quarter of 2020.
Dorchester Minerals stock's ultra-high-yield dividend is safe. The payout ratio is 79.1%, which is below the 90% threshold I like to see. This gives management room to not just support, but to increase the payout.
Dorchester Minerals LP's fourth-quarter distribution was based on cash receipts from the fourth quarter. The cash receipts attributable to the partnership's royalty properties during the fourth quarter totaled roughly $21.2 million. Approximately 82% of these receipts reflect oil sales from September through November 2021 and natural gas sales from August through October 2021, as well as approximately 18% from prior sales periods.
In December 2021, Brent crude oil prices averaged $74.17 per barrel. Suffice it to say, that average will be significantly higher throughout the first quarter of 2022, which bodes exceptionally well for another distribution hike for DMLP stock.
The Lowdown on Dorchester Minerals LP
Dorchester Minerals LP might describe itself as small, quiet, and boring, but it makes up for that with strong capital appreciation and growing, ultra-high dividends.
With oil and natural gas prices expected to be robust for the foreseeable future, dividend hogs should be able to look forward to additional share-price gains and dividend hikes from Dorchester Minerals stock.