Earn 7.7% Cash Rebates From Government Properties Income Trust (NASDAQ:GOV)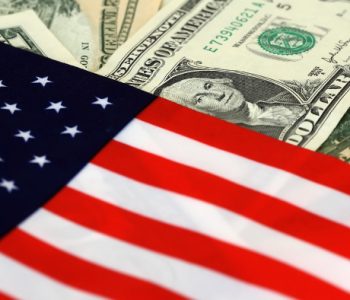 This Dividend Stock Pays Out 7.7%
Today's chart shows how some dividend stock investors earn 7.7% yields from the IRS.
I know what you're thinking; the IRS takes one-third of your income, right? Some people, though, have quietly made a fortune by doing business with the tax man.
I'm talking, of course, about Government Properties Income Trust (NASDAQ:GOV). The firm owns a sprawling real estate empire across the country. And while it gets little coverage in the press, I love this business for a couple of reasons.
First, it has the best tenant in the world. Like the name implies, GOV rents out most of its properties to government departments. As a partner with this business, you essentially become "Uncle Sam's" landlord.
The IRS makes up GOV's biggest tenant by square footage. In second comes the Department of Customs and Immigration. Needless to say, these tenants always pay their rent and they're not going out of "business" any time soon. (Source: "Investor Presentation," Government Properties Income Trust , March 2017.)
Better still, these leases crank out profits. GOV locks in deals with operating returns of eight percent or more. Those yields look pretty good when you see bank certificates of deposit yield next to nothing.
GOV protects itself further by jacking up rents with inflation; tenants must pay for any surprise tax hikes. All of these covenants get written into the lease agreement, ensuring a dependable stream of profits.
Most of these rent checks get paid out to partners. GOV has structured itself as a real estate investment trust, which shields it from paying any income taxes. To qualify for this loophole, however, executives must pass on most of their profits to unitholders.
As a result, GOV sports one of the biggest payouts around. The trust pays out a quarterly distribution of $0.43 per unit, which comes out to an annual yield of 7.7%. You can think of these as a kind of cash rebate on all of the income taxes you've paid over the years.
Also Read:
Top 10 Safe Dividend Stocks for Retirees in 2017
The Top 10 High-Dividend Stocks with Growing Payouts
As you can see in the chart below, this three-part formula has resulted in solid returns for owners: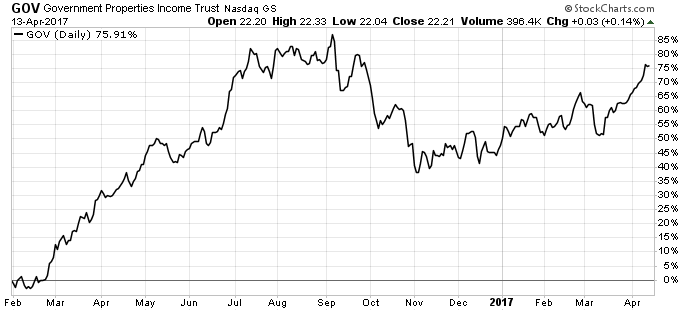 Source: StockCharts.com
Those returns should continue. Management keeps finding ways to grow earnings through rent hikes, building renovations, and buying new properties. That should translate into a growing stream of income for unitholders.
Bottom line: why not collect a 7.7% yield from the IRS? Take a second look at this trust if you're looking for a safe yield. When you rent out your property to the tax man, you have one of the best tenants around.