Dividend Investors: Potentially Earn 9.5% from "Uncle Sam"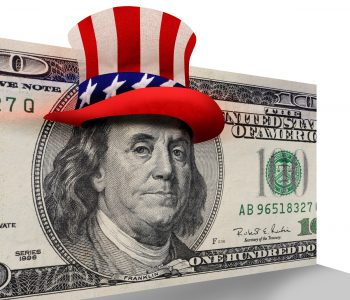 GOV Stock Should Be Taken Seriously by Dividend Investors
In life, one of the guarantees is that if you earn a dollar, a part of it will go to taxes. So I asked a few family members the secret to their success; the advice that was given to me is to work smarter rather than harder. One way of doing so is by being a dividend investor.
When conducting my research for a quality high-dividend stock, I found Government Properties Income Trust (NASDAQ:GOV). Rather than taking some of your wealth and paying the government, GOV stock will actually see them paying you.
Government Properties is a real estate investment trust (REIT) that serves as the U.S. government's biggest landlord. Currently the real estate portfolio consists of 71 properties located in 31 states. There are 37 different government agencies which contribute to earnings which make GOV stock one that shouldn't be ignored by dividend investors.
Dividends from "Uncle Sam"
An advantage of being a tenant to the government is that funds from operations keep coming in at a steady rate and grow over time. The properties that are leased out are 10-to-20-year contracts with a renewal option every five years. Government Properties Income Trust doesn't have to worry about the U.S. government going out of business like they would, say, a new high-risk technology startup.
A strong tenant base has helped GOV stock being classified as a high-dividend stock. Based on the current trading price of $18.11, the current dividend yield is 9.47%. The dividend is paid on a quarterly basis, with the next payment scheduled for November 21, 2016.
Management is growing the company through acquisitions. There were two agreements that were announced in the third-quarter earnings. The first occurred in July 2016, when Government Properties Income Trust agreed to acquire an office building in Prince William County, Virginia that is completely occupied by the regional government. Another agreement took place in August 2016 and saw the company acquire development land rights to expand one of its existing properties in Washington, D.C.
Another major contributor to Government Properties Income Trust's cash flow is its equity interest in Select Income REIT (NASDAQ:SIR). The investment generates $51.0 million annually in dividends and gives the company diversification from its business model. Select Income owns and invests in land and commercial properties in 35 states across the country. There is always a possibility of Government Properties Income Trust acquiring the remaining outstanding shares or the two businesses merging together. As it currently stands, GOV stock looks very attractive on an valuation basis. (Source: "Governemnt Properties Income Trust Investor Presentation November 2016," Government Properties Income Trust, October 27, 2016.)
Fundamentals
With REITs, the most common factor is carrying debt, and GOV stock is no different. When a company has debt on the balance sheet, investors should look at the earnings before interest, taxes, depreciation, and amortization (EDITDA)-to-interest-coverage ratio. When a company has a ratio greater than one, it indicates that there is not enough cash flow to pay the interest cost. In the case of GOV stock, the EDITDA/interest-coverage ratio is 3.7 times. In plain English, it means that there is $3.70 coming in to pay each $1.00 of interest, which generates a surplus of $2.70 to the bottom line of the balance sheet.
Another issue for investors to consider is if there is too much debt on the balance sheet. The best ratio for this is the debt/equity ratio, which is currently 46.4% for GOV stock; any number below 50% is great news. With the extra cash flow that is made after the interest cost is paid lies opportunities to pay off the debt quicker than expected. (Source: "Governemnt Properties Income Trust Investor Presentation Novemeber 2016," Government Properties Income Trust, October 27,2016)
Final Thoughts on GOV Stock
For dividend investors, Government Properties Income Trust can be a potentially great stock to own. It is a unique investment in the REIT sector that has a unique tenant base. The most important aspect for dividend investors is that the U.S. government is putting money into your pockets.