CSI Compressco LP: This Texas Company Now Yields 13.1%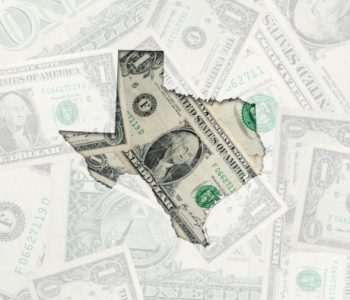 iStock.com/Vepar5
Tiny Company Pays Big Yield
Today, we revisit a Texas-based company that's supplying equipment to a booming industry.
As regular readers know, "pick-and-shovel" businesses provide the essential products and services for an industry. In a commodity boom, it's usually safer and more profitable to bet on a supplier of drilling tools rather than an individual oil company.
CSI Compressco LP (NASDAQ:CCLP) is one such company. The equipment supplier has a long track record of paying dividends. And for investors looking to lock in a lucrative income stream, CCLP stock might be worth a second look.
New technologies have turned America into the undisputed king of natural gas production. U.S. natural gas production will average 80.4 billion cubic feet per day, according to estimates by the Energy Information Administration. To put that number into perspective, one day of American gas output is enough to power almost two million homes for a year. (Source: "It's a Record Year for Natural Gas. Yay?," Bloomberg, January 10, 2018.)
Drillers, however, need to process all of that gas coming out of the ground. Operators at the well site need to compress their output from a wellhead pressure of 50 pounds per square inch (PSI) to a pipeline pressure of 1,200 PSI. Once in this state, natural gas can be efficiently stored and transported.
CSI sells the gear to make this happen. Today, the partnership is the leading supplier of compression equipment across the country. With natural gas production soaring, the operation has seen sales skyrocket over the past few years.
To pad its bottom line further, CSI Compressco LP sells drillers various aftermarket parts and services. It's not all that different from how Apple Inc. (NASDAQ:AAPL) makes extra money from customers on "iTunes" after selling them an "iPhone." Once the partnership gets a customer locked in, CSI can generate ongoing income from maintenance and other upgrades.
Most of these profits get passed on to owners.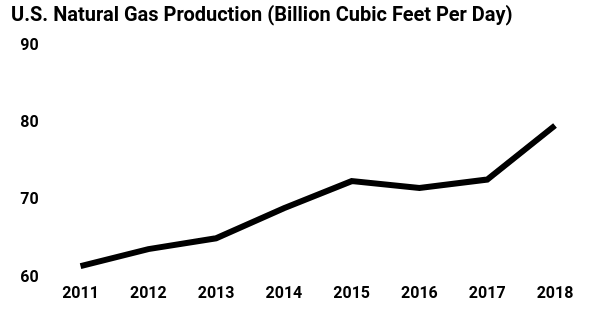 (Source: "Natural Gas," U.S. Energy Information Administration, last accessed August 17, 2018.)

Today, CCLP stock pays a quarterly distribution of $0.18 per unit. That comes out to an annual yield of 13.1%.
That payout will likely increase going forward. With energy output growing across the country, the demand for new compression equipment continues to grow. Analysts project that profits—and by rough extension, the distribution—will grow at a mid-single-digit clip over the next five years.
Of course, any downturn in the energy patch would cut earnings. CSI Compressco LP, though, has positioned itself well for any slowdown in orders by maintaining a light debt load. The company's outrageously profitable business will likely continue to spit out cash.
That's the benefit of investing in "pick-and-shovel" type businesses.