Crown Castle International Corp: The Mobile Gold Rush Is Just Getting Started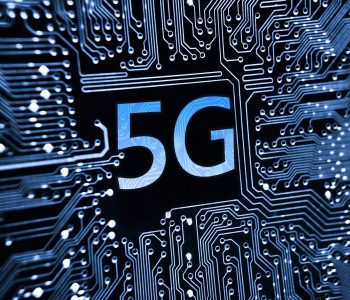 iStock.com/weerapatkiatdumrong
This Dividend Keeps Growing
Last year, I told you about one of the biggest trends in the communications industry.
In 2019, cell phone carriers plan to roll out the fifth generation of mobile technology, called "5G." The new network could boost browsing speeds a hundredfold and serve as the backbone of the emerging Internet of Things (IoT).
Analysts believe the market for 5G technology could hit $250.0 billion by 2025. And stocks supplying products and services to this emerging industry have already posted big gains. But even if you haven't gotten in yet, it's not too late to invest in the 5G gold rush.

Last month, shares of Automated Income pick Crown Castle International Corp (NYSE:CCI) hit an all-time high. Basically, this partnership owns thousands of cell phone towers across the country. Management leases these towers out to carriers like AT&T Inc. (NYSE:T), Sprint Corp (NYSE:S), and Verizon Communications Inc. (NYSE:VZ) in exchange for steady, growing rent payments.
And business, it seems, is booming. To beef up their coverage for the coming 5G rollout, carriers will have to invest billions into their mobile networks. That has pushed up rent fees for existing cell phone towers and created demand for new ones.
Crown Castle International Corp has cashed in. In January, the company reported that rental income jumped 29% in 2018. Management credited much of the increase to new tenants and higher lease rates.
And almost all of that money has flowed straight to the bottom line. Adjusted funds from operations increased 15% year-over-year in the fourth quarter to $591.0 million. This figure crushed Wall Street expectations, sending shares surging after the report.
Management has passed on much of that income to shareholders. Since 2014, executives have more than tripled the distribution. Today, CCI stock pays a quarterly dividend of $1.13 per unit, which comes out to an annual yield of 3.8%.
Wall Street has taken notice. As you can see in the chart below, shares have surged nearly 100% over the past few years: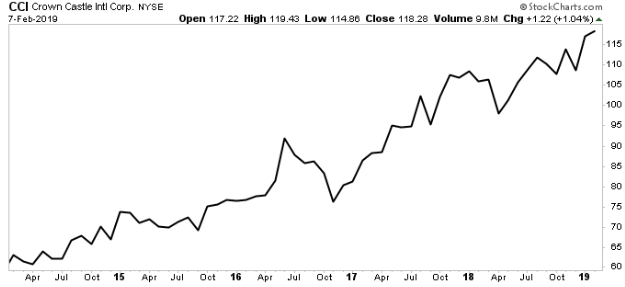 Chart courtesy of StockCharts.com
But there's more upside ahead. In addition to reporting blowout profits last quarter, Crown Castle also raised its earnings and sales guidance for the upcoming year. Management projects net income will rise another 22% in 2019 to $821.0 million.
That's a big number. Most businesses will struggle to grow profits at all next year as the broader economy slows down. Crown Castle International Corp stands out like a beacon of good news in an otherwise dreary earnings seasons.
"…the deployment of 5G infrastructure is just getting started," said Crown Castle chairman and chief executive officer Jay Brown. "We certainly believe the U.S. is going to lead the way on 5G in the amount of capital investments here and the potential opportunities we think are the greatest here in the U.S." (Source: "Crown Castle International Corp. (CCI) CEO Jay Brown on Q4 2018 Results – Earnings Call Transcript," Seeking Alpha, January 24, 2019.)
You still have time to get in on CCI stock at cheap levels, but probably not for long. Wall Street research outfit Raymond James Ltd. recently upgraded the stock to "buy" and practically begged clients to start investing. A number of high-profile investors have also built positions, including Bill Gates, Jim Simons, and Paul Tudor Jones. (Source: "Crown Castle International Corp (CCI) – Hedge Fund Holdings," Insider Monkey, last accessed February 8, 2019.)
I suggest taking a second look at Crown Castle International Corp today.