CNI Stock: A Forever Asset Yielding 5.3%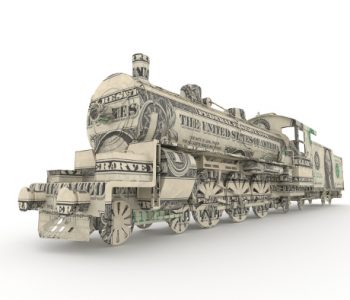 istockphoto
1 Dividend Stock to Own Forever
Canadian National Railway Company (NYSE:CNI) stock is the ultimate "Forever Asset."
The firm gushes cash flow. Right now, investors are collecting a total shareholder yield of over five percent.
And I'm not the only one who likes this stock. Former Microsoft Corporation (NASDAQ:MSFT) chief executive officer Bill Gates is a major investor. A number of billionaires–including Jim Simons, Steve Cohen, and Ken Griffin–have also quietly built positions.
Let me explain.
As regular readers are aware, I'm a big fan of a group of companies I like to call my "Forever Assets."
Forever Assets are wonderful businesses that have stood the test of time. These companies exploit their entrenched market position to earn outsized cash flows. Many of these firms have paid out dividends to shareholders for decades.
Consider well known Forever Assets like The Coca-Cola Co (NYSE:KO), ExxonMobil Corporation (NYSE:XOM), or Colgate-Palmolive Company (NYSE:CL). You only need to take a quick glance at a stock price chart to see just how lucrative these investments can be. Longtime shareholders have been collecting dividends not just for years or decades, but for generations.
Case in point: Canadian National Railway Company, or CNI stock for you ticker hounds.
If you've ever traveled across the Midwest, you may have seen a CN train barreling across the plains. The company owns 20,000 route miles of track across Canada and the central United States. Businesses rely on CN for shipping everything from oil and grain to cars and lumber. But while you may have never heard of it, the company meets my criteria of a Forever Asset for a couple of reasons. (Source: "CN Investor Presentation," Canadian National Railway Company, January 2017.)
First, a Forever Asset needs a competitive edge.
You could think of owning a business like defending a hill in World War I; you need a well-fortified defense. Otherwise, your position will be overrun by German soldiers faster than your can say "sauerkraut."
CN defends itself with the business equivalent to minefields, machine gun nests, and thick barbed wire posts. Shipping freight by rail is more fuel-efficient than any other method of transportation over land. This allows the company to undercut rival industries moving goods across the continent.
The only way to compete against CN would be to build a line right next to theirs. However, the company purchased most of its property a century ago, back when land was cheap. Over time, cities and towns have been built up along these tracks. Today, it would cost hundreds of billions of dollars to buy out landowners along these rail lines.
No doubt, going up against CN would be a suicide mission. Even if you could cough up the dough, government regulators would be hesitant to grant the rights-of-way for construction. For this reason, you don't have to worry about competitors eating into margins.
As a result, the company is a cash cow. Over the past two decades, CN has earned $0.15 in annual profits for every dollar invested into the business. Sure, some firms can generate returns like that for a short while. However, I can only think of only a few businesses in the world that have maintained margins like CN's for such a long time.
Second, I want to see a top management team. A great business could be run by a ham sandwich. Still, when we invest in a firm, we entrust executives with our hard-earned savings. I only want to partner with honest managers that will put shareholders first.
CN executives have proven themselves to be great stewards of capital. Most managers waste corporate profits on acquisitions, flushing investor money down the toilet to expand their corporate empire. CN, though, has stuck to its knitting. Most of its earnings have been paid out to shareholders or reinvested back into its profitable core business.
Sure, this might sound obvious. Such common sense, though, is surprisingly hard to find. The gap between top-tier executives and a bunch of average joes can make a big difference in shareholder returns.
Dividends aside, running the business is important too. In the railroad industry, we use the operating ratio to measure how well executives are doing. This metric takes operating expenses divided by the company's total revenue.
Also Read:
These Dividend Stocks You Shouldn't Miss in 2017
10 Top Dividend Stocks to Watch in 2017
CN stands head and shoulders above the pack. The company spends just $0.55 for every dollar generated in revenue, topping all rivals in the industry. By keeping a tight lid on cost, executives free up more cash for shareholders.
Finally, you want to see a long history of dividends.
CNI stock has paid a dividend to investors every year since going public in 1995. Even through the height of the financial crisis, executives still managed to increase the payout. Over the past 20 years, management has hiked the company's distribution by 17% annually.
CN is also a buyback machine. Since 2000, the company has returned over $20.0 billion to shareholders through stock repurchases. Over the past two decades, longtime investors have nearly doubled their stake in CN's business without buying any more shares.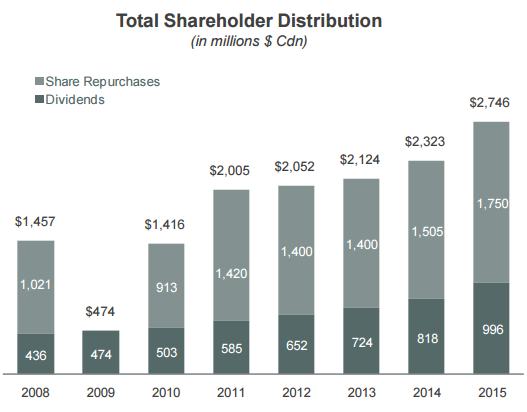 Source: CN Investor Presentation

Sure, most investors prefer a "cash-in-your-hand" dividend. A well-timed buyback, however, can be incredibly lucrative. You could think of them has a kind of tax-deferred distribution. They allow you to increase your ownership in a wonderful business without the IRS sending you a tax bill.
The company's top-notch track record will likely continue. In January, management promised to hike the company's quarterly dividend 20% to $0.38 per share. Executives have also vowed to repurchase up to $2.0 billion of stock in 2017. Altogether, this brings the total shareholder yield on CNI stock to 5.3%.
CNI Stock is the Ultimate Forever Asset
CNI stock, of course, is no sure thing. A recession could clip profits, for instance. Railroads act like the circulatory system for the entire economy, so any slowdown is bad news. If El Presidente Donald Trump enacts new tariffs or starts a trade war, that would throw a big wrench into the mix.
I'm not too worried about these problems, though.
Over the next century, more people are going to be living in this country. And while there will be a few bad years mixed in, those people are going to demand an increasing number of goods over time. CN will play an important role in moving those products across the continent.
Bottom line: CN is a true Forever Asset. The company's entrenched market position and top management team make the company a rare find. For these reasons, CNI stock is one name I'm comfortable owning for the next 100 years.