Canadian National Railway Reports Earnings, Raises Dividend By 10%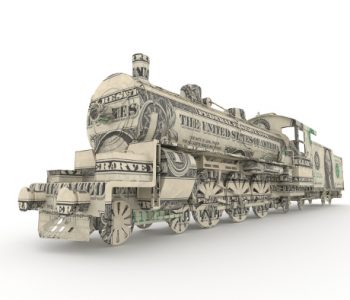 istockphoto
Canadian National Railway Boosts Dividend
Today's post highlights one of my favorite dividend payers, Canadian National Railway Co. (NYSE:CNI).
Regular readers know we love dull businesses. While everyone else goes searching for the next hot tech stock, stodgy, old-fashioned businesses actually generate some of the best returns around.
CN captures this idea perfectly. The company's network of track crisscrosses Canada, stretching as far south as the Gulf of Mexico. Thanks to this entrenched market position, the business generates over $12.0 billion in annual revenue.
You can see the strength of this business in CN's dividend history. Since going public in the late 1990s, CN has paid a distribution. Even through the height of the financial crisis, the company managed to deliver higher dividends for shareholders.
That tradition looks set to continue. In a press release put out on Tuesday, management boosted the quarterly payout 10% to CA$0.46 per share. Based on CN's stock price at the time of this writing, this move will raise the yield on shares to 1.8%. (Source: "CN announces 10 percent dividend increase," Canadian National Railway Co., January 23, 2018.)
Also Read:
The Last Time This Happened, Investors Made 221% 
Those small dividend hikes can really add up over time. Since 1997, CNI stock price has soared more than 20-fold. Over that period, shares have delivered a total return (including dividends) of 3,000%.
And despite just a blah economy, shares have recently notched fresh all-time highs. As you can see in the chart below, CN stock has moved in and out of favor on Wall Street. Loyal shareholders don't seem to mind as long as the dividends keep rolling in.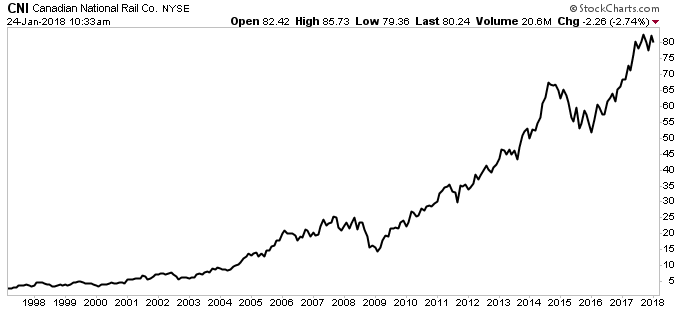 Source: StockCharts.com
Of course, CN comes with some downsides. A recession poses the biggest risk to shareholders. Profits tend to sag during downturns.
But over the next as long as we're moving goes across the continent, CN will likely get a piece of that action. That should translate into steady returns and growing dividends for investors. it's more proof you can make exciting returns from boring stocks.