Boeing Co (NYSE:BA) Increases Dividend by 20%
istock/Laser1987
Boeing Dividend News Good for America
Today, we take a quick look at Boeing Co (NYSE:BA) and note that business can't be doing that badly in America.
Over the past few years, we've run dozens of stories on a simple idea: While the doomers say the country's best days have passed, things can't be all that gloomy. For example, we've noted the strong returns in railway, restaurant, and manufacturing stocks.
Boeing's growing distribution provides more proof of this concept in action. The company is the world's largest maker of commercial jets and represents a decent gauge of passenger traffic. When more people take to the skies, it's a good sign for the economy.
And judging by the latest Boeing dividend news, business is booming. In a press release Monday, the company boosted the quarterly distribution 20% to $1.71 per share. Management also authorized an $18.0-billion share buyback program, much to the surprise of analysts.  (Source: "Boeing Board Raises Dividend 20 Percent, Establishes $18 Billion Share Repurchase Authorization," Boeing Media Room, December 11, 2017.)
Also Read:
Boeing Co: BA Stock Shouldn't Be Ignored By Investors
For investors, Boeing's payment date will be scheduled for March 2 to shareholders of record as of February 9. This sets Boeing's ex-dividend date for February 8. The latest move will boost Boeing's dividend yield to 2.4%, up from 2.1% previously.
And the latest Boeing dividend news isn't some one-off event, either. Over the past five years, Boeing's dividend growth rate has topped 250%. During that same period, shares have soared from $60.00 to $280.00.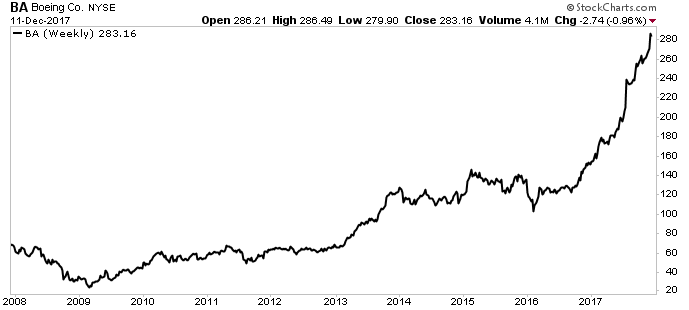 Chart courtesy of StockCharts.com
We note this performance and say once again: Yes, America has lots of problems. But as long as businesses like Boeing do well, things can't be all that bad.