Bristol-Myers Stock: Why This Is a Top Dividend Stock for Income Investors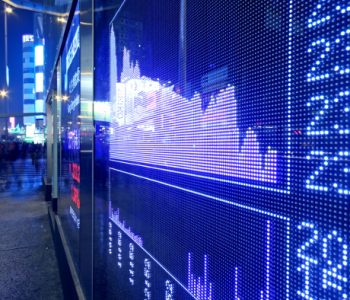 Takeover Talk Surrounds Bristol-Myers Squibb
My ears always perk up when takeover rumors swirl, especially when they involve large-cap dividend stocks. The latest big buyout buzz came on Tuesday, when Bristol-Myers Squibb Co (NYSE:BMY) stock popped three percent on whispers that the drug giant was "in play," with the likes of Novartis AG (ADR) (NYSE:NVS), Pfizer Inc. (NYSE:PFE), and Gilead Sciences, Inc. (NASDAQ: GILD) being bandied about as a few potential suitors.
BMY stock has been hammered in recent months on concerns over the company's blockbuster cancer drug "Opdivo," and it seems that shareholders are urging management to do whatever it can to stop the bleeding. Even with Tuesday's small jump, BMY stock is still off about 30% from its record highs set in July.
Now, I'd never recommend to Income Investors readers that they look into a stock strictly as a speculative takeout target. But what the buyout rumors might suggest is that BMY stock is currently a cheap dividend opportunity with the possibility of some near-term upside coming in the form of an outright sale.
Before we figure out if that's the case, let's review how we got to these low levels in the first place.
Opdivo-Driven Dive
As I quickly touched on above, almost all of Bristol's problems right now center on its key immunotherapy cancer drug Opdivo, specifically how quickly it's falling behind the rival blockbuster drug "Keytruda" from Merck & Co., Inc. (NYSE:MRK) in the all-important lung cancer race.
See, things all started going downhill for BMY stock last summer, when Opdivo failed to show a benefit over standard chemotherapy as a "first-line" therapy for non-small cell lung cancer (NSCLC) patients, a market segment that would have significantly boosted sales. Needless to say, it was Keytruda that won the breakthrough designation for first-line treatment in September, giving Merck a huge first-mover advantage within the multi-billion-dollar space.
As I pointed out in a Merck article earlier this month, analysts now estimate that Keytruda's peak sales could reach a whopping $15.0 billion within the next decade, which would make it one of the best-selling drugs of all time. Meanwhile, Opdivo's peak sales forecast of roughly $13.0 billion was cut by more than 20%.
But the bearish news doesn't end there. Just a few weeks ago, Bristol-Myers greatly disappointed investors yet again, announcing that it would no longer pursue accelerated approval for a combo of Opdivo and "Yervoy," another of its well-established drugs, as a first-line treatment for NSCLC.
While that announcement doesn't necessarily destroy the development of the Opdivo/Yervoy combo, it certainly pushes Bristol-Myers even further behind Keytruda, which the U.S. Food and Drug Administration (FDA) has already accepted for accelerated review in a combination with chemotherapy.
The Keytruda Intruder
To top it all off, Bristol posted disappointing fourth-quarter results and guidance shortly after that. Although revenue increased a solid 22%, to $5.24 billion, besting the consensus of $110.0 million, the company's earnings per share (EPS) of $0.63 missed the average analyst estimate by $0.04. (Source: "Bristol-Myers Squibb Reports Fourth Quarter and Full Year 2016 Financial Results," Bristol-Myers Squibb Co, January 26, 2017.)
Of course, it was the company's downbeat outlook that was especially worrisome.
Management now sees full-year EPS of $2.70–$2.90, down from its prior view of $2.85–$3.05 and also below Wall Street's expectation of $2.96. Naturally, Opdivo's disappointing progress within first-line NSCLC, combined with the rapid rise of Merck's Keytruda, prompted Bristol-Myers to dial back its near-term expectations.
"Since we discussed 2017 expectations for Opdivo sales back in October, our outlook for the year has been affected by the potential earlier entry of the Keytruda/chemo combo," said CFO Charlie Bancroft in a conference call with analysts. (Source: "Bristol-Myers Squibb (BMY) Q4 2016 Results – Earnings Call Transcript," Seeking Alpha, January 26, 2017.)
Bancroft continued, "In the U.S., we expect Opdivo will be roughly flat with the potential to show growth, and we will focus on defending our second-line position and driving adoption in other indications."
Portfolio Power
Despite all the bearish news surrounding Bristol-Myers right now, there's still very good reason to remain optimistic, particularly if you're an income-oriented investor.
First of all, Bristol is far from a one-trick pony, boasting a comfortingly broad lineup of patent-protected drugs. That not only gives Bristol several sources of growth, but also does well to diversify the company's cash flows during times of severe competitive pressure; you know, like right now.
In fact, Bristol sports several drugs with annual sales of more than $1.0 billion, with a handful of them showing particularly strong growth.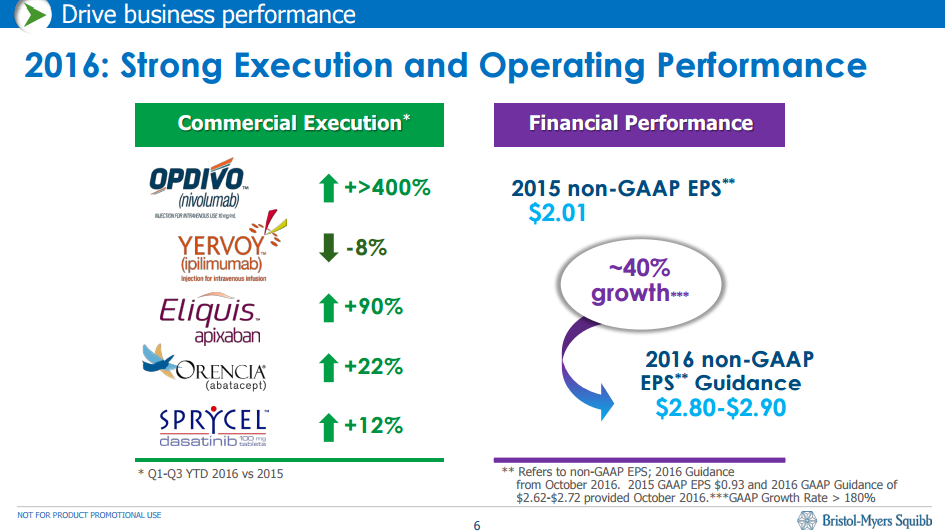 (Source: "JP Morgan Healthcare Conference," Bristol-Myers Squibb Co, January 10, 2017)
In 2016, sales of Bristol's blockbuster cardiovascular drug "Eliquis" spiked 90%, sales of key immunology treatment "Orencia" grew 22%, and chronic myeloid leukemia drug "Sprycel" posted 12% growth.
Thanks to that type of commercial diversity and significant economies of scale, Bristol is still able to generate healthy and consistent operating cash flow. This allows management to fund the massive costs required to bring new drugs to the market–$800.0 million, on average–as well as to help support healthy buybacks and a nicely growing dividend stock.
In fact, Bristol has raised its annual divided for seven consecutive years now, suggesting that management is committed to dividend growth even amid all of the Opdivo uncertainty. Moreover, the company said it plans to repurchase roughly $200.00 million to $300.00 million of shares each quarter as part of its $3.0-billion buyback announcement last October.
In other words, Bristol still generates plenty of cash to deliver long-term shareholder value.
Firmly Entrenched Position
But the biggest reason to remain bullish on BMY stock, in my opinion, is that the company's overall position in immuno-oncology remains much stronger than the market currently thinks.
While Opdivo's first-line NSCLC failures have forced analysts to drastically cut their peak sales estimates, the drug remains a key treatment in second-line NSCLC, as well as in other conditions. And, as I touched on earlier, there is still very real hope for the Opdivo/Yervoy combo in front-line NSCLC treatment, with some on Wall Street estimating sales of $1.0 billion by 2020. Naturally, the forecast simply isn't as high as investors had hoped due to Merck's big head start.
When you couple the fact that Opdivo isn't exactly crashing and burning right now, with the strength of Bristol's total oncology portfolio (which includes several drugs like Sprycel, Yervoy, and "Empliciti"), it is pretty easy to view this dividend stock as an attractive purchase, be it for individual income investors or for other big pharma companies.
The Bottom Line on BMY Stock
I'd seriously consider building a position in BMY stock right now. At a forward price-to-earnings multiple of under 20 and a dividend yield of roughly three percent, the market seems to be assigning very little value (if any at all) to Bristol's still-enviable position in cancer immunotherapy.
So while I'd never speculate on a near-term takeover, it's hard to believe that BMY stock will stay at these depressed levels for a prolonged period of time.