Why Merck & Co., Inc. Is Still a Strong Pick for Income Investors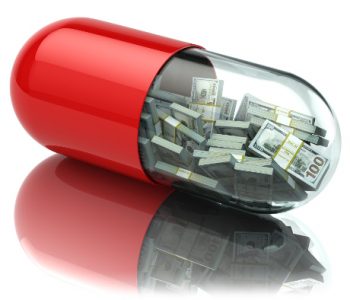 Merck & Co., Inc. (NYSE:MRK) stock is frustrating.
Longtime readers of my work know how much I love to accumulate big pharma stocks when they go on sale, but MRK stock just keeps on running. The shares have already gained about nine percent in 2017 and are up more than 65% over the past five years. Let me on, already!
The latest rally came on Thursday, when Merck jumped more than three percent on a better-than-expected outlook.
So should I continue to wait patiently for a pullback, or just hop aboard before it goes higher?
Let's look into the fourth-quarter (Q4) results, first.
Downbeat Quarter
Merck's Q4 results were actually somewhat disappointing. Earnings per share (EPS) clocked in at $0.89, which simply met estimates. And revenue slipped 0.9% year-over-year to $10.12 billion, missing the average analyst estimate by $100.0 million.
The miss was largely driven by lower-than-expected sales of Merck's key new lung cancer drug "Keytruda," as well as its diabetes treatments.
Keytruda sales soared 126% year-over-year to $483.0 million, but missed the consensus of $508.8 million. Meanwhile, diabetes drugs "Januvia" and "Janumet" posted combined sales of $1.51 billion, slightly below Wall Street's consensus of $1.58 billion.
Nevertheless, management seemed satisfied with the results.
"The performance of Merck's broad and balanced portfolio allows us to remain committed to biomedical innovation that saves and improves lives and delivers long-term value to shareholders," said Chairman and Chief Executive Officer or Merck, Kenneth Frazier. (Source: "Merck Announces Fourth-Quarter and Full-Year 2016 Financial Results," Merck & Co., Inc., February 2, 2017.)
Keytruda's the Key
So what was the reason for Thursday's rally? As I touched on earlier, Merck's outlook remains solid.
Despite patent challenges and cost headwinds, management said it expects full-year 2017 EPS of $3.72–$3.87 on revenue of $38.6 billion to $40.1 billion, easing worries on Wall Street that the company's big investment in Keytruda isn't weighing too heavily on margins. In fact, Merck said that Keytruda development is going full steam ahead, with currently more than 430 studies in various settings.
That's good news for shareholders, considering that Keytruda's peak sales could reach a staggering $15.0 billion within the next decade. And yes, that would make it one of the best-selling drugs of all time. (Source: "Why You Should (and Shouldn't) Buy Merck," The Motley Fool, November 11, 2017.)
Moreover, Keytruda will be massive in helping Merck offset the drop in revenue it's sure to face as generic competition closes in on its blockbuster cholesterol and arthritis drugs.
"We are actually implying EPS growth despite the headwinds of loss of exclusivity and (foreign exchange) and the other challenges that we face," said Frazier in the conference call with analysts. (Source: "Merck & Co. (MRK) Q4 2016 Results – Earnings Call Transcript," Seeking Alpha, February 2, 2017.)
The Bottom Line on MRK Stock
These are definitely exciting times for Merck. And more importantly for MRK stock's dividend-oriented investors, fairly stable times too.
Over the past 12 months, Merck has generated roughly $11.0 billion in operating cash flow while paying out about $5.0 billion in dividends and repurchasing $3.6 billion in stock.
So while MRK stock currently trades at rather lofty P/E of 32—a clear premium to the industry, as well as the S&P 500—the company's diverse lineup of high-margin drugs, exciting pipeline of new drugs, and extremely healthy cash flows might be worth paying up for.