Bill Gates Owns $1.5 Billion of This Top Dividend Stock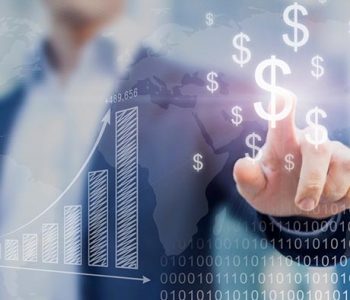 iStock.com/NicoElNino
Bill Gates Loves This Top Dividend Stock
Most people associate Bill Gates with new technologies, but this business titan seems to only invest in old-fashioned companies.
Gates struck it rich during the personal computer revolution. As the driving force behind Microsoft Corporation (NASDAQ:MSFT), he built a net worth of over $86.0 billion.
Such innovative tendencies haven't carried over to Gates's investment style, however. His portfolio consists mostly of boring businesses, according to recent 13-F filings. The top holdings include insurance, railroads, auto parts, and other boring industries.
One of his largest wagers strays even further from bits and bytes: trash collection. Over the past few years, Gates has accumulated a $1.5-billion stake in Waste Management, Inc. (NYSE:WM). Based on the recent share price action, this has turned into a lucrative investment. (Source: "13F Holdings – Bill & Melinda Gates Foundation Trust," Insider Monkey, last accessed January 22, 2017.)
Trash collection can be quite profitable.
The company provides a valuable service with steady demand. Through government shutdowns, market volatility, and interest rate hikes, people always need the trash collected.
Also Read:
How to Spot the World's Best Dividend Stocks
Tipping fees also provide a tidy income. Every time a business drops off a trash load at the local dump, they have to pay a levy to Waste Management. These charges don't tend to vary much from year to year, providing a predictable stream of cash flow.
Rivals would have a tough time breaking into the business as well.
Waste Management's raw scale gives it a cost advantage. This allows executives to undercut rivals on municipal contracts, securing steady profits.
Building new landfills also comes with regulatory hurdles and large, up-front costs. Never mind that the mention of new construction can spark protests from local residents. These barriers prevent rivals from entering the business and allow Waste Management to pass on higher prices each year.
For owners, this has resulted in tidy profits.
Through the past decade, shares have delivered a total return (including dividends) of 280%. This performance crushed the returns from the broader market over the same period.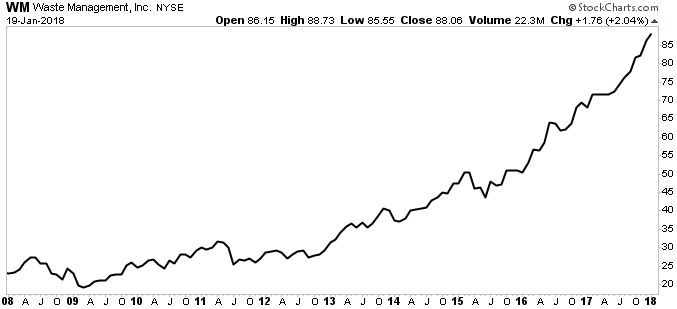 Chart courtesy of StockCharts.com
Moreover, the company has mailed out a dividend every year since 1976. Even through the height of the financial crisis, executives managed to raise the distribution. Today, the company pays a quarterly distribution of $0.43 per share, which comes out to an annual yield of two percent.
I call it quite remarkable, really.
Bill Gates has this reputation as a tech titan. You'd expect him to bet the farm on social networks or the next gee-wiz gadget.
But when it comes time to invest his fortune, Gates buys boring, simple businesses. He's loaded his portfolio with names like Ecolab Inc. (NYSE:ECL), FedEx Corporation (NYSE:FDX), and AutoNation, Inc. (NYSE:AN). And, as I've highlighted in this story, Waste Management.
It's proof that the themes we talk about here on Income Investors really do work.